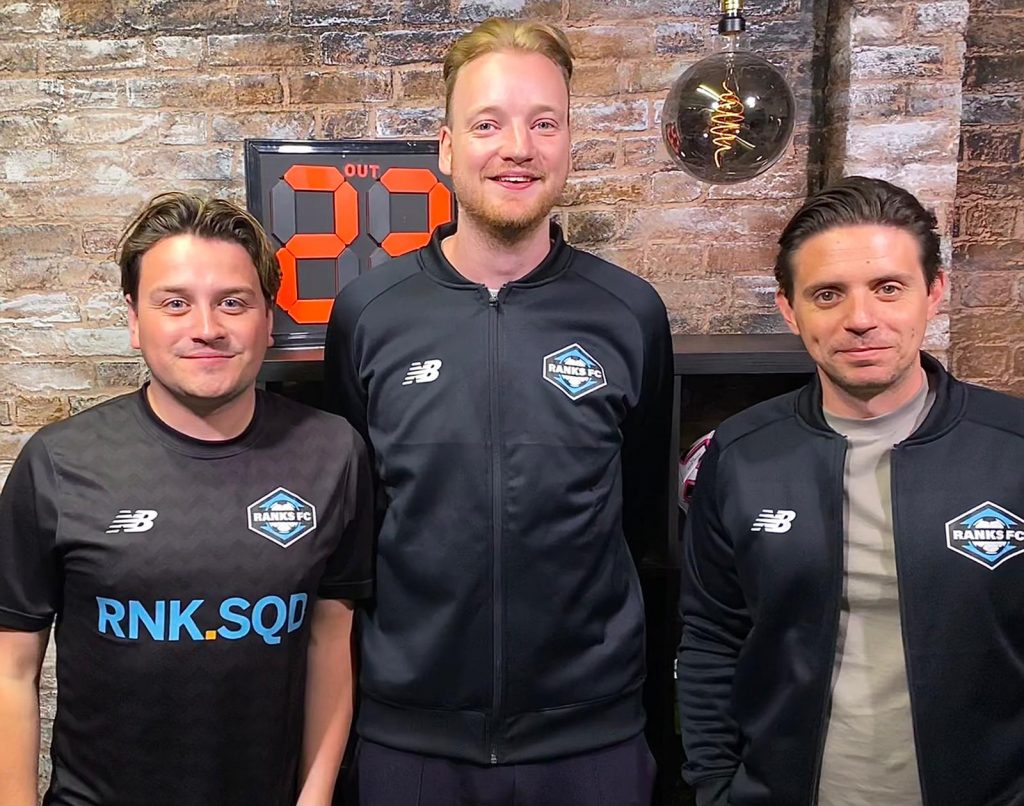 Welcome to the brand new Ranks FC website!
This is now our official home; a one-stop shop for all of our content, no matter the platform, no matter the format. You will find all of our podcasts, videos and written articles here—plus there's a handy link to our Patreon page if you ever need it!
We're roughly a year and a half into our journey as an independent outfit: Three friends making content together based on the sport we hold dear to our hearts. It's been absolutely amazing. Increasing the volume of podcasts, enjoying editorial control over the content, making it all a bit more us—just fantastic.
We've also been fortunate enough to work with two incredible clients in LiveScore and New Balance, which has kept our horizons broad, our focus keen, our experiences fresh.
Any time you load up the LiveScore app and flick to the Watch section, you're likely to see our faces. We've been an integral part of their UEFA Champions League pre-match broadcasts in the Republic of Ireland and had great fun hosting Watchalongs in the app, which hundreds of thousands of people have enjoyed as a second-screen experience to the game.
Working with New Balance has led to some remarkable experiences. During peak 2021 lockdown we dressed Sam's garden with Athletic Club and Basque flags, shirts and scarves and supported Los Leones in their Copa del Rey final matchup with Real Sociedad, then we interviewed Liverpool's Harvey Elliott ahead of his breakout Premier League season.
We launched a merchandise range alongside NB in 2021. Seeing football jerseys, walkout jackets and hoodies with our crest alongside New Balance's logo was a moment of immense pride. In February we went to the Dragão to watch FC Porto play Sporting in one of the most chaotic games of football ever played, before seeing AS Roma hammer eternal rivals SS Lazio 3-0 in the eternal city – amid one of the most ridiculous atmospheres in football.
All the while, we've been establishing and growing the Ranks FC brand. We release 3 podcast episodes a week without fail, one free to listen to on Wednesdays, and two available to Patrons (subscribers) on Mondays and Fridays.
Said Patrons have bonded together to form an incredible community (everyone says that, but ours is actually incredible), with a thriving Discord which represents a safe and friendly place to talk football. No Twitter trolls, no prying eyes; just honest football chat.
Some of our Discord members have even met up in real life, be it in a soccer bar in downtown Los Angeles or at a USMNT game in Tennessee. One Patron in Brazil purchased that wonderful, incredibly-hard-to-find special edition Atletico Mineiro shirt and sent it to another in London. That is community.
Now this website is live, it gives us the chance to produce more written content and also to house content from others. It's a place where everything Ranks can live: From podcasts to articles to transfer tidbits to photos. All in one place.
We hope you can make this as much of a second home as we plan to. Welcome to the next stage of Ranks FC.