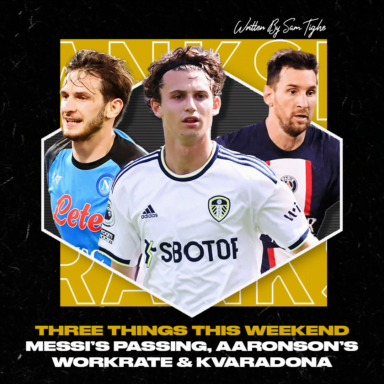 3 Things From The Weekend: Messi, Aaronson & Kvaradona
Data viz courtesy of the Twenty3 Toolbox; start your free trial here.
3. KVARADONA
Khvicha Kvaratskhelia. Remember the name (if you can).
It's tough to spell, it's even harder to say, but he's an easy, easy watch in this kind of form.
He scored a ridiculous brace against Monza this weekend, the different nature of goals flashing ludicrous potential. One was a right-footed curler from just shy of 25 yards; the other a low left-footed effort after a mazy dribble. That takes him up to 3 goals for the season (plus 1 assist).
Scarily, manager Luciano Spalletti insists Kvara is "still getting loosened up." (Also, you can just call him 'Kvara' if you like; he said so himself that's fine!)
2. AARONSON IS HERE, THERE, EVERYWHERE
The hallmark of Leeds United's epic 3-0 win over Chelsea on Sunday was the sheer energy and combativeness of the hosts; they would not let the Blues settle, with American duo Tyler Adams and Brenden Aaronson disrupting things brilliantly in the centre.
But while Aaronson's pressing is always impressive, his influence on the ball in so many different areas of the pitch impressed more. The touch map shows how he drifted from the No. 10 position to impact in every third—vertical or horizontal—and continually stay at the heart of the game. Plus, those 3 cheeky touches in the box…Édouard Mendy won't forget those in a hurry.
Aaronson's ability to receive the ball anywhere on the pitch, under pressure, in a multitude of body shapes, is immense. It's a trait that goes hand in hand with the fearlessness he shows on the pitch.
1. MESSI MAGIC
Lionel Messi purred his way through Paris Saint-Germain's 7-1 win over Lille on Sunday night.
Now into his second season in the French capital, with a better tactical structure in place and a full summer of preparation in the tank, the early signs are that Messi is going to slice and dice this league in a way some perhaps though beyond him in 2022.
His production on the night (1 goal, 1 assist) was outshone by Kylian Mbappé (hat-trick) and Neymar (2 goals, 3 assists!), so incredibly, Messi was the least-talked about of the trio despite putting on an absolute masterclass.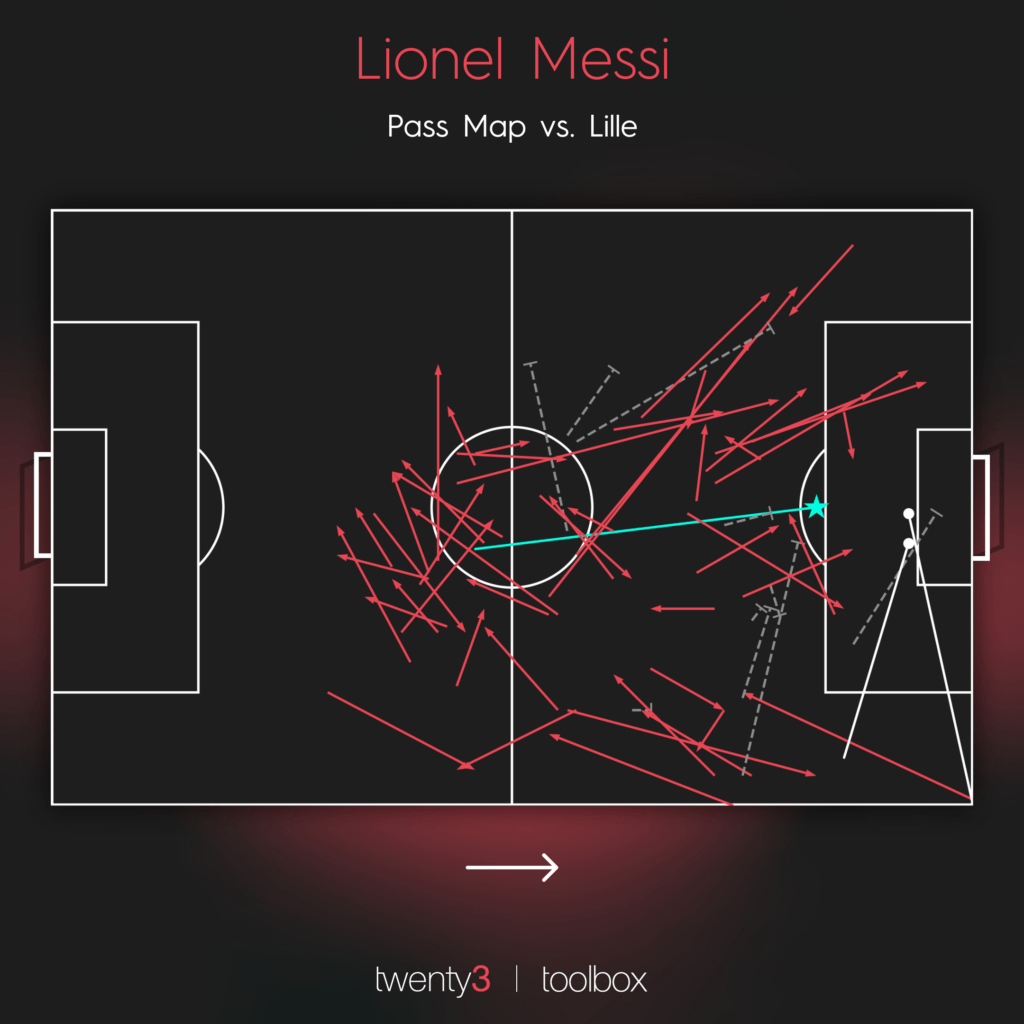 His composure on the ball, his press-resistance and his perfectly weighted passes all impressed. The cyan coloured pass is his chipped through-ball for the ridiculous kick-off goal; the white lines are big chances created; while one of the red arrows into the left side of the box is the 1-2 he played with Nuno Mendes for his goal—big Jordi Alba vibes there.