3 Things From The Weekend: Mighty Ronald Araujo, Benfica's xG & Roma's Rescue Mission
Data viz courtesy of the Twenty3 Toolbox; start your free trial here.
3. ROMA DID WHAT NOW?
With 86 minutes on the clock, AC Milan are 2-0 up and cruising against Roma. The Giallorossi have offered absolutely nothing and Tommaso Pobega's just scored the all-important second goal.
Enter: Set Piece FC.
First Ibañez powers a brilliant header home, fuelling late belief in the visitors. Then five minutes later, Tammy Abraham bundles one in after a melee in the box. It's 2-2 and everyone—like, everyone—is utterly stunned.
It's difficult to explain just how poor Roma were for 85 minutes. Completely overrun in midfield, unable to handle Milan's energy and pressing, and the distances between their lines defensively were shockingly bad. It was a perplexingly disjointed and unorganised performance.
As the graphic shows, they mustered a paltry number of passes in the first half and had little success moving it into the final third or Milan's box; that theme continued into the second half and when Rafael Leão laid up Pobega for the second, this game was supposed to be done.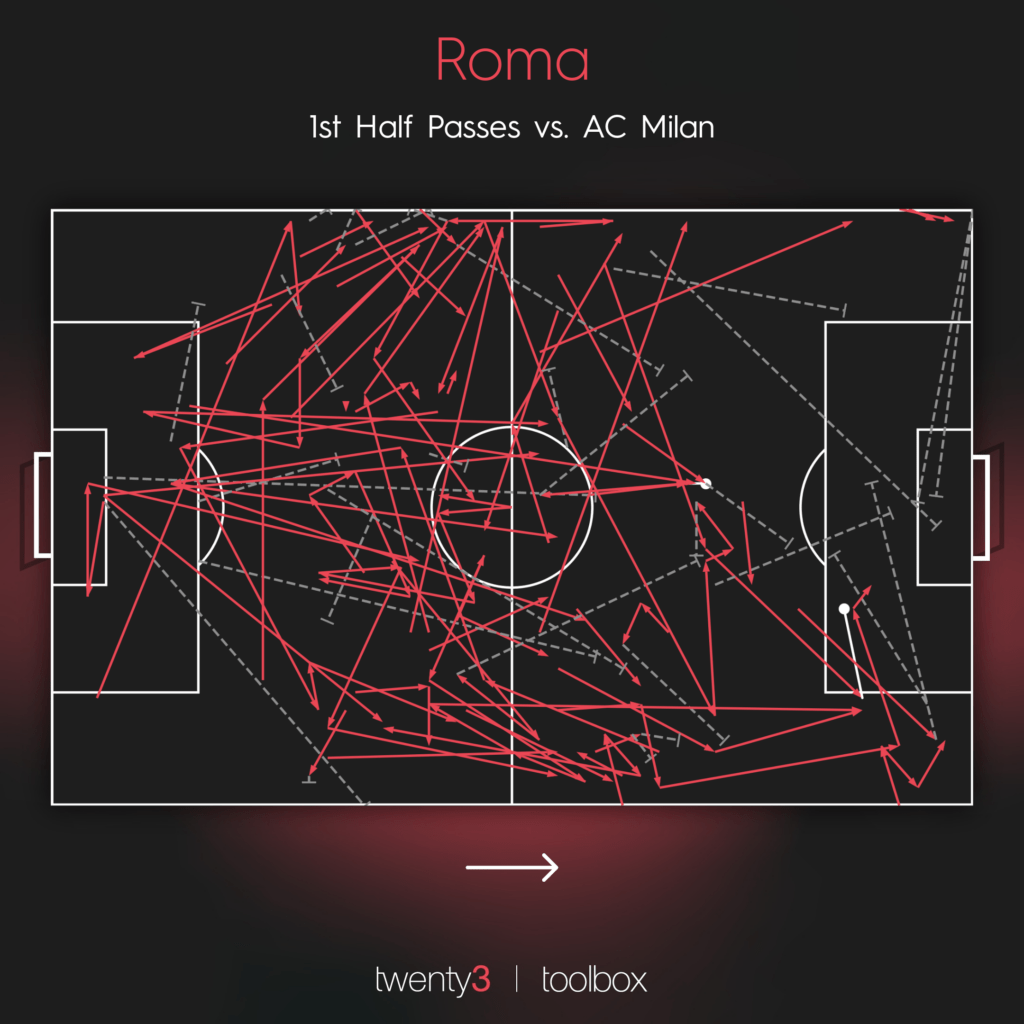 That it wasn't is a reminder of two things: First, it only takes a second to score a goal and completely flip the script; and second, nailing set pieces means you have a shot in any game, no matter which way the wind is blowing.
2. BENFICA'S RIDICULOUS DAY IN FRONT OF GOAL
Before kick-off the story was all about Enzo Fernández. Dropped from the XI due to the ongoing transfer shenanigans involving Chelsea, a story that has dominated football for about a week now.
But once the stadium clock had started, it became all about the football again—and Benfica went from agonising over the future of a star midfield man to agonising over putting Portimonense away.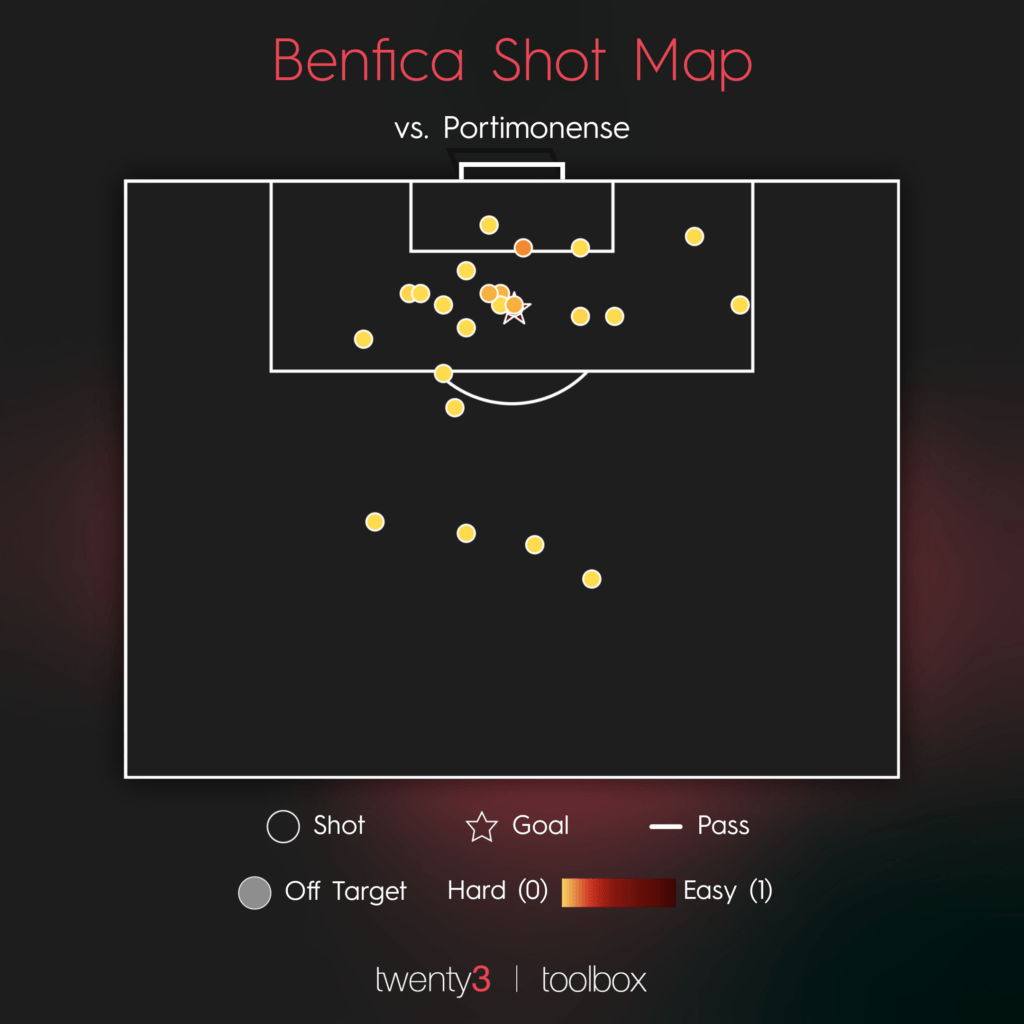 They took a total of 27 shots and racked up a ridiculous 4.9 xG across 90 minutes, only to win by just a single goal, struck from the spot by João Mário. It's perhaps fortunate that that goal came nice and early, else things might well have been a bit more panicked and frantic heading into the late stages of this match.
1. RONALD ARAÚJO IS ALMIGHTY
He's just outrageously good, isn't he?
Barcelona getting Araújo back from injury for the new year is massive, as not only is he far and away their best centre-back—but on nights like Sunday night, he stakes his claim to be considered one of the best in the game, anywhere.
A colossal, physically gifted defender, he's extremely active in duels, disruptive work and 1-on-1 defending. This last week showed us his last-ditch instincts are top notch too, making goal line clearances in two consecutive games—one in the Copa del Rey midweek, then one in the dying minutes against Atlético Madrid to secure three precious points.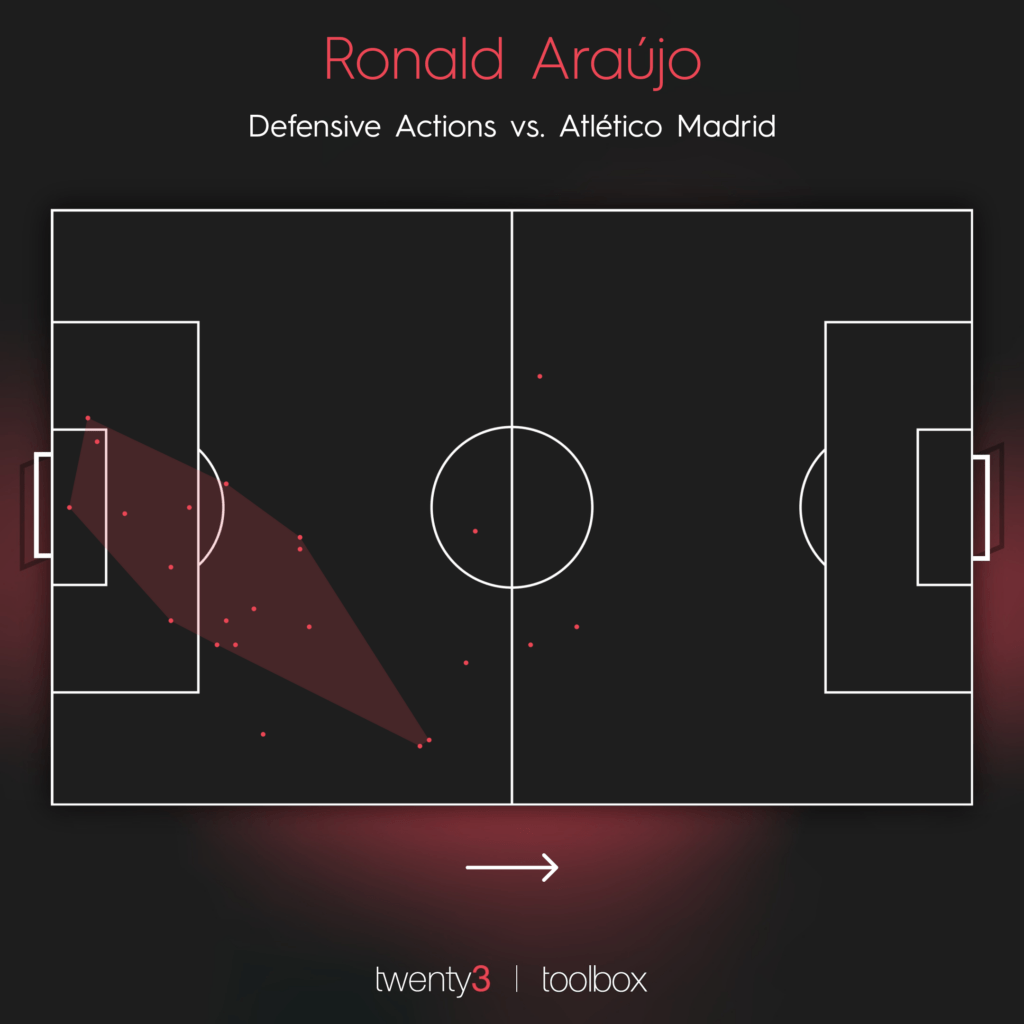 This was his first La Liga game in more than 100 days. He'd had just 60 minutes against CF Intercity in midweek as a warmup. Then he stepped into Atleti's home and, by hook or by crook, he denied them.
Ronald Araújo is almighty.