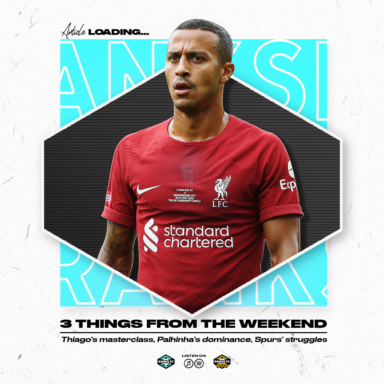 3 Things: Thiago's Masterclass, Palhinha's Dominance, Tottenham's Creative Struggles
Data viz courtesy of the Twenty3 Toolbox. Take a look and start your free trial here.
Our 3 Things weekend wrap returns for 2023, as each week we pull 3 threads from the world of European football and expand on them.
This week it's all Premier League-focused and largely midfield-focused too, as what really hit home over the course of the New Year fixtures was how a mammoth performance in the middle can truly pave the way to success.
1. Thiago Alcântara saves Faes for Liverpool
For obvious reasons, most of the Liverpool-Leicester post-match focus fell on Wout Faes, who scored two unspeakably unfortunate, but also rather funny own goals.
In Virgil van Dijk's own words, Liverpool were "very poor" on the night and looked questionable in every department. Luckily for them they had a couple of excellent performers (outside of Faes) who dragged them over the line on the night—one of which was Thiago.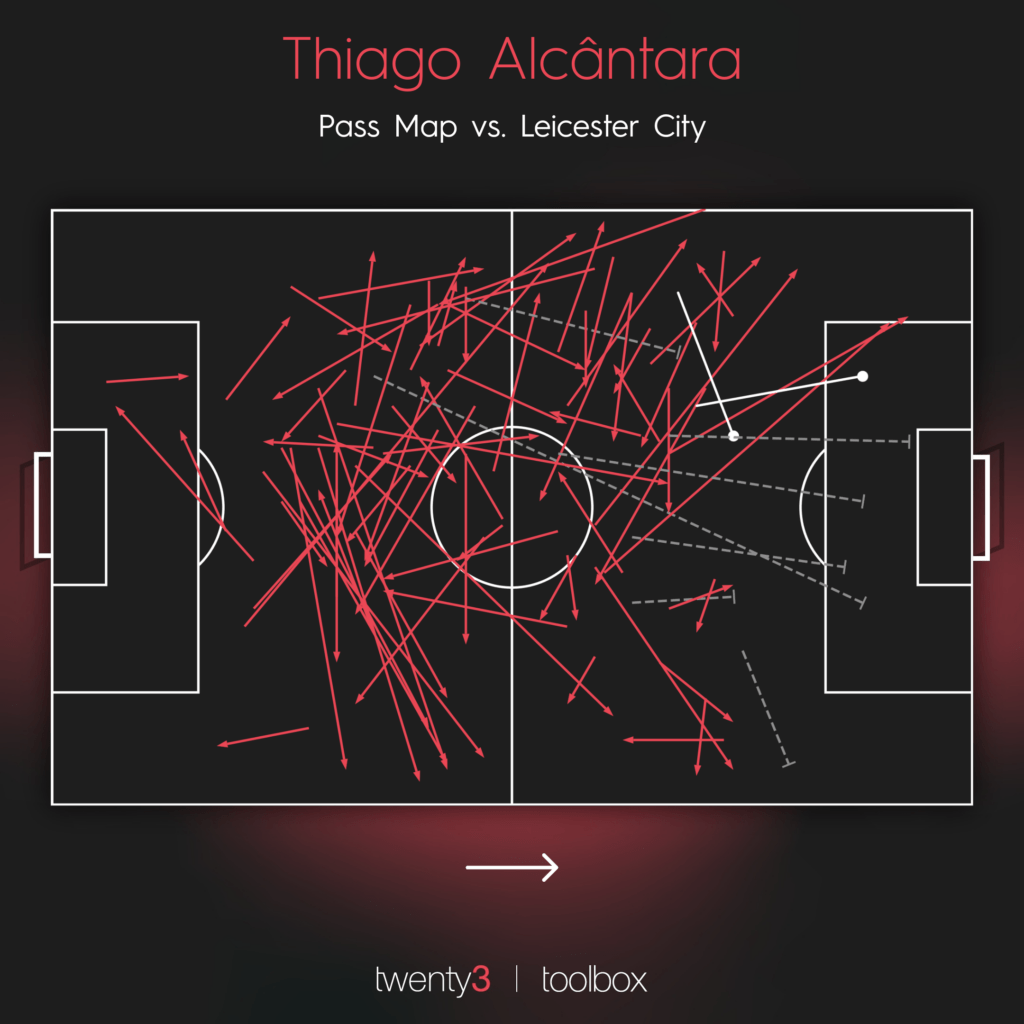 Truth be told, we still probably haven't seen enough of these passing masterclasses from the Spaniard in red, but we'll appreciate them when they come around—and boy did one come around on Friday night.
He was so slippery in possession, just jinking and ducking around would-be-tackles, and he worked the ball around the pitch with his trademark consummate ease. He also chipped in defensively, showing some good positional and anticipatory chops, and it's a good job he did because his Jordan Henderson had an absolute nightmare alongside him.
2. João Palhinha does it ALL
To beat Fulham, you must first find a way past João Palhinha. Fair warning: that's no easy task.
On a wet and windy day, where Fulham did not play well at all, they still emerged victorious against Southampton thanks in large part to their Portuguese midfield commander.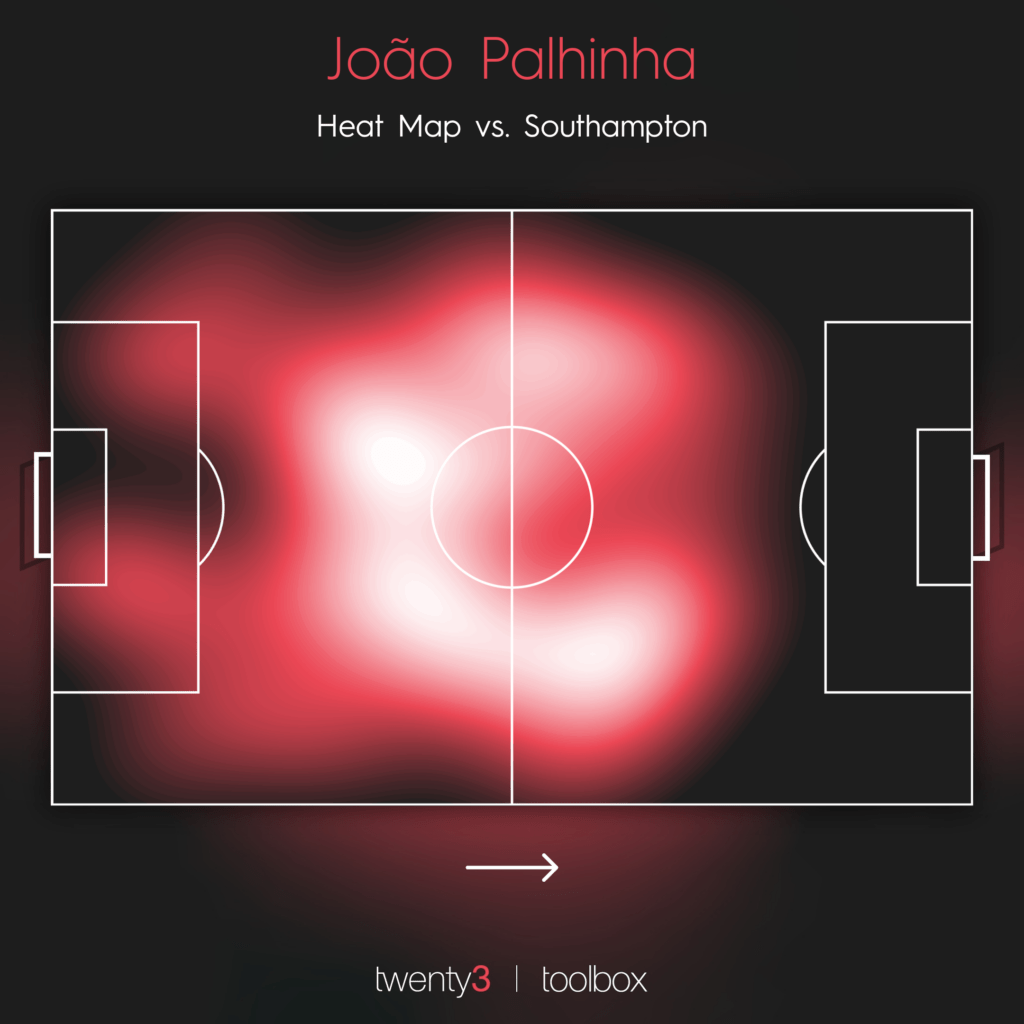 He really was everywhere, as his heat map illustrates. He prowls around in midfield and disrupts things brilliantly, having such a huge influence in the central column of the pitch that teams really have to go wide to make any attacking progress.
He was also on hand not only to provide two incredibly important block-tackles—one of which prevented a goal—but also to rise highest at the back post in the 87th minute to head home the winner. The complete performance, finessed by an extraordinary celebratory knee slide.
3. Blunt Spurs
Tottenham's 2-0 home loss to Aston Villa on Sunday was a tale of two starkly different midfields.
The hosts were pretty dreadful in there, unable to add impetus to the possession game, pick its way through Villa's ranks or protect the centre-backs in transition. Rodrigo Bentancur's absence was keenly felt as Yves Bissouma did largely nothing (again) and Pierre-Emile Højbjerg struggled.
In contrast, Villa's pairing of Boubacar Kamara and Douglas Luiz put in an epic showing, closing off passing lanes, protecting their centre-backs and ruining the rhythm of Spurs' play. Luiz scored one and created another (sort of), but Kamara actually stood the taller of the two on the day; basically everything he did was superb.
Unai Emery's 4-4-2 formation utilised defensive wingers that tracked Spurs' wing-backs, allowing the back four to sit narrow and protect the central zones. It made passing through Villa almost impossible while simultaneously shutting off the wide areas, rendering Tottenham's efforts at playing into the box ineffective.
When Harry Kane doesn't touch the ball for the first 18 minutes of the game, something has gone badly wrong. Antonio Conte has plenty to ponder—and the returns of Bentacur, Dejan Kulusevski and Richarlison can't come soon enough!