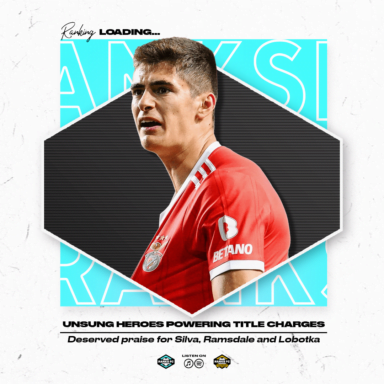 3 Unsung Heroes Powering European Title Charges for Arsenal, Napoli & Benfica
By Stephen Bole
Winning a domestic league is one of the most challenging things to do in football, teams must be consistent for over 30 games and weather all the storms that come from a full season. Most of the praise for winning sides will be showered upon their leading goalscorer, captain, creative playmaker, or one of the other roles that is on center stage each week.
However, title charges take a complete squad from back to front, and each team at or near the top of the table will have players who play critical roles that deserve more attention. Here, we will be taking a look at some of the less heralded members from a handful of this season's title challengers across Europe.
STANISLAV LOBOTKA, NAPOLI
Napoli have been arguably the most exciting team to watch in the world this season, with fans and pundits showering praise on their dynamic playmakers in the final third, such as Khvicha Kvaratskhelia and Victor Osimhen, but Lobotka is the man who makes it all tick.
Playing at the base of midfield in Luciano Spalletti's 4-3-3, the diminutive Slovakian has become undroppable, starting 17 out of 19 in Serie A and 6 out of 6 in the Champions League. Lobotka is not built in the typical mold of a holding midfielder, standing at just 5'6" and weighing just under 160 pounds, but what he lacks in physicality he easily makes up for with his sharp footballing brain and silky technique.
Lobotka excels in always being available to his teammates, and when he gets on the ball, he simply does not lose it, ranking in the 99th percentile for pass completion among midfielders. His success is not warped by a lack of volume either, as he also places in the 88th percentile of passes attempted.
He always knows what to do with the ball before he receives it, and only takes more than two or three touches if absolutely necessary. He's Napoli's link from defense to attack, and without his perpetual availability when progressing the ball, the stars in the final third would not find themselves with nearly as many opportunities to push forward.
As a holding midfielder, Lobotka does not ignore his defensive responsibilities, ranking in the 62nd percentile for tackles with 2.28 per 90. He is incredibly smart at sneaking in and tackling from the blind side of opposing players, and even though he lacks size, he knows how to use his body properly, and often gets between the ball and his opponents, preventing their progress. His low center of gravity comes into play in these moments, just as it does when he decides to carry the ball, which is not as often but he has shown to be fully capable when necessary.
Lobotka sets the tempo for how Napoli play each week, and with his team alone at the top of Serie A by 12 points, clearly they are playing at the right pace. Next time you watch Napoli, keep your eye on the undersized Slovakian—he will not disappoint.
AARON RAMSDALE, ARSENAL
Critics were convinced Arsenal overpaid for Ramsdale in the summer of 2021, shelling out roughly £25 million for him to be their first-choice goalkeeper, but the past 18 months have shown he is right up there with the best in the division.
This season, as Arsenal have surged into the title race, much has been made of their offensive performances (and rightly so), but Ramsdale has led their defense to new heights as well, playing a crucial part in how they build out in possession.
Looking at the numbers, it is easy to see that Arsenal's defense has been outstanding, allowing just 16 goals in 19 games, the second-best record in the Premier League. It also may seem as though Ramsdale does not have too much to do, as he faces just 3.2 shots on target per game, but when called upon, he has been more than up to the task.
Most goalkeepers who play for dominant, possession-oriented sides will only have a handful of opportunities to make their mark on a match, and in the few times when Arsenal have been faced with an opposition relentlessly attacking their goal, Ramsdale has come up with critical saves. Most notably, he stood strong in the second half to keep Tottenham at bay in the most recent North London Derby.
Ramsdale's success this season has not simply been about his ability to make saves when called upon; his technical security at the back has been just as impressive. His confidence and ability on the ball allows Mikel Arteta to use his goalkeeper as an extra man when building out, giving Arsenal key numerical advantages. Ramsdale also has the technique to launch accurate long passes when needed, which is vital for releasing pressure properly.
Finally, the Englishman's influence on Arsenal this year goes well beyond the numbers. He has proven to be one of the squad's most vocal leaders, and his passion and energy set the tone for the intensity that Arsenal have played with all season. If Martin Ødegaard is the conductor of their attacks, then Ramsdale is the general of defence.
ANTÓNIO SILVA, BENFICA
As a 19-year-old centre-back playing a crucial role in one of Europe's most in form sides this season, one would expect the hype around Silva to be out of this world, with outrageous bids flying in left and right from Europe's richest (looking at you, Mr. Boehly).
Silva has perhaps been slightly overshadowed by some of his fellow young stars such as Enzo Fernández and Gonçalo Ramos, who both shone at the World Cup a few months ago. Do not be mistaken, though: Silva's been just as important as they have as Benfica have romped to 44 points in 17 league games.
At 6'2", Silva has the typical height of top centre-backs, and he uses it to his advantage, both aerially and when he needs to use his long legs to break up play. He is not the quickest, but his speed is also not a weakness and his wonderful footballing IQ allows him to almost always be in the proper position to defend and not get caught out.
The Portuguese international plays wise beyond his years, and his smarts allow Roger Schmidt's Benfica team to play on the front foot out of possession, with the centre-backs pushed high up in order to counter press if those further up the field lose possession.
Silva is active but not overly aggressive, ranking in the 93rd percentile for tackles and 63rd percentile for interceptions per game, very impressive statistics considering he plays in a possession-oriented team.
Silva's importance to Benfica is not just seen when defending, as he is just as good in possession. He ranks in the 99th and 90th percentiles for pass completion percentage and progressive passes per game, illustrating that he is secure on the ball while also taking enough risks to push the ball forward. He is not simply an immobile passer though, as Silva also ranks in the 75th percentile for dribbles completed per game, showcasing an ability to get himself out of trouble through ball carrying when called upon.
Critics may attempt to scoff at the level Silva has faced in the Primeira Liga, but he also performed admirably in the Champions League, starting all 6 matches as Benfica topped a group that included PSG and Juventus. Certainly one of the next expensive youth products Benfica have been known for churning out, Silva will first aim to finish this season as a champion of Portugal.
Statistics via FBRef