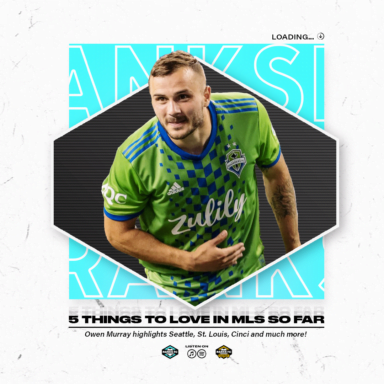 5 Things To Love in MLS So Far! Featuring LAFC, Cincy, St. Louis & More
14 April 2023

Owen Murray
Through seven matchweeks of the new Major League Soccer season, a thicket of threads have begun to emerge, the foundation of yet another tapestry. I'm obsessed with stories, and time and again, this league ceases to amaze me with the tales within it. For so many reasons, it's unlike any other league on earth. Twenty-nine teams produce 14 enthralling matches each weekend, its cataclysm of chaos contests creating true beauty.
It's been seven weeks, and I'm already in love with MLS, 2023 edition. Here's five reasons why.
5. MORRIS (THE YOUNG ONE!) LEADS HIS TEAM BACK TO THE TOP
Aidan Morris, Columbus Crew's 21-year-old midfielder donning the No. 8 shirt, has become one of the league's most ferocious ball-winning midfielders. The American, in contention for a USMNT call up in the upcoming camp, leads MLS in tackles won for a resurgent Crew side under former Montréal manager Wilfred Nancy.
In Montréal, Nancy created a monstrous midfield featuring Victor Wanyama, Djordje Mihailovic (moved to AZ Alkmaar for €6,000,000), and Ismaël Koné (moved to Watford for €8,000,000) that placed second in the East and reached the Eastern Conference semi-final a year after missing the playoffs altogether. Now, in 2023, two things are unsurprising: Montréal is the worst team in the league without Nancy, Mihailovic, and Koné; and Columbus are really, really good. Like, back to back wins with 4-0 and 6-1 scorelines good.
Morris is the linchpin of a midfield featuring 2020 MLS Cup MVP Lucas Zelarayán and MLS veteran Darlington Nagbe: no small feat for a player who started his professional career just three years ago. He's in the conversation for a USMNT midfield berth that features Premier League starters, he's an integral part of what's looking like a playoff team, and (provided he keeps it up), he could be the next Mihailovic or Koné.
4. FC CINCINNATI ARE…DEFENSIVE MASTERS?
Cincinnati are here on the list because, despite the fact that they're top of the Supporters Shield standings at time of writing, it was evident that they had this in them last year. Back then, I wrote that they might be the team to shock Philadelphia Union in the playoffs, and they held Philly to just one goal (albeit the goal that would knock them out) away from home. Now, they're one of the best defensive sides in the league and top of the league because of it.
That defensive fortitude has come to fruition in the new year; as an attacking trident of Brenner, Lucho Acosta, and Brandon Vazquez have sputtered, Cincy have locked things up at the other end, conceding just four goals through seven matches. They've secured four 1-0 wins against some of the league's stingiest defences and best attacks (see: Seattle Sounders, Nashville, Philly), and look every inch the side that they threatened to be last year. With a full year of this, the ex-Wooden Spoon winners could go deep into the playoffs.
MLS offers parity and the opportunity to improve as a vital part of its model. Those who preach the benefits of a league without promotion and relegation point to examples like Cincinnati: thrice rock-bottom in their first three years, only to then shoot up the table since. Five years into their existence as a MLS franchise, they're on target to compete. If that's what they're peddling in America, it's sure to set a precedent now. I'm excited to see how it works out.
3. MORRIS (THE OLDER ONE!) LEADS HIS TEAM BACK TO THE TOP
In the offseason, Seattle signed Héber to back up Raúl Ruidíaz, one of MLS' most feared forwards, as a response to the club's first failure to reach the playoffs in their 14 year history. As a result, Jordan Morris, now seven years, two ACL tears, and one heartbreakingly short stint with Swansea City into his career, seemed destined to fill the role of speedster on the left of Brian Schmetzer's 4-2-3-1.
When Ruidíaz, called to Peruvian international duty, and Héber (injured) were unavailable, Schmetzer turned to the Stanford graduate up front. What did he do?
He scored four goals against Sporting Kansas City (a shout in there as well for Léo Chú, credited with four assists in the match). Since then, he's cemented his spot atop the Golden Boot rankings, with eight goals through seven matches. For a player once pigeonholed into a specific role in a strike partnership, he's become incredibly versatile. Seattle's versatility is something that Schmetzer says keeps him up at night, and they're yet another side who've recovered from an uncharacteristically poor season to rip their fellow sides apart.
If they're not at the sharp end of the MLS Cup Playoffs come November, I'll be surprised.
2. LAFC'S IMPRESSIVE BALANCING ACT
There's a reason that LAFC are frightfully good every week. There's a reason that they can afford to sit José Cifuentes on the bench and still beat teams comfortably, and there's a reason that they can then bring him into Champions League matches to do this. They've become the archetype of MLS 3.0, even more so than Seattle or Atlanta before them. They're simultaneously competing at an elite level in both competitions, something no one has done with success before. It's not even surprising.
It's something to love because it signals the continual upward growth of a league that (so far) is refusing to hit its ceiling. There's a multitude of complaints that one can bring against it, whether to complain about the manufactured parity, salary cap, or lack of a deserving winner. LAFC have shattered all those question marks, winning both the regular season and MLS Cup and churning out value Designated Player after Designated Player before sending them off for a fee.
If they go on to become the second-ever MLS club to win the CONCACAF Champions League, it'll be deserved, and anyone who's cheering for the league's growth should support them. I can't wait to see what they do next.
1. EXPANSION TEAMS CAN BE AUTOMATICALLY GOOD NOW! (AT LEAST FOR A BIT)
St. Louis CITY came into the league with low expectations. The historical first-year success rate of expansion sides is middling at best—though the precedent is there for a success story if things are done right. St. Louis seized that potential narrative with both hands winning their first five matches to break the league record for an expansion team.
João Klauss and Eduard Löwen sped past defences as one of the best counter-attacking sides in the league, and despite stumbling at the hands of Minnesota United and Seattle, look set to make the playoffs in their first year.
The price of an MLS club has become exorbitant (with the expansion fee alone somewhere around $200 million), and investors can be scared off by first-year flop stories like Cincinnati who, despite recovering to become a competitive side, were a poor investment in their first three years. St. Louis is yet another example of an ownership group doing it right, taking the time to create a strategy, and making signings that ensure stability in a league designed to create a vacuum of it. It's something to love.
St. Louis is a wonderful choice if you're looking to get into the league. They've got the dynamic, exciting, attacking flair that the league offers in spades, and you'll get an emotional journey at the very least. What could be better?