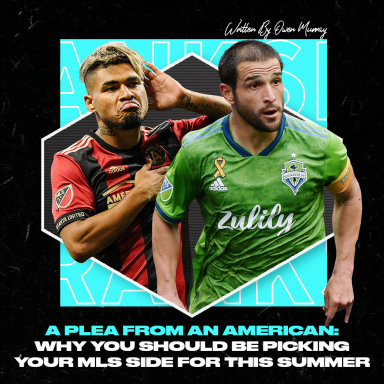 A Plea From an American: Choose Your MLS Side Now!
What a season. We've seen it all. Title races down to the wire, great escapes pulled off in the dying seconds, glory, grief, and genius. The season is done (and what a season it was!), and without any major (Men's) international tournaments this summer ahead of the November World Cup it's time to settle down and not watch any live football until your clubs return in August.
Wrong.
In America (and Canada!), you're missing out on the epitome of chaos and intrigue in the sport. Take a minute to put away your biases and ponder what you could experience. Twenty-eight teams means twenty-eight different developing storylines, fights for playoff contention, and twenty-eight golden opportunities to see something different.
So often we complain about the monotone nature of modern football, the monetisation and the dreary future. MLS isn't without that (obviously), but the league structure means that, especially in the summer, most teams will still be fighting vociferously for a spot in the wide-open playoffs. Seven of 14 teams from each conference (East and West) earn a playoff spot by season's end, meaning that your random selection of a team to support has a remarkably high chance of some postseason excitement (that's where the true chaos is). The marketing surrounding the league and the relatively low global status means that results are often unpredictable and wild but get great media coverage, and there's absolutely never a game that couldn't devolve into absolute mayhem.
It's low risk, too. The team you pick won't be tied to your identity forever if you don't want it to be. Fanbases are often welcoming and will be happy to see you supporting a club that doesn't get a lot of recognition across the pond, and they'll probably be fascinated by your view of the league. The supporter culture league-wide is something that's been built from the ground up, and while it's more visible in some places, every team has a diehard group of supporters that make the club what it is. Aside from the vibrant fan culture, SB Nation news websites such as sounderatheart.com (Seattle) or angelsonparade.com (LAFC) are well-maintained and provide an easy way to stay caught up with a league that isn't always easy to track…
Yep. The time difference. The West Coast is eight hours back from London and nine from Spain, which means the East Coast is five and six hours from Europe, respectively. It's understandably tough to wake up early or stay up late to catch the games. Believe me, I know. All the time I've spent waking up at 4:30 made me choose a zero period class when I reached high school just to fill that four-hour gap between the early kickoff and school. There's a secret, though. You don't have to do that. It can be a great experience to watch matches in real time and it provides a real sense of fandom and devotion to do so, but you don't have to. If you're one of those people who can watch a game on delay, ignore their phone for a few hours, or just generally value a reasonable amount of sleep, we'll still accept you. There might be a string of Discord messages at an unholy hour that lights up your phone, but it's your excitement that matters. Above all, America is about entertainment and that's what I hope it provides to you.
The way the MLS schedule works is a season starting in March (with Champions League running about February to May) and wrapping up around late October or November. The teams play 34 matches against teams from both conferences, competing for a top-seven spot amongst the fourteen in their division. Generally the conferences are split East and West, but there's some head-scratchers in there (Nashville in Tennessee is West while Chicago is East?). Regardless, once the regular season ends and the Supporters Shield (what European fans would regard as the *real* winner, but no one over here besides the team who won it seems to really care that much) is awarded based on who got the most points over the 34 matches. Then, the top team in each conference is awarded a bye to the second round of the playoffs and the next six play the first round, with the top three getting home advantage in a one-legged match. They advance and play subsequent winners until a Conference Champion is crowned. The two Conference Champions contest MLS Cup at the home of whomever gained more points in the regular season, and the season is finally over (phew). Regardless of whether you're in it for the long haul or just for a summer fling, Major League Soccer has time for you.
SELECTING A CLUB
Choosing a club to support in America can be a challenging task. Do you want a title-chaser, an underdog, a basement-dweller with potential, or San José, who are just there for vibes and to cause general chaos? In the following section, I've come up with a basic idea of where each team is, their relative status within the league, and a European equivalent. Hopefully it's mildly entertaining and you can pick someone to guide your viewing of the Greatest Show In American Sports.
Atlanta United FC
Embed from Getty Images
Team Status: Relative Underdogs with Big $$$
Atlanta signed FIFA wonderkid Thiago Almada (the latest of many "final puzzle pieces") over the summer of 2021 and still have Josef Martínez and assorted other awesome creators and goalscorers that sometimes decide to play some of the most incredible football around. They're just never all playing together. Plus, a legitimately amazing fanbase and a great young manager in Gonzalo Pineda. Capable of the incredible and the terrible.
European Comparison: Chelsea
Austin FC
Team Status: Somehow a Supporters Shield contender?
Austin finished second from bottom of the West last year and are somehow now buzzing around the top of the league. Who knows how long they'll be there. Great uniforms though (black and green!) and a fun philosophy that is easy to get behind.
European Comparison: Everton (First ⅓ of 2021)
Charlotte FC
Embed from Getty Images
Team Status: Literally No One Knows
Charlotte entered the league this year and immediately set an attendance record for their opening game which they promptly lost. Then they won some games, and now they're chilling around the playoff line with absolutely no expectations attached. Anything remotely cool is a bonus from here on out. Join the bandwagon early?
European Comparison: See Team Status
Chicago Fire FC
Team Status: Good Like Once Every Two Months (Room for Improvement!)
They signed Xherdan Shaqiri and made him the highest-paid player in the league! They've also signed league vet Chris Mueller! They're also rock bottom of the league on 0.92 PPG. Can the stars turn them around?
European Comparison: Newcastle 2021-22 in that weird winter period where no one knew if they were good or not
FC Cincinnati
Team Status: Huh, Guess They're Decent Now?
For most of their first three seasons in MLS, they were prime Wooden Spoon contenders. Now they seem okay and competitive with young and exciting players. Does the rise continue? Do they go diving in the summer for wood-related utensils? Who knows?!
European Comparison: Crystal Palace
Colorado Rapids
Team Status: No Money, Less Problems
Colorado has one of the lowest budgets in the league, but manages somehow to scrape out wins again and again. Great coach in Robin Fraser. Never really expected to outperform the very best, but they're always in and around the playoffs. Being a terrible away game to play gives them a huge advantage (and they haven't lost at home in 22 matches as of late May as evidence).
European Comparison: Brentford
Columbus Crew SC
Embed from Getty Images
Team Status: Zelarayan And What Army?
Lucas Zelarayan is one of the best players in the league without a doubt. It's the question of who supports him that is the key to this Columbus side. Their MLS Cup 2020-winning team featured dynamic attackers and a solid defence, and most importantly various foils for Zelarayan's brilliance. They lack those now, having sold Gyasi Zardes to Colorado and various pieces failing to hit stride. All the potential in the world, but never capitalising on it (except for once or twice when it was awesome).
European Comparison: Barcelona, But Not The Good Version. The Version Where Leo Messi Drags Them To Success
D.C. United
Team Status: New Manager, Same Team
DC struggled before firing Hernan Losada. Now, with Chad Ashton in as an interim, they aren't showing signs of improving. Why should you watch them? There's only one direction to go from here…
European Comparison: Norwich City (sorry guys, someone had to take it)
FC Dallas
Team Status: The Kids are Alright (while they're here)!
Dallas consistently boasts one of the best academies in the league, producing talents such as Weston McKennie, Tanner Tessman and Chris Richards. But, it's sometimes tough to translate that to the field, given the physical nature of the league and the bedding-in period young stars often require. Don't be surprised to see one season's talents shipped out for the next generation, too.
European Comparison: Borussia Dortmund
Houston Dynamo
Team Status: Decency Is Better Than Basement Dwelling
Houston are…okay? They're hovering around the playoff line, got their stars functioning, but still have a relevant amount of chaos for a MLS team (and the occasional ridiculous match). They're okay, and sometimes that's the best you can ask for.
European Comparison: Southampton
Inter Miami CF
Embed from Getty Images
Team Status: More Money, More Problems (But At Least Ronaldo Suarez Messi is coming!)
Inter Miami is a team that is supposed to be awesome. They just can't figure it out. They've got the funding, the stadium, the owners, but can't for the life of themselves get it together on the pitch. The stars can't gel, and they "accidentally" signed an extra Designated Player last year (??). They certainly have the possibility of being great in the future, but this season is looking questionable already.
European Comparison: Newcastle Pre-Takeover
LA Galaxy
Team Status: High Highs, and Low Lows (tbd)?
They've got a great new manager in Greg Vanney, Chicharito is looking okay, they've got fun attackers and they're sometimes surprisingly good defensively? LA are a historically great team, have the stars that MLS is known for, and the ambition if not the inherent ability to challenge for a trophy. They've just fallen off in the trophy-winning department recently.
European Comparison: Manchester United When The Fans Say "We're Starting A New Era!"
Los Angeles Football Club
Embed from Getty Images
Team Status: These Guys Figured It Out
LAFC are a fantastic team. On his day Carlos Vela is the most dangerous player in the league. They're one of the best teams to watch, and their counterattacks are absolutely devastating. They now need the mentality to stay in difficult games and compete when it gets tough. These guys are good in July and have shown the consistency to win a traditional league, it's just a question of whether they can be good in a knockout game (which is all anyone cares about in America).
European Comparison: Manchester City
Minnesota United FC
Team Status: Reynoso And What Army?
Lucas Zelarayan Emanuel Reynoso is one of the best players in the league without a doubt. It's the question of who supports him that is the key to this Columbus Minnesota side. Their MLS Cup 2020 winning 2020 Western Conference Final appearance featured dynamic attackers and a solid defense, and most importantly various foils for Zelarayan's Reynoso's brilliance. They lack those now, having sold Gyasi Zardes Kevin Molino to Colorado Columbus and various pieces failing to hit stride. All the potential in the world, but never capitalising on it (except for once or twice when it was awesome).
European Comparison: Barcelona, But Not The Good Version. The Version Where Leo Messi Drags Them To Success (again)
CDF Montréal
Team Status: Oh Wow, These Guys Are Good Now!
Club De Foot Montréal are actually a contender for the East. Not necessarily unexpected, as Wilfried Nancy's project appeared to be bearing fruit, but this is a welcome surprise to see them high in the conference table. Plus, Djordje Mihailhovic is a superstar, and seeing him ball out is a great experience.
European Comparison: Who Everyone Wants Brighton To Be
Nashville SC
Embed from Getty Images
Team Status: Minnesota And Columbus but with A Supporting Cast (kind of)
Nashville are strong defensively. The acquisition of USMNT stalwart Walker Zimmerman has seen to that. On his day, Hany Muhktar is unstoppable. The key is that they have (sometimes) shown the players around him to go and play nicely. The issue is that they really like that low block sometimes (but hey, if it works) and some occasional dark arts…
European Comparison: Atletico Madrid
New England Revolution
Team Status: A Fall From Grace, But Still Okay
As with many players in the league, on his day Carles Gil is among the best in the league. They even have the guys to support him (as 2021 showed) but with Matt Turner leaving for Arsenal at some point this summer and Adam Buksa looking likely to exit as well, who knows how long they stick around and make something happen.
European Comparison: Leicester City post-2015/16
New York City FC
Team Status: Awesome. Now Let's Hope All The Awesome Stays.
NYCFC are one of, if not the best, teams in MLS. Hence, they won MLS Cup last year. Plus, they made CCL semifinals and got knocked out by a Seattle team that ultimately proved better (but they weren't without their chances). The unfortunate reality is that some of these players are gonna get snatched up, either by City Football Group or European offers that are just too good to resist. For the meantime, though, they're awesome (and will still be amongst the best even if Taty or someone else leaves).
European Comparison: Manchester City, but with the environment of an overachieving team that's trying to hold onto players
New York Red Bulls
Embed from Getty Images
Team Status: Watch These Guys, There's Some Great Players And Maybe Even A Good Team
Honestly, if nothing else, watch NYRB for Caden Clark. He was bought by RB Salzburg and then loaned back as part of the Red Bull food chain. There's a very real possibility that you'll be hearing about him in a couple years. Also, as a bonus, New York might even make a run! Who knows (this is kind of the premise of MLS)?!
European Comparison: Fiorentina
Orlando City SC
Team Status: Carnage, But The Good Kind (?)
Orlando are apparently good. They don't always deserve it, but they've managed to get to the upper echelons of the East through some combination of player quality, Oscar Pareja magic, and it being really hot in Florida. Like I said, good, but invest in hair products because they'll have you pulling it out occasionally.
European Comparison: Juventus
Philadelphia Union
Embed from Getty Images
Team Status: Great, Just Great
Take what I said about NYRB and Caden Clark and apply it to Philadelphia and Paxten Aaronson. His brother, Brenden Aaronson, is off to Leeds after tearing it up for RB Salzburg. They both came out of Philly's academy, along with a host of other players who just seem to show up and be good. Plus, the Union are first in the East. What could go wrong?
European Comparison: AC Milan
Portland Timbers
Team Status: HahahahahahaCHAOS
As a Seattle fan, I feel obligated to laugh about Portland being terrible by the stats this season. However, so are Seattle and I'm not gonna count either Cascadia team out. They obliterated SKC in May 7-2 and then lost to San Jose and Philadelphia. Some (sigh) great players in Sebastian Blanco and the Chara brothers and a loud and irritating fanbase that is probably amongst the best in the league if you were ranking them objectively and without bias.
European Comparison: Tottenham Usually
Real Salt Lake
As J. Sam Jones keeps saying on mlssoccer.com, just enjoy the ride. Nothing about this RSL team makes sense, but they seem to be okay and just finished figuring out some off-the-field stuff. They lost star player Albert Rusnák to Seattle as a free agent and signed some players that we'll say could be good soon (they just haven't really been good yet).
European Comparison: Aston Villa
San Jose Earthquakes
Team Status: Chaos Merchants And They Love It
Even after firing Matias Almeyda, the man-marking master (sometimes to his own downfall), San Jose are continuing their run of being absolutely unpredictable. Genuinely nobody knows how this team will do each week, and for some that's great fun (not for the diehards though). Enjoy the ride at your own risk.
European Comparison: Bayer Leverkusen
Seattle Sounders FC
Embed from Getty Images
Team Status: Best In North America and Maybe The League If We Want To Be
The Sounders have a long history of…uh…not trying until July or August? They're often around the bottom of the conference for one reason or another until late summer (this season they binned off the league while going for CCL) and then turn on the burners and steam into the playoffs and maybe win them. Good bet for a title contender, great players, great fans (can you tell this is my team yet?).
European Comparison: Real Madrid
Sporting Kansas City
Team Status: Aw Man, I Thought We Were Good!
One of the most consistently decent teams in the league is now not good. It's always sad to see, and they do have players like Alan Pulido, but this is really an effect of never replacing stars who left years ago finally kicking in. If you're in this, you're in for the long haul.
European Comparison: Wolfsburg
Toronto FC
Team Status: Listen To This…
On his day, Alejandro Pozuelo is one of the best players in the league. I know this is the status for a lot of teams, but it's true. Toronto absolutely steamrolled teams in the good old days with Seba Giovinco and then Pozuelo. It's just all a bit subdued now. Bob Bradley is coaching his son, though.
European Comparison: Remember When Everyone Said Arsenal Were Going Down Because They Lost To Brentford In Matchweek 1? Yeah, This Is If That Happened.
Vancouver Whitecaps FC
Embed from Getty Images
Team Status; Man, I Really Wanted These Guys To Be Good (Truly)
Vancouver really impressed last year on the back of Brian White, Ryan Gauld, and Lucas Cavallini. They handed a contract to miracle worker Vanni Sartini and said "Let's get to work!". Whatever work they did, it hasn't been working. It doesn't help that they've been victims of injuries all season long. Sigh. At least they have cool jerseys (the hoop kits are back!).
European Comparison: Venezia
In Conclusion
If one of these teams really stands out to you, go for it. Jump in head first and find the real fans who'll make it fun. Do as much or as little as you want, but give the league and team an unironic chance. If you don't want to pick a team and just watch the good games, that's totally okay. There are some really good teams who can produce something close to great football occasionally, especially when they play each other. Most of all, forget every bias you have about MLS and just enjoy the vibes. All those games where we said, "I wish football was this chaotic and fun all the time'? Yeah. That's MLS. Have fun!