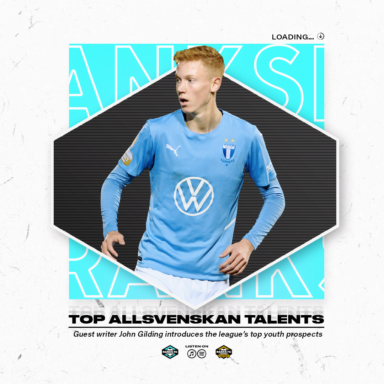 Allsvenskan 2023 Preview: Ranking 5 Young Players to Watch This Year
By John Gilding
What do you look for in a league? World-class players and managers that represent the peak of the sport? A mix of young talent and old legends returning to their home clubs? A hideous trophy that no one in their right mind would want to win?
Well, the Allsvenskan returns for the 2023 season this weekend and it ticks two of those three boxes. To mark the return of one of Europe's greatest leagues, I've put together a list of young players that you need to keep an eye out for when they leave Sweden.
The traditional route for Swedish youngsters moving to one of the top five leagues is to go via Belgium or the Netherlands to make the step up in quality less vast. More recently though, the trend has been to make the leap in one go. Williot Swedberg's move to Celta Vigo and Yasin Ayari to Brighton more recently, to name names. And in the transfer world, the general rule is that if Brighton are doing something, it's probably a good idea.
If you're a professional football scout, you can use this list as a shortlist of players you need to look at on your next trip to Sweden. If you're one of the several people that aren't professional football scouts, you can use this as a list of 5 names to remember when they come up in a discussion in the pub after they inevitably make their big move. You can refer back to this list and wisely say: "Oh yeah, I read about him, he's good."
The only rules for this ranking are that players have to be Under-21, which means Bilal Hussein and Hampus Finndell—although both promising talents—miss out, and the players have been ranked on how likely they are to make a move to a top-five league soon.
1. Hugo Larsson, 18 (Malmö)
Hugo Larsson is not a new name for fans of the Allsvenskan. Winner of Young Player of the Season last year, his debut campaign was one of the few highlights for Malmö in 2022, as they finished outside the top three for only the second time in a decade.
The most striking thing about Larsson is how much of a physical presence he is at such a young age. Actually, that's not true. The most striking thing about him is his vividly ginger hair. The second is his physicality. During matches that hair becomes an orange streak, popping up all over the pitch.
Larsson is often found at the base of midfield in Malmö lineups, but don't mark him down as a midfield destroyer, because that's exactly what he isn't. Labelling him at this stage of his development is a bit presumptive, but his role for Malmö is more like a box-to-box. He is tall (6'1") and strong, which gives him the confidence to take on older, more experienced players in duels, and you'd find it hard to get the ball off him once he's got it. He is also intelligent, always getting into good positions to receive the ball and has the vision and ability to pick out clever progressive passes himself when they are required.
He's clever off the pitch too, and very self-aware. In January, Bournemouth made a €12m bid for him. After some deliberation, he decided against the deal, not because the terms were unsatisfactory, but because he felt that the Premier League would be too big a jump at this stage. He also had a trial with Chelsea last year which ended in a similar way.
Based on that, a summer move is unlikely unless he feels that the right option comes along. Malmö will want to right the wrongs of last season and have a good chance of returning with the title. Larsson will be a huge part of that campaign, so a move in January 2024 seems more appropriate. After the Bournemouth situation, there will be a few more eyes on Larsson this campaign, and that €12m fee could rise, which would be huge for Malmö and for the whole league, as the official transfer record is still held by Zlatan Ibrahimovic and his €8.7m move to Ajax in 2001.
2. Johan Bångsbo, 20 (IFK Göteborg)
Heading into the 2023 season, IFK are in a bit of disarray.
They sacked their manager three weeks before the league kicks off after getting knocked out of the Svenska Cupen (Swedish Cup) in a rather dismal fashion. They have just three centre-backs on the books, one of whom has spent pretty much all of his career to date in midfield, and despite being one of Sweden's traditional big-hitters, they haven't finished higher than seventh in the last six seasons.
However, despite all those woes going into the season, Blavitt fans have one ray of hope to cling to.
Johan Bångsbo has had to be patient for his chance to shine. Like Larsson, last season was his debut campaign for his club, but he still had to spend most of the first half sat on the bench. When his chance rolled around in back-to-back games against IFK Norrköping, he grasped the opportunity with both hands. After two 2-0 wins, he was undroppable. He has played every single minute of every Göteborg game since.
Liverpool were tenuously linked with Bångsbo in January. Although nothing solid came out of it, it's not hard to see why the link was made. Bångsbo is a disciplined (he hasn't been carded yet in senior football), strong, intelligent left-footed centre-back who is comfortable on the ball and in a high line. He's not the fastest, but his awareness means he's not often caught out by a run in-behind, and he is constantly scanning situations as they develop. Measuring in at 6'3", it's tough to get a cross over him, however he comes out the loser in ariel duels more often than he should, given his height. That should come with more game experience though.
Göteborg can't really afford to lose Bångsbo at the minute, certainly not until they invest in some more reinforcements at the back. However, if they want to get back up to the top of the table, they might not be able to afford not to cash in on their most significant asset. Like Larsson, a move in January is more likely than the summer, given Bangsbo's importance to the team, but it's Göteborg, so never rule anything out. 
3. Lucas Bergvall, 17 (Djurgårdens IF)
Lucas Bergvall is the latest high-quality talent to pop out of one of Sweden's best youth academies. IF Brommopojkarna (BP if, like me, you find it difficult to wrap your lips around the whole thing), have been churning out top prospects for years, competing with the biggest teams in the country despite spending most of the 21st century outside the top division.
Seven of the 26 players in Sweden's current national squad came from BP, including the main man, Dejan Kulusevski. So they have the form that proves the hype around Bergvall is not misplaced. With his help, BP were promoted back to the Allsvenskan last season, and in the annual raid of their young players by Sweden's big guns, Bergvall (and his brother Theo) was snapped up by Djurgårdens.
A capable playmaker, Bergvall dictates the tempo of a game despite his young age. His footballing IQ is already so advanced, and the next steps in his development at Djurgården will be to match that IQ and technical ability with physicality and composure at a higher level, firstly from the bench and then building into a starting role, following the same development path that Larsson and Bångsbo carved last season.
Before his move to Stockholm, Manchester United were heavily linked with a move, and that wasn't completely out of the blue, as he already had a trial with United when he was still in the BP youth ranks.
Bergvall is one of the most exciting players to come from a Swedish academy in years. The only reason he isn't higher on this list is that Larsson and Bångsbo have just a little bit more senior experience which means their big moves might be coming sooner. The Allsvenskan will have a bit more time to enjoy Bergvall yet, before his inevitable well-funded emigration.
4. Montader Madjed, 17 (Hammarby IF)
2023 will not be Montader Madjed's first season in the Allsvenskan, but it will be his first with everyone sitting up and analysing his every move.
After being promoted to the Varbergs BoIS senior side last season, Hammarby quickly snapped him up in August and he spent the rest of the year in the third division with the other Hammarby (TFF). In his return to Bajen in the Swedish Cup at the start of the year, he made an immediate impact. In four cup appearances, Madjed notched up a goal involvement every 25 minutes, including a hat-trick in his only start, an 8-0 win over GIF Sundsvall.
Hammarby have had a busy winter window, losing both their starting full-backs, two important midfielders and two key components of their attack in Gustav Ludwigson and Viton Berisha. They've replaced well, and despite the major squad turnover, they have been sharp in preseason and are poised to make a title challenge this season, fighting with Malmö and BK Häcken for that hideous trophy.
Madjed will probably play more of a backup role to begin with, an "impactor," to borrow Mikel Arteta's terminology. He's predominantly a right-winger who loves to cut inside and directly affect the scoreline. He is an effective dribbler and likes to take players on himself, using bursts of acceleration to get past his man.
Madjed's story from here looks like it will mirror Bergvall's. Both of them are playing their first season at a big club with title ambitions, and are likely to start their time at the top on the bench, coming on to influence and change games late on. Hamarby will want to get the most out of their investment in Madjed, which is likely to involve at least a season of him tearing apart the Allsvenskan, then a big move in summer 2024 or 2025, depending on how much his next club want to get the jump on their rivals in the race to acquire part of the Allsvenskan's next generation.
5. Bénie Traoré, 20 (BK Häcken)
2022 should have been the year of Bénie Traoré. After breaking out in 2021, the Ivorian was set to play a starring role in one of the league's most exciting attacking sides. Häcken won the title for the first time in their history, but a cruel injury meant Traoré was forced to watch the success from the sidelines.
After such an extended absence, you could forgive Traoré for making a slow start in 2023. He hasn't though. Traoré has returned with a bang, seamlessly slotting into his team's lineup after the departure of key man Alexander Jeremejeff.
Häcken have stormed through the Svenska Cupen, and they will play Mjällby in the final in May. In five games, including demolitions of Norrköping and Djurgården in the knockouts, Traoré has racked up three goals and three assists. Although he's played centrally since his return to replace Jeremejeff, he's most comfortable on the right wing, operating in the half spaces and cutting inside, despite what his right-rootedness would have you assume. He's a fantastically unpredictable player, who prefers to dribble past his opponents than pass his way through, and has the skillset to do that.
After missing a whole season of football, Traoré might not be high on many scouts' lists, but that will soon change if he impresses in the first few Allsvenskan rounds, and a move to a higher league could be imminent. If nothing else, Traoré gives you an excuse to watch Häcken this season. They are brilliant to watch, picking teams apart for fun with some electric football, giving most of the Allsvenskan a reminder that you can still be successful and exciting.
—
These five players, along with honourable mentions like Taha Ayari and Noah Eile, are part of one of the most exciting generations to come out of Sweden in years. Apart from Traoré, they could form part of a much-needed revitalisation of the Swedish national team, which is currently mired in a reliance on ageing veterans. It's a shame that they have to leave the Allsvenskan to achieve that potential, but that's the unfortunate truth of any league outside the elite.