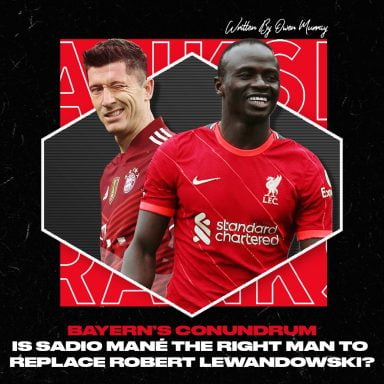 Bayern Munich's Striker Conundrum: Is Sadio Mané the Right Man To Replace Robert Lewandowski?
As Robert Lewandowski continues his open courtship of Barcelona despite Bayern Munich's desperate attempts to hold onto their star with public statements claiming his presence is guaranteed next season, a miniature crisis is unfolding.
If Lewandowski indeed leaves the club, the sole remaining out-and-out striker in the squad is Eric Maxim Choupo-Moting. Despite the heroics of the man who can do it on a cold, rainy night in Stoke, he cannot reproduce what Lewandowski brings to the team and the club. Lewandowski tallied 50 of Bayern's 136 goals across all competitions in the 2021-22 season, a ridiculous 37% of the team's scoring. Despite boasting an arsenal of threats from wide and deeper, if they are to continue in the current style they must sign a centre-forward capable of approaching what Lewandowski provided.
Ironically, the most complete replacement, one already acclimated to the league and its teams, was Borussia Dortmund's Erling Haaland. It's rare that a player of his caliber leaves the Bundesliga without Bayern having a big say in things, and it's easy to imagine that, had Bayern known that Lewandowski would be leaving, they would've gone all out for the Norwegian. However, Haaland is tied to Manchester City, and the Bayern front office and managers must seek another replacement. They will likely desire a younger, proven attacker who can sit atop the formation as the jewel atop Bayern's crown. Who (or what) is that player?
Assessing Lewandowski's outstanding statistics by percentile, he falls above the 80th percentile in eight of the 20 categories, and is "world class" (above the 95th percentile) in five. These five categories include Non-Penalty Goals (99th), Non-Penalty xG (99th), Shots Total (99th), NPxG+xA (99th), and Touches in the Attacking Penalty Area (97th). This indicates that, although Lewandowski is above average as a creator and a carrier, his true value to the squad lies in his ability to take a high volume of shots with a high conversion rate. This stems from an average of 7.94 touches in the penalty area per 90, allowing him to benefit from the creative ability of the aforementioned wide and midfield weapons.
Essentially, the player that Bayern sign should be able to turn the passing ability of Thomas Müller and Co. into shots at a rate that can support a third of his team's output while also possessing an efficiency in build up that releases the wingers into space. It's not an easy task, nor are there many players able to boast the array of finishes and movement that Lewandowski does, but it's a must for the German champions.
The Clear Favorite
Many major news outlets have touted Liverpool's Sadio Mané as Bayern's ideal target. Indeed, Bayern have already submitted two offers for the Senegalese attacker, and while they were both declined, a third offer is landing very soon and it could well hit the €45,000,000 mark Mané is valued at. Should Bayern sell Lewandowski, who, like Mané, is in the final year of his contract, they would ask for a similar price for the Pole. The money would be there, but it's unclear if Bayern are willing to pay it.
If they are to sign Mané, he would fill a different profile to that of Lewandowski. Traditionally fitting Liverpool's 4-3-3 as a left winger, Mané has long been a fierce danger to defences. Despite generally starting on the left of Liverpool's attacking trio and with a higher defensive workrate than the Pole, he was one of the two main sources of goals throughout Jürgen Klopp's tenure on Merseyside. The centre-forward in the German's system was expected to take on more of a facilitating role as the wide forwards flew past into the box. This resulted in Mané taking a high volume of touches and shots in the attacking penalty area, as the system encouraged both he and Mohamed Salah to receive passes inside the box and either take a shot directly or create a chance.
Should Bayern implement a similar system to Liverpool, with Mané and one of Serge Gnabry, Leroy Sané, or Kingsley Coman either side of Müller, it would enable them to play the same passes into Mané that players such as Roberto Firmino and Thiago Alcántara do, creating those chances.
Alternatively, as the second half of the 2021/22 season showed us, Mané could slot in as the central piece, directly replacing Lewandowski. This would see Mané ahead of Thomas Müller, allowing for a similar volume of dangerous passes to be played into Mané. Müller is an exceptional creator, ranking in the 99th percentile for both Assists and xA, the 90th for Shot-Creating Actions, and the 86th for Progressive Passes. Additionally, Joshua Kimmich is right up there in terms of Shot-Creating Actions (99th percentile), Assists (95th), and Progressive Passes (99th).
This matches up well with the Liverpool midfielders playing this role for Mané now—for example, Thiago ranks in the 99th percentile for Progressive Passes and the 86th for Assists. Although this system would likely see the decline of holdup play in Bayern's tactics, Julian Nagelsmann has favoured quicker players such as Timo Werner in his time at RB Leipzig. While Nagelsmann often liked to match Werner with a taller forward such as Yussuf Poulsen, it's possible that the exceptional movement and relative aerial ability of Mané would allow him to play such a system with Mané as the sole focal point.
As a like-for-like replacement for Lewandowski, Mané doesn't fit the bill. However, considering Mané's style and given the similarity in Liverpool and Bayern's squads, it seems likely the Senegalese would thrive as the central attacker in Bayern's 4-2-3-1 under Nagelsmann. Could he score the same amount of goals that Lewandowski does? Probably not. Would he help to spread the goals around while still providing a reasonable amount by himself? Maybe…
The League-Experienced Option
Ajax's Sébastien Haller could be an option, as well. The Ivorian last played in Germany in 2018/19 with Eintracht Frankfurt before his failed move to West Ham. However, since leaving the Premier League for Dutch football he's caught fire, playing as the target man in Erik Ten Hag's 4-3-3/4-2-3-1 at Ajax and scoring 34 goals from 43 matches to boot. He'd be a more traditional replacement for Lewandowski as a strong, 6'2" (190 cm) central figure. He possesses the ability to lay off passes for teammates, but more importantly he has a similar individual impact to Lewandowski. Statistically, his best attributes lie in Shots Total, Touches in the Attacking Penalty Area, and Goals/xG/npxG+xA. These all match up with Lewandowski. If Bayern want to find a plug-and-play replacement for their talisman, they could do a lot worse than pick up the third-top scorer in last year's Champions League in the prime of his career. Haller is about to turn 28, and he could serve as the focus of Bayern's attack for the next three years, at least.
He's a lot more affordable, too; Transfermarkt values him at €35,000,000 ($37.15m). He'd also get to link up with former Ajax teammate Ryan Gravenberch immediately. Not only would the signing of Haller set them for a while, it would allow them to avoid this kind of crisis again.
It's not a perfect solution. Despite his obvious potential Haller has spent the last season and a half in the Eredivisie. His numbers most likely wouldn't translate to the same level in Germany (that's not to say that he couldn't produce similar results), and if Bayern are looking for an immediate replacement for Lewandowski's goals they might need to look elsewhere.
However, Haller is an elegant solution to the Lewandowski-shaped hole in Bayern's attack. It buys them time to find a long-term replacement for their club's greatest attacking asset over the past decade, one younger and with a glove-like fit for Nagelsmann's future ambitions. He won't wreck their finances, and if they really wanted to they could compete for Haaland if (when?) he eventually decides to leave City.
Go All In
If Bayern want to choose their striker of the future, they'll want someone with a high upside. Someone who guarantees them that chance while still ensuring some amount of guaranteed end product is Roma's Tammy Abraham.
It would take a lot to get the 24 year old out of the Eternal City, but it could be worth it. After finding himself mired at Chelsea he took the chance at Roma and it's worked out better than he could've imagined. Thus, he would need a promise from Bayern that he'd be their man of the future to lure him away from the Italian capital, but it's possible. Transfermarkt values him at €50,000,000 ($53.6m), but reports out of Rome suggest that their valuation of him nears €100,000,000. If Benfica can ask for that for Darwin Núñez, then who's to say that Roma can't ask the same for Tammy? He's proven in a top five league and his blend of power and intelligence is attractive to many clubs. Roma are in power in this situation, and Bayern must work within their limits to get him into their squad.
In terms of Abraham fitting into the Bayern squad, he would take Lewandowski's spot in the lineup. He's not a like-for-like swap for the Pole, taking far fewer shots per game and touches in the attacking penalty area than his counterpart, but these are ideas that can be implemented by Nagelsmann. The German has a knack for developing young talent and Abraham could be his next great story. He's already shown the ambition and desire to improve that a young centre-forward needs to succeed in a new league, and has set the precedent for moving to a new league and finding relatively immediate success.
There are few top-tier, available young strikers in the game right now that would be able to approach replacing Lewandowski, and Tammy could be the best of them. There are options such as Gabriel Jesus, but he doesn't fit the mould that Abraham does: tall, intelligent, and proven in multiple leagues. Any of them are a gamble, but should Bayern invest in Tammy, there's a big chance they could strike gold.
Who's The Smart Pick?
Bayern want Mané, that's clear. They appear to want the big name signing, and it's important to factor in the fans' interest level. They are expecting a replacement for Lewandowski that recoups some of the lost goals and ensures that they will continue to dominate the Bundesliga and challenge in Europe. Mané is that player. If they can ensure two to three years of fruitful production from Liverpool's player, it's a good decision.
The worry is that Mané falls off after a year and leaves them in a hole as they embark on this search next year. That's where the idea of a Haller comes into play if they want to wait for the next big talent. He would allow them to not become stale as they find their next Lewandowski. Alternatively, if they have confidence in him, Abraham could be that player for him. He's not the glamorous signing that a Haaland or Darwin would be, but he'd be a chance at the future nonetheless.
I believe that Mané would be the best immediate option, and that he's the best all-round option in terms of fan service and impact, but Haller could be the smarter pick because of his output and setup for the future.
Statistics via FBref.com