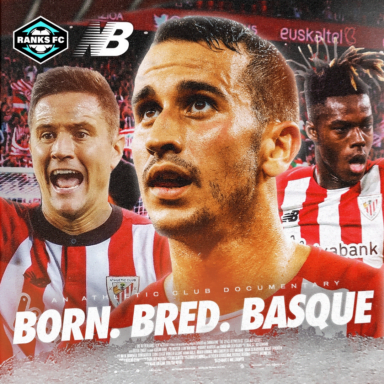 Born, Bred, Basque: The Athletic Club Story
Athletic Club is special. It's different.
At a time where Premier League clubs can drop €100m on new talent and Spain's top order can raid Brazil for its best young talent at €40m a go, Athletic stand out as completely unique.
Nowhere else in the world will you find a club so in touch with its community, its roots, its people.
Nowhere else will you find a club so committed to showcasing the talents of its region, via a unique transfer policy of solely signing Basque players.
Nowhere else does a club so perfectly encapsulate its people—and vice-versa too.
In October, Ranks FC travelled to Bilbao to experience this utterly unique blend of football and culture, meeting the people at the heart of it and witnessing the passionate they generate.
Now, we bring that to you, in the form of a mini-doc we hope you'll love watching as much as we loved making!
With special thanks to:
Eden Tarn: camera op, editor, quasi-translator
Germán Mugueta Navajo: Commercial Director at Athletic
Thomas Coxon: New Balance Marketing Manager
Luis Ignacio Burga: for designing the thumbnail and promo images