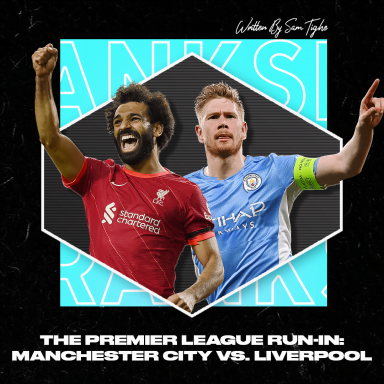 Breaking Down The Premier League Run-In: Manchester City vs. Liverpool for the Title
So, the long-awaited "title decider" was in fact no title decider at all. It's as you were for Manchester City (74 points) and Liverpool (73 points), just a point apart at the summit of the Premier League, with 7 games to go.
It is genuinely possible that both teams win out, take a maximum of 21 points each from here, and remain separated by just a single, solitary point at the end of May. They're that good; the level these two play at is that high.
But odds are, someone drops points somewhere. With multiple cup campaigns to juggle alongside this gauntlet of a run-in, the pressure and strain on both managers and players will reach a level perhaps more in keeping with high-g training than a simple game of football.
Let's examine each team's run-in—their final 7 Premier League fixtures—and try to break it down to ascertain how this plays out—and who is crowned champions of England next month.
The First 4
It's hard to escape the feeling City's next 4 games—Brighton & Hove Albion, Watford, Leeds United and Newcastle United—are routine victories or close to it. It's a mixture of sides who are either poor or having nothing to play for; a focused City side should devour them.
Liverpool's next 4 feels very different: arch-rivals Manchester United (broken or not, this is a party they'd love to spoil); then Everton, the local rivals scrapping for their lives; then Newcastle, then arguably the third-best team in the Premier League of late, Tottenham.
Given the title wasn't decided on April 10, this run of 4 could be where it's sorted. Spurs will be incredibly tough, United is a grudge match and you only have to scroll back 3 years, to 2019, when a 0-0 draw at Goodison Park played a direct part in Liverpool missing out on the title…by a point.
Ultimately, there feels like a higher chance of City taking 12 points across that run than Liverpool—and the Reds are already a point behind.
The Final 3
If City do the business and Liverpool match them stride for stride, they'll enter the final run of 3 games on 86 and 85 points, respectively. Now, while you simply could not argue the advantage flicks to the Reds at this point (that one solitary point difference will feel huge), the fixtures do change the direction of the wind somewhat.
City's run is Wolves, West Ham and Aston Villa. Liverpool's is Villa, Southampton, and Wolves.
On paper, frighteningly similar; the only surface-level difference is that West Ham are better than Southampton, making City's run harder on paper. But the positioning of the games is interesting and warrants a closer look.
Firstly, City play Wolves first—a team who have won 3 of the last 6 bouts between the two; they're even more a "bogey team" for City than Crystal Palace. Second, Villa on the last day is a win on paper—but it's a team who clearly have the attacking talent to trouble anyone, and it's spearheaded by Steven Gerrard and Philippe Coutinho. Mix in some final day nerves and, well, you never know…
Liverpool have to play Wolves too, which pretty much makes them de facto Kingmaker in this run-in. One big performance out of 2 attempts could seal it one way or the other—and we know which game captain Conor Coady would prefer it to come in!
If there's a point in it with 3 to go, the probability shifts back toward almost evens. Any point advantage is still massive at this stage, but the timing, difficulty and nature of those final 3 fixtures favour Liverpool if it comes to it.
Prediction: City win it in those first 4
Deploy the caveats: It's unbelievably tight, joyously unpredictable, enthralling and entertaining and totally unpredictable. As neutrals, we revel in every twist, turn, goal, shock and slip. But someone's gotta win—and someone's gotta lose.
The 1-point advantage City currently hold, plus the soft nature of the first 4 games gives them an overall edge that's hard to look past. The most likely scenario of all is that Liverpool drop points against one of Man Utd, Everton and Tottenham, putting City in firm control.
That's my (Sam's) take on it, anyway. Dean disagrees and is backing Liverpool, while Jack has tied his fate to the bag and must soldier on in hope. Let us know how you think this plays out below—and above all else, enjoy the run-in!