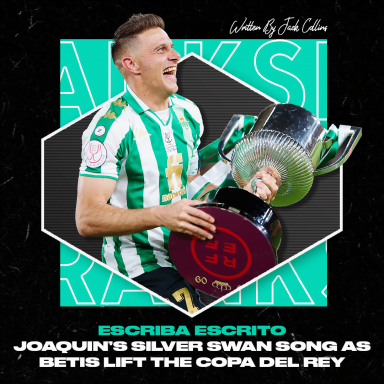 Escriba Escrito: King Joaquin's Silver Swansong as Betis Lift the Copa Del Rey 
25 April 2022

Jack Collins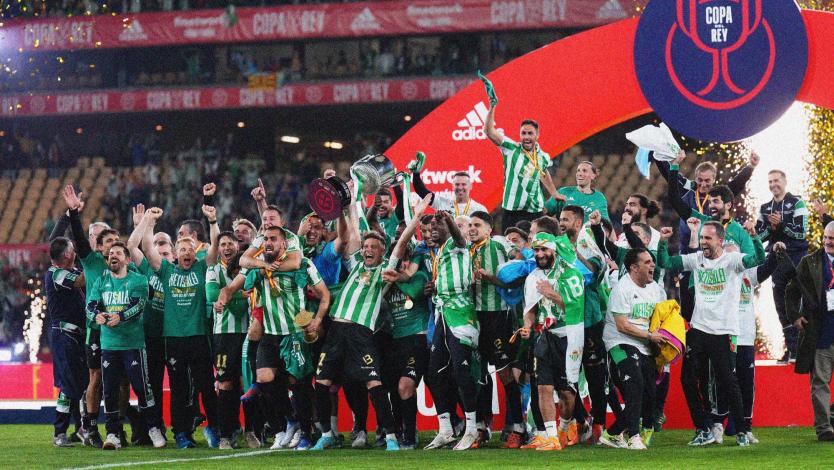 There are some things that seem written in the stars – and the idea of a 40-year-old Joaquín lifting the Copa del Rey into a starry Sevilla sky on a balmy evening to cap off a career that has spanned the course of 23 years and four separate decades, was one of them.
But that is not the Betis way. Betis are not famous for me glorious victories, as much as they are for glorious defeats. For finding a way to snatch heartache from the jaws of joy.
In some ways, it relates deeply to what Beticos call 'manquepierda' – which roughly translates as 'even more when they lose' but is the overarching philosophical spirit that transcends life in verdiblanco.
Whilst there's an element of that which sounds like it's regressive, it's not. It doesn't celebrate loss – the club is desperate for success, and so are its fans – but instead manquepierda is a mentality, a burning flame forged in the historical time spent in the lower tiers of Spanish football.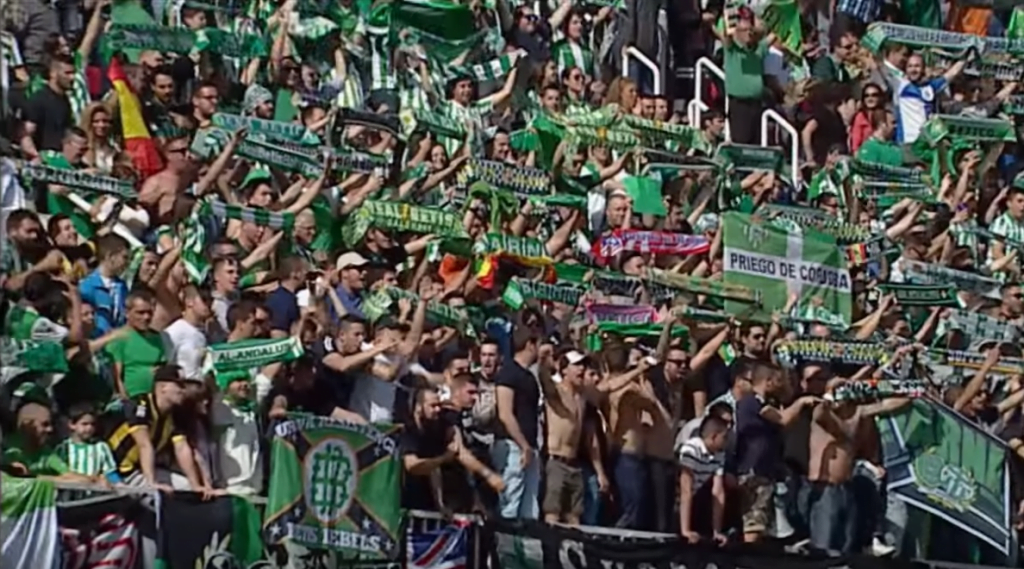 It is a 'through thick and thin' concept, one that has seen the Villamarin packed at its 60-odd-thousand capacity even when Betis were down in the Segunda.
It's easy to forget, in the light of recent success, that Los Verdiblancos were in the second tier as recently as 2015 – although they did win the division that season, bouncing back at the first time of asking.
But perhaps it's not what you would expect from a club that boasts the most members, or socios, in Spain outside of Barcelona and Real Madrid.
In 'The Frying Pan of Spain' Colin Millar describes the mindset as "clarity of unwavering support regardless of fortunes on the pitch" whilst Spanish football journalist Alan Feehely explains it as "an act of fidelity, of tying one's colours to the mast and holding true no matter how bad the weather."
Success is the dream, of course, but so often that dream has failed to materialise – something highlighted even more by the silverware piling up across town at Sevilla's Ramon Sanchez Pizjuan.
So when Betis took a lead on Saturday, and then promptly let it slip; when three cracks of the woodwork weren't enough in normal time; when referee Hernandez Hernandez refused to send Hugo Guillamon off for a second bookable offence; when Valencia's gameplan to frustrate and rile Pellegrini's men seemed to be working; when that final whistle went to secure penalties and Jose Gaya won the toss to go first – it felt like maybe it just wasn't going to be Betis', or Joaquin's, day.
Jose Mourinho once said that "there are lots of poets in football, but poets, they don't win many titles." He's right, of course, but that's what makes it special when things do play out like they were spilled from the quill of Apollo himself.
Almost 20 years ago, a 21-year-old Joaquín missed a penalty that sent Spain crashing out of the 2002 World Cup, despite being his country's best player that day. Here, Mamardashvili, who had been sensational all night, got a hand to his spotkick, but couldn't keep it out.
Everyone in verdiblanco, and every poet in world football, let out a violent exhalation of relief – Gracias a Dios – not him, not tonight.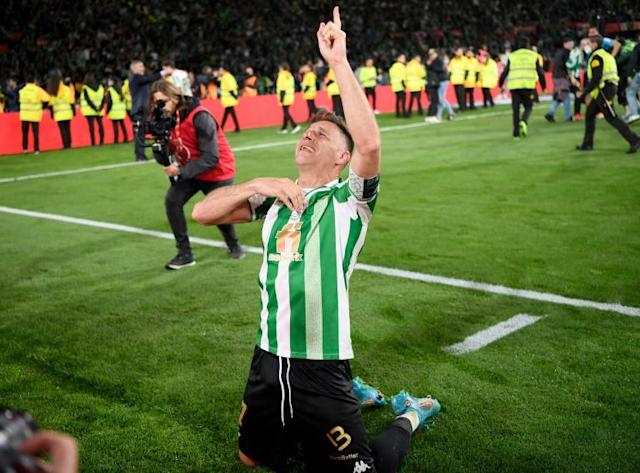 And when Yunus Musah spooned his strike over the bar, it was left to Juan Miranda to finish the job – the boyhood Betico, who went to La Masia and came back home to the Villamarin. The boy who had been in the Betis end at the Vicente Calderon as a 7-year-old when the club last lifted this trophy in 2005. He made no mistake and sent his own people into raptures behind the goal.
The narrative, for once, had played out. Two men, at different ends of their careers, both cut from the verdiblanco cloth, Joaquín and Juan.
And so, 17 years on from the last trophy lift, it could only be the man who has made the number his own, who still wears it proudly on his back, the man to whom it perhaps mattered more than to anyone else, who would lift the trophy – the one that is in his wedding photographs – to the heavens once again.
And a club which has made a habit of near-missing, rose to the occasion to salute perhaps it's greatest ever captain.
Viva el Betis y manque pierda, the expression goes. On Saturday night, they didn't. And one of football's greatest cult heroes got the silver swansong he deserved, but could never have expected.