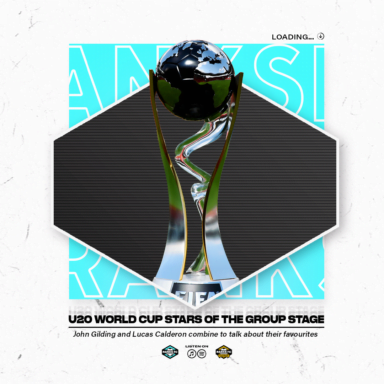 FIFA U20 World Cup: The Best Teams & Players From the Group Stage
By John Gilding & Lucas Calderon
The U20 World Cup started with a bang in the group stage. Some surprise packages, some big upsets and some players you've never heard of to get very excited about, it's had it all already, and there's a lot more where that came from. 
Ahead of the knockout rounds, We've put together an essential list of the teams and players you need to look out for over the next few weeks in Argentina.
Contender: BRAZIL
The most recent Sudamericano champions, the Selecao might be considered to be the favourites for this year's tournament. The Canarinha went undefeated in their run to the Sudamericano title this year, winning seven of their nine games. Their opening group stage game was a little shaky, conceding three to Italy after just 35 minutes. Since then, they've scored 10 goals and run out group winners. 
The World Cup squad returns 12 of the members of the Sudamericano squad with one glaring absentee: Vitor Roque. He was the joint top scorer at the tournament, leading the line with his tenacity for pressing and goals. He will be a big miss for the spectacle but Brazil still has a strong backbone with the likes of the dependable Mycael in goal, the left-footed elegance of Robert Renan (CB), the energetic Marlon Gomes, the talismanic Andrey Santos, and Marcos Leonardo whose making sure Brazil don't miss Vitor Roque too much.
Player: ANDREY SANTOS
Midfielder, Brazilian, and joint top scorer at the Sudamericano U20. If you're thinking: "Those tricky Brazilians have produced another magical No. 10 from thin air!" then I'm afraid you've jumped to the wrong conclusion.
Santos is a holding midfielder but that does not make him any less brilliant. Operating on the left of a midfield two for Brazil, he loves getting involved on the defensive side of the ball. He engaged in the fifth most defensive duels (278) in Brazil's Serie B last season, winning 66% of them. His positional awareness is a huge facet of his game and he is always available to block a shot, intercept a pass or cut out a cross. He still has that Brazilian flair you expect, not afraid of using a flick over a defender or a nutmeg to free himself. 
During the Sudamericano, he stood out for his prowess at getting goals from set pieces, scoring three after using his strength to beat his marker. His talents have already earned him a senior call-up, making his debut against Morocco in March. Santos will be keen to lead his side to glory to build his case for a call-up in 2026.
Contender: ENGLAND
Like Brazil, England come into this tournament as reigning continental champions. With only a handful of changes from last year's winning U19 Euros squad, England are contenders by reputation.
England's squad is packed full of names that followers of Premier League academies will recognise. The fact they are an established group of players who are mostly familiar with each other and have played in a big tournament together before (something that's currently surprisingly rare at this level due to COVID), could count for a lot once we get to the pointy end of the competition. 
Expect England to play with intensity, looking to control games from the start and using their potent attacking options in Carney Chukwuemeka, Dane Scarlett and Alex Scott to translate that control onto the scoresheet. They came through their group unbeaten, but will need to step things up to handle Italy in the Round of 16. No team has ever won the U19 Euros and U20 World Cup in consecutive years, and the Young Lions will be hoping to break that streak in Argentina. 
Player: ALEX SCOTT
Alex Scott was a regular starter for England in the Euros, but he is going to the World Cup as a very different player. This season he's established himself as the gem of the Championship, and will have the eyes of the whole Premier League on his back for every performance in Argentina.
He's an incredibly versatile player, most often deployed as a No. 10 for Bristol City to get the most out of his talents. The words 'standout performer' and '0-3 loss' don't often go together, but Alex Scott really stole the show when Man City visited Ashton Gate back in February. Comparisons to Grealish were immediately made, and it's not hard to see why. 
Scott's game is centred around ball progression. Dribbling is his standout trait, you'll see him constantly looking to go past a defender when he receives the ball, but his passing is just as good, often involving a lot of one-touch play.
Scott is from Guernsey, which means he joins Matt Le Tissier in the very exclusive club of excellent midfielders from the island. He's a bit rough around the edges and can sometimes make the wrong decision in the final third, which is to be expected at his age, but all the signs are there for a truly special player.
Contender: USA
America, the land of the free, the brave and one of the strongest starting XIs at this year's World Cup. The reigning CONCACAF champions arrived having gone undefeated in their regional U20 tournament, scoring a whopping 31 goals in seven games, including six in the final against the Dominican Republic. They haven't missed a step at this World Cup, winning all three games in their group stage matchups against Ecuador, Fiji, and Slovakia, whilst keeping clean sheets in all of them.
There are questions about whether this team has been truly tested yet. The US has a considerable advantage over their CONCACAF neighbours and their group stage was relatively weak compared to others. Their squad also doesn't seem to be very deep, as evidenced by their inactivity against Fiji after rotating seven players, needing some starters to come on to break the deadlock.
However, every question asked of them they've answered so far. The backline of Justin Che and Joshua Wynder, flying fullback duo Caleb Wiley and Jonathan Gomez, the mighty Jack McGlynn in midfield and the one-two punch of Diego Luna and Cade Cowell makes up a team capable of going toe to toe with anyone at this tournament.
Player: GAGA SLONINA
Slonina came into this tournament as one of the more well known prospects and with his eyes on the trophy. Signing his first pro contract with Chicago Fire at just 14 years old, he's consistently shown a desire to play at the highest level possible. Since moving to Chelsea he's made eight appearances for their U21 side and has three clean sheets but 13 goals conceded in the other five matches. At the World Cup though, he is yet to concede a goal.
One of his strengths is his command of the box; given his 6'4 frame he's never caught out of position. He knows how to make it difficult for opposing strikers to finish by using his size and positioning to force opponents to take shots that go wide. His distribution can use some work but at 19, he's got plenty of time to add that layer to his game.  The US progressed comfortably into the knockout rounds but if they want to make a deep run, they'll need Slonina to be at his absolute best. A strong tournament could lead to a full team call up to challenge Matt Turner as soon as this autumn.
Contender: THE GAMBIA
Okay, we'll be honest. We knew nothing about Gambia before this tournament started. We knew they were runners up at the U20 AFCON tournament and that many of their players still play in the Gambian league but that's pretty much it.
That's what makes this team so fun. They were drawn into a group with France, South Korea, and Honduras which made us believe they would struggle to get out. We were wrong and we are pleased that they proved us wrong. At their continental tournament they defeated fellow World Cup (and Ro16) participants Tunisia and Nigeria on their way to the final. In their group they beat Honduras and a France team that many people (including us) had pegged as title contenders.
So what's stopping them for having a run at the title? Maybe labelling them favourites is a stretch but they are our favourite team in the Ro16 and easily our favourite dark horse story at the tournament so far. Watch for the little scorpions to sting the competition.
Player: ADAMA BOJANG
Repeating the point from above, we knew little about Mr. Bojang other than the goals he scored at the AFCON tournament. He introduced himself on the world stage with a bang, scoring a screamer against Honduras within 60 seconds of their opening group match.
In the Ro16, you might not find a player more important to their side than Bojang. Gambia play route one football, looking to send the ball long from deep and praying that one of their players latch onto it and make something happen. Bojang's lanky frame and athleticism are key to creating chances and he is more than happy to fight for every ball.
Just watch his goal against Nigeria and France (credited as an own goal). He is always in position to make a run should the opposing team make a mistake. You'll see him scrapping with the two centre-backs for those long balls and often coming out the winner. On the off chance one of his teammates is in a position to gain control of a headed ball, he is very quick to turn and make a run in behind, always gesturing to where he wants the ball.
Out of possession he is a very hard worker, always pressuring the opposition defenders and causing them to make mistakes. Already linked to some of Europe's biggest clubs (including Chelsea, shocker) we'd love for him to make a jump to a smaller league first to polish his rough edges.
Contender: ARGENTINA
Argentina shouldn't be here. They only qualified as hosts after the tournament was taken away from Indonesia just 50 days ago. In fact, they failed to even get out of the first stage at the Sudamericano. Their performance was so poor, 12 of the 21 players called up for the World Cup weren't in the squad in February, including two new goalkeepers. With so much uncertainty, why are they amongst the favourites?
Well, this side is oozing with some of the most talented attacking and midfield players in the World Cup, some already playing at the highest level. Matías Soulé (Juventus), Máxi Perrone (Manchester City), Valentín Carboni (Internazionale), and the 11th edition of the next Messi, Luka Romero (Lazio) are the standouts of this squad and the tournament.
Although they started poorly, going a goal down in their opening match, they came back to win and haven't looked back since, including a drubbing of New Zealand in their final group stage game. If they keep playing like this, the quality in numbers and vociferous support of Argentinas fans should be enough to see the team get into the latter stages of the tournament. 
Player: VALENTÍN BARCO
With all the attacking talent and midfield maestros in this squad, it's only right that we highlight a left-back as Argentina's player to watch.
The affectionately nicknamed "Colo" has had a meteoric rise. He made his debut in 2021 as a 16 year old, becoming the 4th youngest debutant in Boca Juniors history. His appearances were limited thereafter until Matchday One of this year's Copa Libertadores. He willed his side to a come-from-behind victory, putting in a perfect cross that won Boca the match and endearing himself to La Doce for his heroic display.
He is an energetic defender, scurrying over to any opposition player with the ball on his side of the pitch. He likes to make his presence felt, always putting his body right up against the attacker and sliding in to get to a loose ball or touch. He's got good quickness too, in case an attacker gives him the slip. 
He's pretty comfortable with both feet and makes snappy passes, making him an outlet for his team. Where he truly shines on the pitch is carrying the ball forward, driving at defenders. He loves taking players on, using his lower center of gravity to absorb contact and dribbling past one, two, sometimes three, occasionally in risky areas for his team. He's got all types of crosses in his locker: the venomous low kind, whipped back across the goal, floaters, you name it, he's got it. In a side with recognizable faces and names, look for him to stand out for more than just his flaming red hair.
Special Mentions:
Facundo González (Uruguay)
Everytime you blink, you miss Uruguay's next centre-back being born. They must have an orchard where they grow them or something. Born in Uruguay but moved to Spain at four years old, González has a beautiful blend of footballing knowledge from both nations. Standing at 6'4, this lanky defender is full of contradictions. Slim but strong, he is aggressive but measured all the same, with the ability to slide in and nearly take your leg off but calmly get up and play a cool pass to the closest teammate. In possession he is one of those highly coveted left-footed centre-back, using the full left side of the defensive third to his advantage.
With Uruguay keeping a high line, you'll see him looking for teammates in the final 3rd and usually connecting with them. While his Uruguayan teammates might be inclined to boot the ball up field, he'll hold onto it just a second longer to invite the pressure before giving it to his partner or the holding midfielder. He isn't the quickest defender and might get beaten to a loose ball but he makes up for it by positioning himself well to stop an attacker from running past him. This Uruguay team is a strong dark horse in this World Cup with a stodgy defense and midfield plus the attacking quality to create something when it matters most. González will be looked on to lead the team from the back and build a defense that can frustrate any team they come up against.
Giacomo Faticanti (Italy)
A deep-lying Italian midfielder who is calm on the ball, strong in tackles and came through Roma's academy. Oh look, it's Daniele De Rossi. Except it isn't, it's a new one.
That's a huge comparison for Faticanti to be lumbered with at this age, and this is far from the first time it's been made, but if it does heap pressure on Faticanti, you wouldn't know it. He soaks up pressure like the most seasoned of players, never panicking or rushing and rarely making the wrong decision.
The best word to sum up Faticanti's game is 'conductor' – standing in the centre, dictating everything that goes on around them. His reading of the game is far beyond his years, and allows him to position himself well for defensive actions and pick out the right passes to get the ball rolling on attacks.
If Italy want to progress far in this competition (who doesn't, let's be honest), Faticanti could be key to their chances.
Oscar Cortes (Colombia)
Cortes has had a meteoric rise since he got into Colombia's starting lineup against Peru at the Sudamericano. He won the match for Colombia with a brace, finished as their top scorer, and returned to his club to become arguably their best player.
His play was so crucial to them, they very nearly didn't release him for the World Cup, such was his importance. Even before Colombia's first match kicked off, there was talk he was already sold to RC Lens and now other clubs are fighting for his signature. Cortes is a right-footed left winger blessed with technical capabilities and body control like few others. Just watch him dribble, feint, or spin away from his marker. He doesn't confine himself to the touchline and is capable of playing across the pitch. You'll see him start wide but he'll slowly work his way into the half-space either by driving towards the centre or playing combinations with his teammates. He's got creativity in him as well, capable to of crossing to an open man, or releasing a teammate into space.
His best asset however is his laser pointer of a right foot. Although a bit one footed when it comes to executing actions, good luck stopping him once he's controlled it on his right. His shots seem to be controlled by a targeting system, placing his shots and passes perfectly no matter what side of the pitch he's on, making him dangerous even if he's on the right wing. Watch for Cortes to be the difference maker for Colombia in the knockout round.