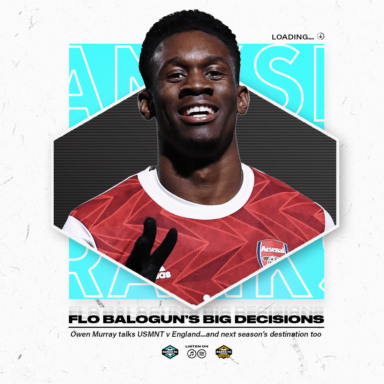 For Club and Country: The 2 Career-Shaping Decisions Facing Breakout Star Folarin Balogun
29 March 2023

Owen Murray
The March international break is an opportunity for federations and managers to cap-tie footballers making one of the most high-pressure decisions of their young career. In Europe, squads are formed for the initiation of Euros qualifying, while in North America, focus turns to the CONCACAF Nations League.
Of particular interest to two nations either side of the Atlantic is Stade de Reims and Arsenal's Folarin Balogun. Eligible for both the United States and England, Balogun withdrew from the Three Lions' U-21 squad, citing an injury. He played 90 minutes in Reims' last league match before the break, getting on the scoresheet as their widely-praised unbeaten run under manager Will Still ended.
Born in New York City and raised in London, Balogun has been a part of Arsenal since he was eight years old. His first professional contract came with the Gunners before he was loaned out to Middlesbrough, the first in a series of journeys away from the Premier League.
The respective nations' situation regarding their No. 9 is remarkably different. Gareth Southgate has few natural options beyond Harry Kane, but he's the captain and he's undroppable anyway. It's unlikely that a successor will usurp Kane in the next cycle, and their stockpile of direct wide players means they can usually find a goalscoring solution from elsewhere if needed. 
Stateside, The USMNT have no recognised forward as they search for someone to seize the shirt. Their World Cup campaign saw time split between Haji Wright, Josh Sargent and Jesús Ferreira, with the three struggling to make an outstanding impact on their side. In the eyes of Americans, Balogun is that prodigal son that Wright, Sargent, and Ferreira (and Daryl Dike, Matthew Hoppe, and Jordan Morris) haven't yet been.
In America, he'd enter as the newest great hope of a generation full of excitement yet unfulfilled—a blessing and a curse. In England, he's at best a backup to one of the Premier League's greatest, but top the apprentice to the master at one of the world's powerhouses. 
His club situation mirrors the international one. Balogun is currently on loan to Reims from Premier League leaders Arsenal, where he's exploded onto the scene with Reims after his loan spell at Middlesbrough proved largely unsuccessful (3 goals in ~900 minutes). Under Still, he's tallied 17 goals from 18.5 xG heading into the March international break, a record that suggests he's not just in a purple patch. As Reims hit a streak of form, Balogun has become one of the pearls of the European game.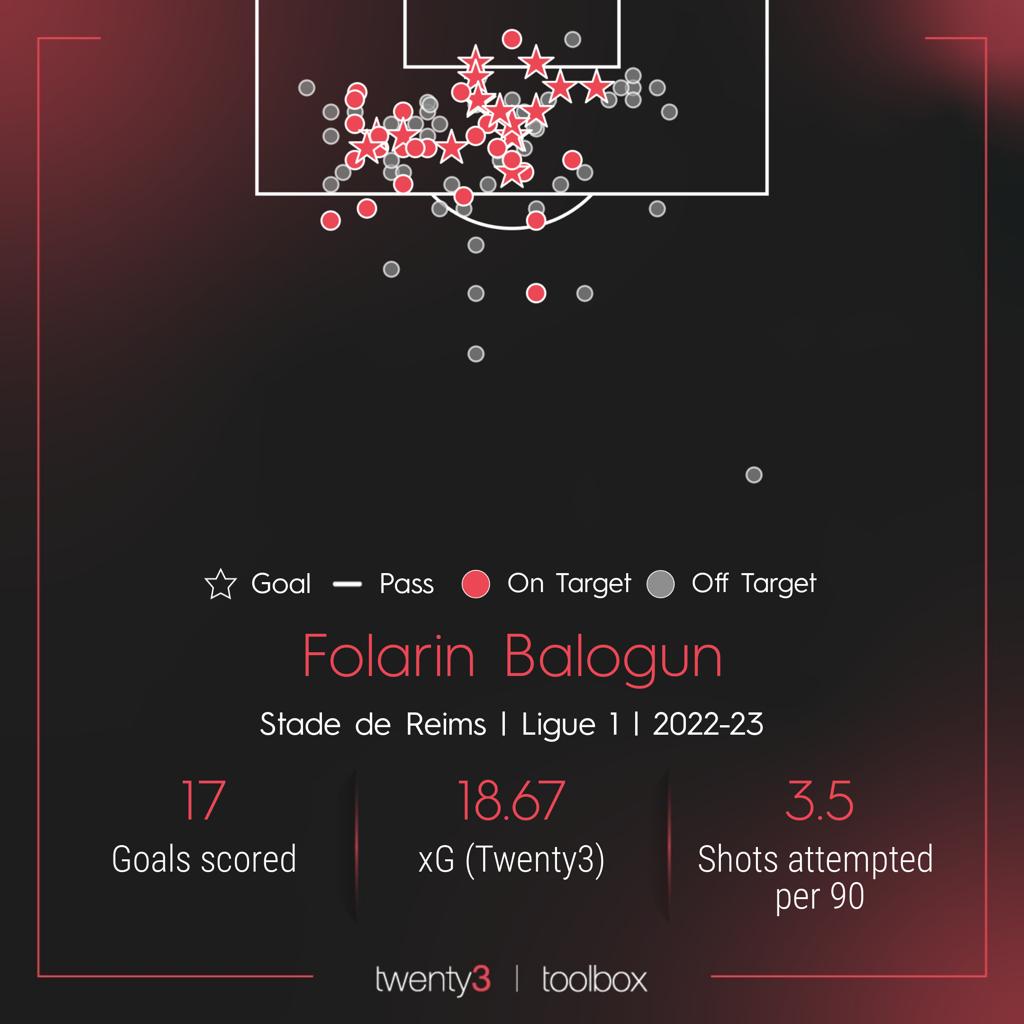 Come the summer, he will theoretically return to a side stocked with forwards expecting to sign more in order to compete in Europe. He must decide whether to try his hand in North London, where he could find himself bereft of playing time due to Gabriel Jesus and Eddie Nketiah, or to use his stock with Reims to find a new club. 
Before that, though, he'll likely have to make a decision on his international allegiance. The resolution will open doors and provide a clearer look at the definition of the next cycle—and beyond—for one player and two nations in the spotlight.
THE INTERNATIONAL DEBATE
The tug-of-war for Balogun on an international stage falls between the United States and England. While he's also eligible for the Nigerian team, through his parents, his reported rejection of a 2023 AFCON qualifying callup seems to indicate his future lies with one of the former two.
Both nations currently feature a lone centre-forward, the role that Balogun has made his own in France. During his year with the club, he's played 1676 minutes centrally, with little time spent wide.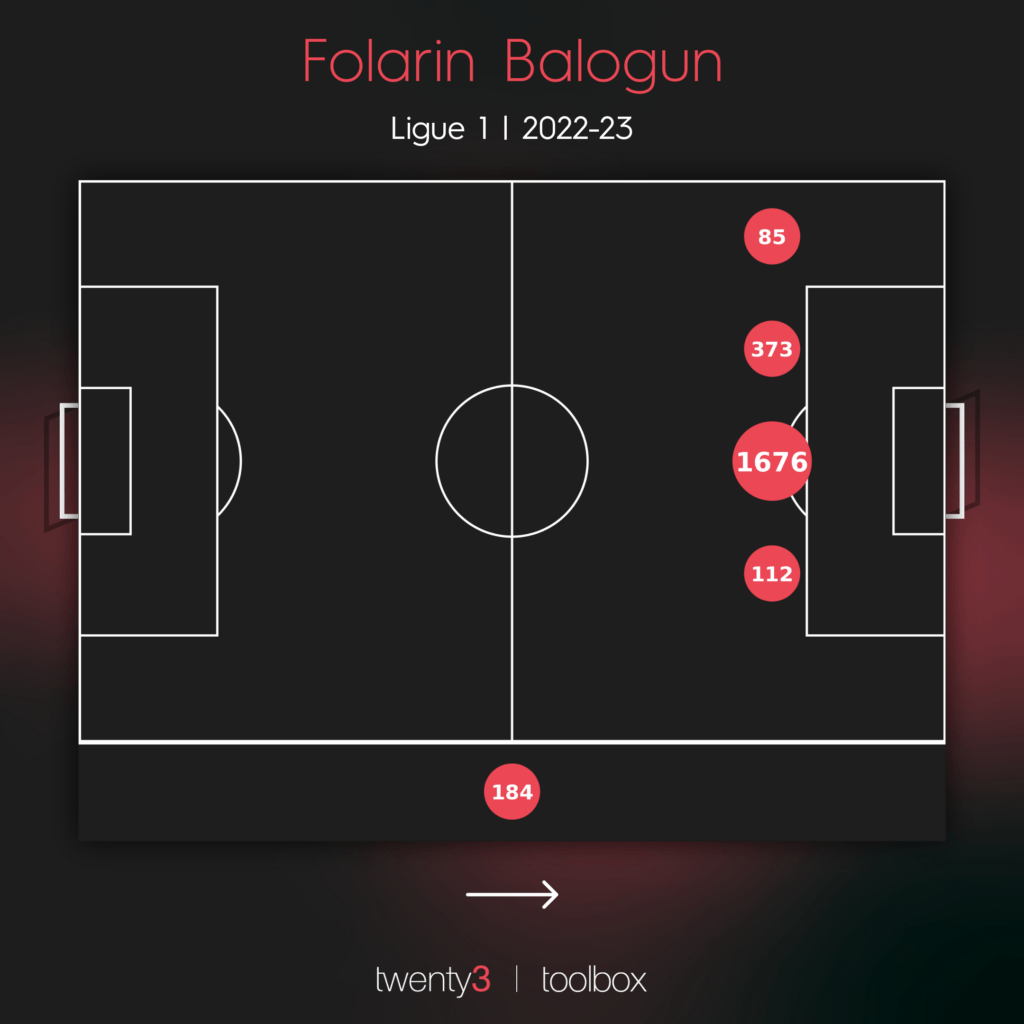 When comparing Reims' shape to that employed by Anthony Hudson and Gareth Southgate, it suggests that he'd be able to slot into a similar space with minimal time spent adapting to a new look. There's always concerns over a player's ability to join a new team, but the fact that he'll serve a similar purpose as in his domestic performances ease those worries.
Balogun's withdrawal from England's U-21 squad was, intriguingly, followed by a trip to Orlando (coincidentally where the USMNT were training ahead of their Nations League matchups with Grenada and El Salvador). While no official talks have been held between Balogun and the USSF staff, the visit may indicate that he's still in the picture for Anthony Hudson's squad in coming windows.
Among the concerns should he file for a one-time switch from England to the United States would be the manager situation. Gregg Berhalter's contract was not renewed after the 2022 FIFA World Cup in the wake of ongoing allegations of domestic violence, leaving Hudson to head the effort to sustain the USMNT's successes in the past cycle.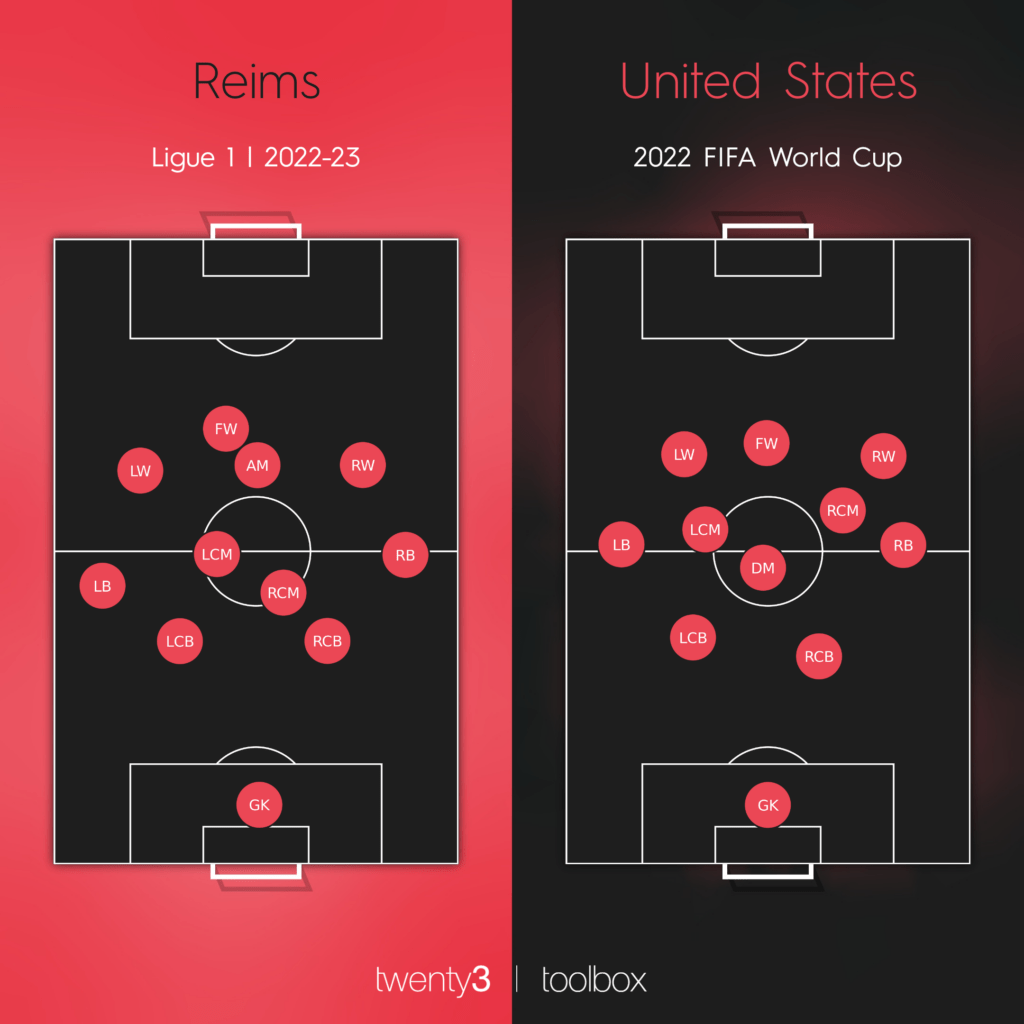 Despite fans' fervent belief that Balogun would join as the undisputed starter, a group including Ricardo Pepi, Wright, Sargent, and Ferreira offers little immediate room for minutes. Pepi, excluded from the World Cup squad, is amongst those looking to break into the team under Hudson. If Balogun was to enter the fray in the midst of Nations League competition, it's not certain that he'd get the starting spot he's looking for.
However, it's almost certain that he'd get the chance to prove himself that he's been unable to procure with the Three Lions. The past cycle's aforementioned rotation at the No. 9, in conjunction with the USMNT's automatic qualification for the 2026 World Cup, will ensure that he receives the opportunity to take that shirt ahead of the tournaments. It'll be up to him to prove it, but that's something that he's shown the ability to do on a domestic level.
Balogun sizes up well with the rest of the forward pool in America. He averages the most shots per 90 (0.72) of the group (for this focus it consisted of Balogun, Ferreira, Sargent, Wright, and Pepi), something that no player but Wright topped in 2022 on the international stage. Especially because the USMNT generally favour a direct, counter-attacking style of play that seeks to utilise the transitional speed of its midfield and diverse wingers to create chances, Balogun's tendency to shoot—he ranks fourth in Ligue 1 for shots per 90 amongst players with at least 300 minutes—would be well appreciated stateside.
In England, he'd have the benefit of the mentorship of one of the Premier League's greatest ever forwards. As part of the group led by Kane, he'd have the chance to learn on an international level from veterans that don't exist in the USMNT squad (see: Clint Dempsey of years past). That opportunity has proven enticing to many players in the past; given the chance to work with one of the game's greats, they will fight to make it happen.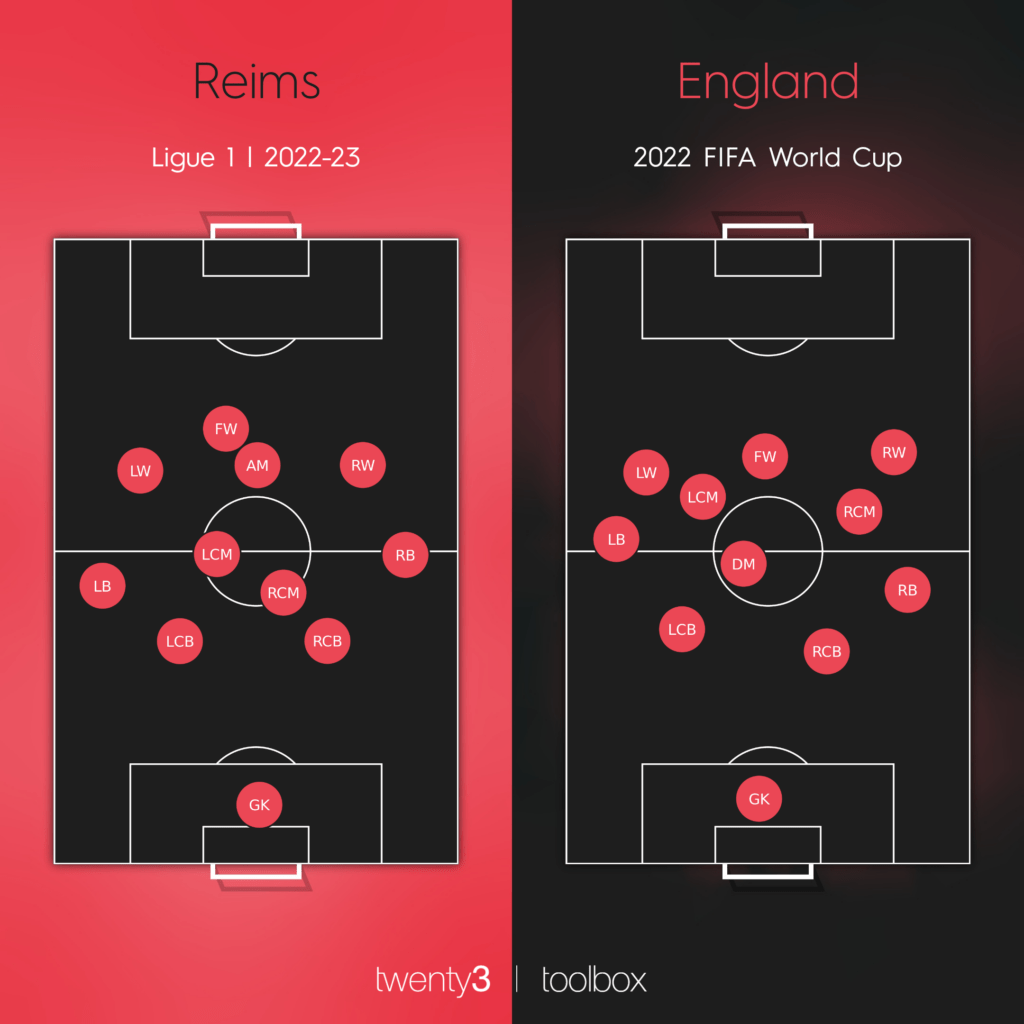 Additionally, England regularly compete at the sharp end of tournaments. While the US look to be an up-and-coming dark horse, winning both the CONCACAF Nations League and the Gold Cup prior to the World Cup, they're nowhere near the consistent level that the top five FIFA ranked nations compete at.
However, breaking into that group will be significantly more difficult. While he isn't guaranteed a starting spot with the US, he'll undoubtedly get his chance. The sparkplug for the saga was his rejection of an England U-21 callup. After leaving the squad, he posted briefly to his Instagram story, saying, "In life, go where you're appreciated".
With a forward group including Kane, Marcus Rashford, Callum Wilson and potentially Ivan Toney, he's far less likely to get his shot. England, in the wake of back-to-back late stage losses in tournaments, will press to get one last shot with the current group. Balogun will be 24 by the next World Cup, and if he wants to pursue a starting spot in the current cycle it likely won't be under Gareth Southgate.
THE CLUB DEBATE
At the club level, it's a similar issue. At Reims, Balogun has nailed down a place that gave him the platform to showcase his skill. While his loan ends shortly, he won't be eager to give up a guaranteed starting spot next season. Whether that's at Reims or elsewhere, his form will allow him to find a team and manager who will provide that experience.
On the other hand, he could return to the Emirates with UEFA Champions League football on the way. He's ostensibly behind Jesus and Nketiah in the pecking order, but he'll have nothing but confidence that he can win a role under Mikel Arteta. It's a question of whether he believes that it's the right time to return to English football—and what the best way to maintain his momentum can be.
His choice of the USMNT or England could provide insight on the battle to sign him: it'll define whether he's willing to join a project with a guarantee of playing time à la Reims, or prefer the high level competition at Arsenal. In many ways, the imminent announcement of his national team future will be the best measure of a swinging pendulum.
MURRAY'S TAKE:
Based on his success with Reims, there's no reason to assume that he'd be unable to succeed with a similar project in America. For that reason, I'd push him towards the USMNT. While he's not joining a squad ready to compete at the sharp end of the grandest stage, he'll have the opportunity to compete for trophies each year and (with the new focus of USSF) compete in intercontinental tournaments as the starter for a young team.
It's a movement, and for both parties it's a declaration of independence from the necessity to declare for the on-paper best team with the best chance at the World Cup. He's got a bright future, but his choice will come to define just how high his star can rise.