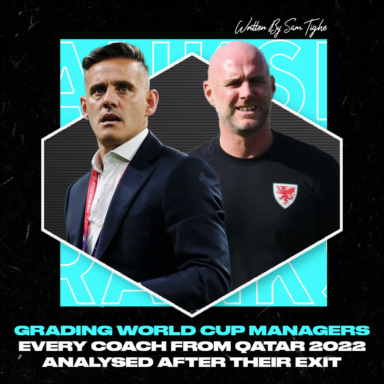 Grading Every Manager at the 2022 FIFA World Cup
30 November 2022

Sam Tighe
Last updated: December 6, 11 am
Visualisations courtesy of the Twenty3 Toolbox. Apply for your free trial here.
We've reached the stage of the 2022 FIFA World Cup in which we start waving goodbye to teams.
The harsh reality of this tournament is that you get just three games to impress and put enough points on the board to clamber out of the group. Just as some teams feel as though they're getting going, they bow out. Just like that.
As the teams drop out, one by one, we'll be updating this article with grades for every manager going home, assessing the job they've done. It's no exact science, but we're taking into account tactical efficiency, in-game tweaks, decisions at key moments and judging it against the relative pool of talent available.
ROUND OF 16
Paulo Bento, South Korea
I won't profess to be an expert on South Korea—it's just far-flung enough (even for me) for them to be cloaked in mystery heading into World Cups—but it felt like Bento set them up pretty well for this tournament.
In the groups he used a 4-2-3-1 formation and an aggressive mid-block out of possession, meaning space for opponents was at a premium. They held Uruguay and beat Portugal, while the loss to Ghana was founded on a defensive line height issue that I'm not really sure who is to blame for.
The approach against Brazil was all wrong, though. The idea that they could match up 1v1 across the pitch with Neymar & Co. and not get burned was a bit fanciful.
Grade: C
Hajime Moriyasu, Japan
Hounded for leaving certain players at home. Praised for turning the game on its head against Germany. Hounded for leaving those difference-makers on the bench for the next one. Moriyasu's lifecycle in this World Cup was fascinating; "topsy-turvy" doesn't begin to cover it.
Let's split it into good and bad:
GOOD: The switch to 3-4-3 to beat Germany; somehow beating Spain; and use of raw speed up front.
BAD: Totally misunderstanding what kind of encounter Costa Rica was going to be; limiting Kaoru Mitoma to just 163 minutes; and seemingly not preparing his team to take any penalties at all.
That evens out at a B or C, so given how difficult that group was, let's plump for the former.
Grade: B
Aliou Cissé, Senegal
Senegal's tournament expectations were forced into recalibration when Sadio Mané went down. In real terms, it took them from "darkhorse winners?" to "will they make out of the group?"
They did, at Ecuador's expense, with Cissé finding solutions of all types on the fly. Bringing Ismail Jakobs in at left-back worked, as did Iliman Ndiaye; Idrissa Gueye's pressing from a No. 10 role was good (but his set pieces kinda weren't).
Cissé knew how to hurt England in the Round of 16 and his team came very close to doing so in the opening 20 minutes—before being blown away. The gameplan was good, the execution wasn't.
Grade: B
Czesław Michniewicz, Poland
Michniewicz might well give himself an A, given he achieved Poland's goal of progressing to the knockout stages—something that hadn't happened since 1986.
But my counter-argument to that would be that the door to qualification was left wide open thanks to a combustible Saudi Arabia and a toothless Mexico, and Poland literally stumbling through said door on goal diffence wasn't impressive.
Playing into that perception was the amorphous blob of a formation/shape presented against El Tri and the please-don't-beat-us-too-badly, white flag of an approach vs. Argentina. They were reliant on Golden Glove-level performances from Wojciech Szczęsny to keep them in touch.
Outside of Robert Lewandowski finally scoring at this prestigious tournament, this just wasn't good.
Grade: C
Graham Arnold, Australia
Whichever way you slice it, Australia massively over-performed in this World Cup. They called on regular starters who ply their trade for clubs like Stoke City, St. Pauli and Dundee United, so the fact they made the Round of 16 is astonishing.
Arnold managed to oversee two massive group stage wins over Tunisia and Denmark—skirting the laws of xG a bit, sure, but the performances were strong—before bowing out respectably on the stage of Lionel Messi's 1,000th game.
They did this thanks to a gloriously gritty and determined approach which made this team more than the sum of its parts; when that happens, it's often thanks to the manager.
Grade: A
Gregg Berhalter, USA
Berhalter entered the tournament under intense scrutiny due to personnel choices and a wretched pre-tournament friendly performance against Japan. Some were fearful that after an 8.5-year wait for a World Cup he'd waste a pretty strong crop's chances, but from pretty much the word go the USA's up-and-at-'em approach got people on board.
They were the better team for more than half of each of the three group games, sealing passage to the knockouts. Bringing Tim Ream in to defence, starting Timothy Weah and giving the armband to Tyler Adams were all astute choices, plus his energetic brand of football got the strong point of this team—the central midfield trio—cooking.
Berhalter was out-thought by Louis van Gaal in the Round of 16 as the USA's journey came to an end, but there's no shame in that. It's fair to say that even if he had thought of a way around the Dutch defence, he didn't have the quality to draw upon anyway.
Grade: B
GROUP A
Félix Sánchez, Qatar
Qatar are bad, but that's not his fault.
The nation's top-down approach of working on a possession structure for the last 12 years—when really the right thing to do would have been to work on a defensive style—is also not his fault.
The degree to which Qatar were physically outmatched in this tournament likely could not have been overcome, but to Sánchez's credit, he added Assim Madibo into the midfield for matchdays 2 and 3 to try and level the playing field.
That said, he also moved right-wing-back Pedro Miguel to centre-back, simultaneously taking away their best driving threat with the ball and reducing defensive awareness in the box (to Frenkie de Jong's delight).
Grade: C
Gustavo Alfaro, Ecuador
Many were sad to see Ecuador fall by the wayside; they entertained, excited and intrigued World Cup watchers from the very moment the tournament kicked off.
La Tri negotiated an extremely odd opening day affair with Qatar, easily managing the game, then switched formations effectively to stymie the Netherlands and earn a point.
The build-up patterns were strong, he got the best out of star men Moisés Caicedo and Enner Valencia, the team moved as one. Alfaro got them into a position whereby a draw from match 3 was enough to qualify.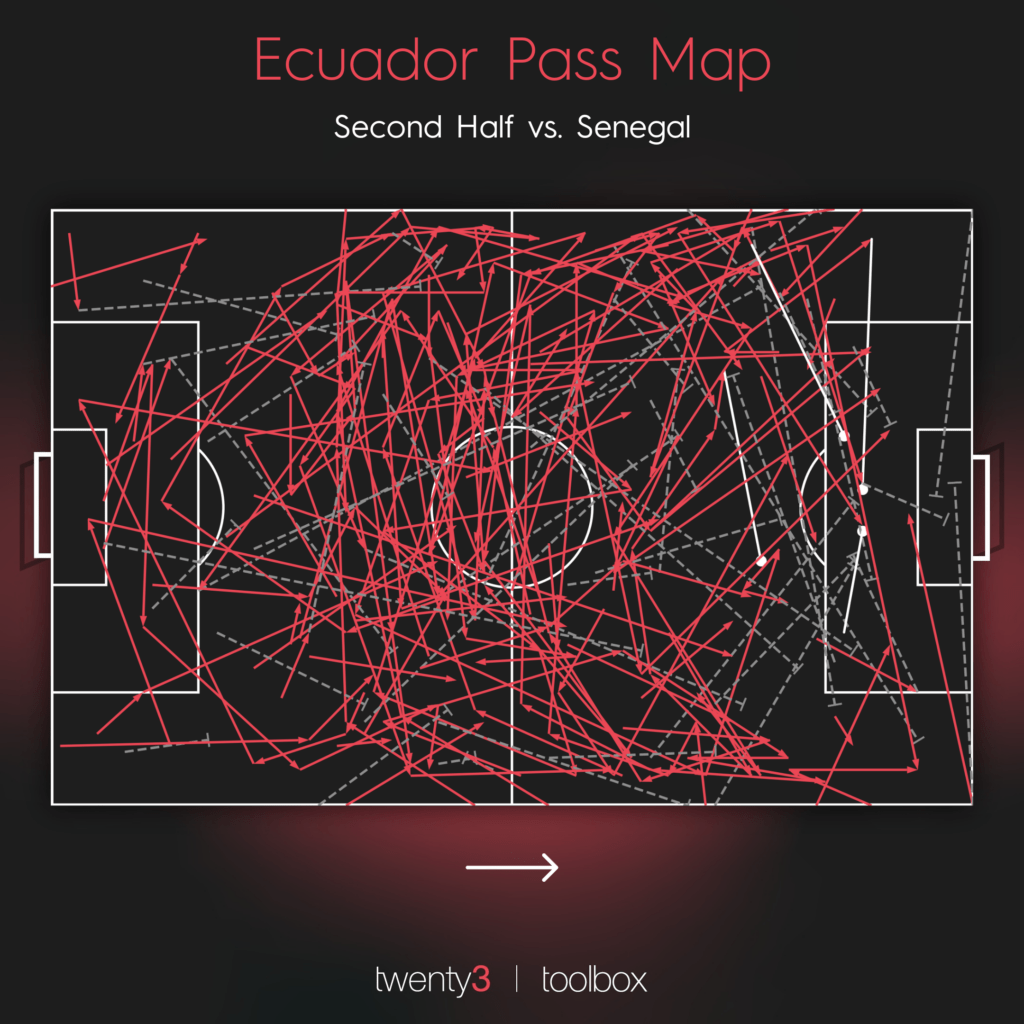 But that's where it went wrong. They conceded to Senegal on the stroke of half-time, then came out of the break in a reckless 4-2-4 shape, abandoning build-up (a real strong suit) and going way too direct, too fast, playing right into a physically dominant Senegal defence's hands.
Grade: B
GROUP B
Carlos Queiroz, Iran
Queiroz probably had the toughest job of any manager at this World Cup. It could never, ever be just about the football for him, as politics and trouble back home cast a heavy shadow over anything he and his team did.
They got hammered by England, beat Wales and were narrowly edged by the USA, scoring 4 goals in the process. His tactics' effectiveness were badly hampered by Sardar Azmoun's calf muscle, but he squeezed just enough out of him and his other 2018 cronies to grab 3 points.
It's a respectable output from a desperately tough situation.
Grade: B
Rob Page, Wales
This list is updating with each knockout, but straight off the bat I'll say this: I'd be very, very surprised if any manager performs worse than Rob Page did in Qatar.
Opting for Dan James over Kieffer Moore in the opener against the USA was an awful choice. He corrected it at half-time—but Wales were already 1-0 down and fighting for their lives.
In the next game against Iran, a nail-biter, his response to losing control of the midfield was to remove a midfielder and switch from 3-5-2 to 3-4-3, resulting in two late goals conceded and a loss.
The last game against England was a non-event. They had nothing left, zero belief and were duly well beaten, with Gareth Bale coming off at half-time having completed one pass.
It's clear Bale and Aaron Ramsey aren't their old selves and that limits their effectiveness, but it's hard to shake the feeling Page made 2 big decisions that cost Wales dearly at critical junctures.
Grade: E
GROUP C
Gerardo Martino, Mexico
Mexico were at the centre of real tension on Wednesday night, as one more goal against Saudi Arabia in the dying minutes would have put them into the Round of 16 at the expense of Poland. They couldn't quite manage it.
It was nice to see El Tri spring into life; lord knows we'd been waiting for it. A general toothlessness had undermined their first two performances, while they showed far too much respect to an Argentina team who had literally just lost to Saudi Arabia and were experiencing a mini-crisis.
Martino signed off with a win, but Mexico didn't even get to worry about their Game 5 curse—they didn't even make Game 4. He's no longer Mexico manager.
Grade: C
Hervé Renard, Saudi Arabia
It's possible Saudi Arabia peaked a little early in this tournament, but that performance against Argentina, that half-time team talk laying its path, will forever be etched into World Cup history. That alone is more than anyone really expected from The Green Falcons.
Results-wise they weren't consistent from there, losing to Poland and Mexico, but they felt the better team against the former and they battled in tense circumstances against the latter. All in all, it's an extremely respectable showing from a team strictly based in the Saudi Pro League.
Grade: B
GROUP D
Jalel Kadri, Tunisia
Tunisia were one of the first in the tournament to show us that the "minnows" were set to play in an aggressive, bold fashion and holding Denmark scoreless in the opener felt like quite the feat (at the time). They also, you know, beat FRANCE in game 3.
Unfortunately, this double show of valiance against vastly superior opponents (on paper) counted for nothing due to the game 2 loss to Australia. Their issue in that game—a lack of quality in front of goal—was a factor throughout their three contests.
With that limitation in mind, you can appreciate the fact that they made each of their three games tight and closely contested—despite being fancied to make very little impact in Qatar—and actually came pretty close to clambering out of the group. Oh, and they beat FRANCE!!
Grade: A
Kasper Hjulmand, Denmark
At no point in the competition did Denmark look offensively settled. A fair caveat to this is that it's common for Hjulmand to mix and match both his formation and personnel based on the opponent, but when you're cycling through options while not scoring or creating consistently good chances, it looks like you're struggling.
They had to drop Christian Eriksen into a deeper midfield position to aid ball progression through the thirds—but the trade-off to this was he was then a lesser presence up top. None of the seven different forwards he tried could pick up the slack; the only goal they scored was two centre-backs combining at a corner.
For a team some predicted a deep tournament run for, this was not good. Not good at all.
Grade: D
GROUP E
Luis Fernando Suárez, Costa Rica
Costa Rica ended up showing much more fight than most expected—especially after that 7-0 drubbing in the first game against Spain.
Some may credit Suárez for picking his team back up in the space of three days and putting them in a position to beat Japan but—á la Rob Page, Wales and Dan James—I'm more interested in the initial decisions made than a man correcting his own mistakes and receiving fanfare for it.
Beating Japan was a great moment, sure, and they gave Germany a fright, but they conceded a whopping 11 goals in 3 games, put themselves on the back foot immediately due to goal difference and were sent home.
Grade: D
Hansi Flick, Germany
The Flick/Germany debate has been very polarising. There's a section of people labelling this campaign a disaster and calling for Flick's head; then there's another section, one which I'm sat in, who has great sympathy for how their time in Qatar played out.
Ultimately, this Germany World Cup campaign is a textbook example of how not taking your chances will bite you on the ass. It's that opening game against Japan that cost them, a game in which they were 1-0 up and then Serge Gnabry missed a bunch of chances to kill it off. Shūichi Gonda made 4 saves in a minute, then shortly after The Samurai Blue scampered away to equalise, then scored again.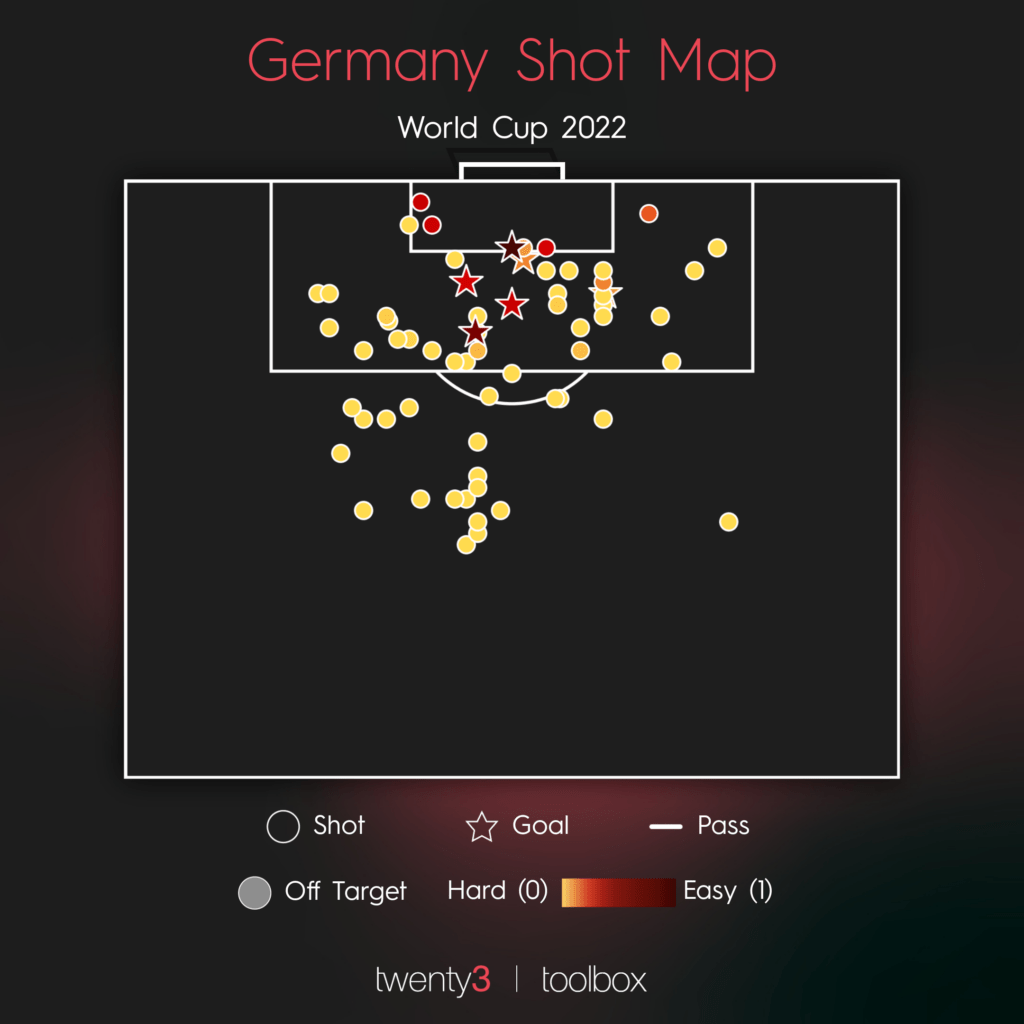 What followed that was a draw against Spain in what was quite clearly the best technical and tactical game of the group stage, then a win over Costa Rica. In a vacuum that's fine, but of course Japan beat Spain and knocked them out.
Germany weren't perfect and no one should claim they are, but they were undeniably good. Flick set them up in a way that, say, 8/10 times, they qualify from that group. Their xG of 10.1, per FBRef, is by a distance the highest of any team through three games and probably deserved better.
Grade: B
GROUP F
John Herdman, Canada
Canada's elimination was confirmed after just two games, following losses to Belgium and Croatia. On paper that's completely fair enough.
It still stung, though, and that's mostly because the 1-0 defeat to Belgium counts as one of the most rank xG-defiers in World Cup history: 2.6 to 0.8, per Opta, thanks to a series of squandered chances and a missed penalty.
You simply cannot fault Herdman's setup in that game: His bold, aggressive approach trapped a slow Belgium team in their own third and pounded them with shots on goal. From there it's about execution, which the players failed to add.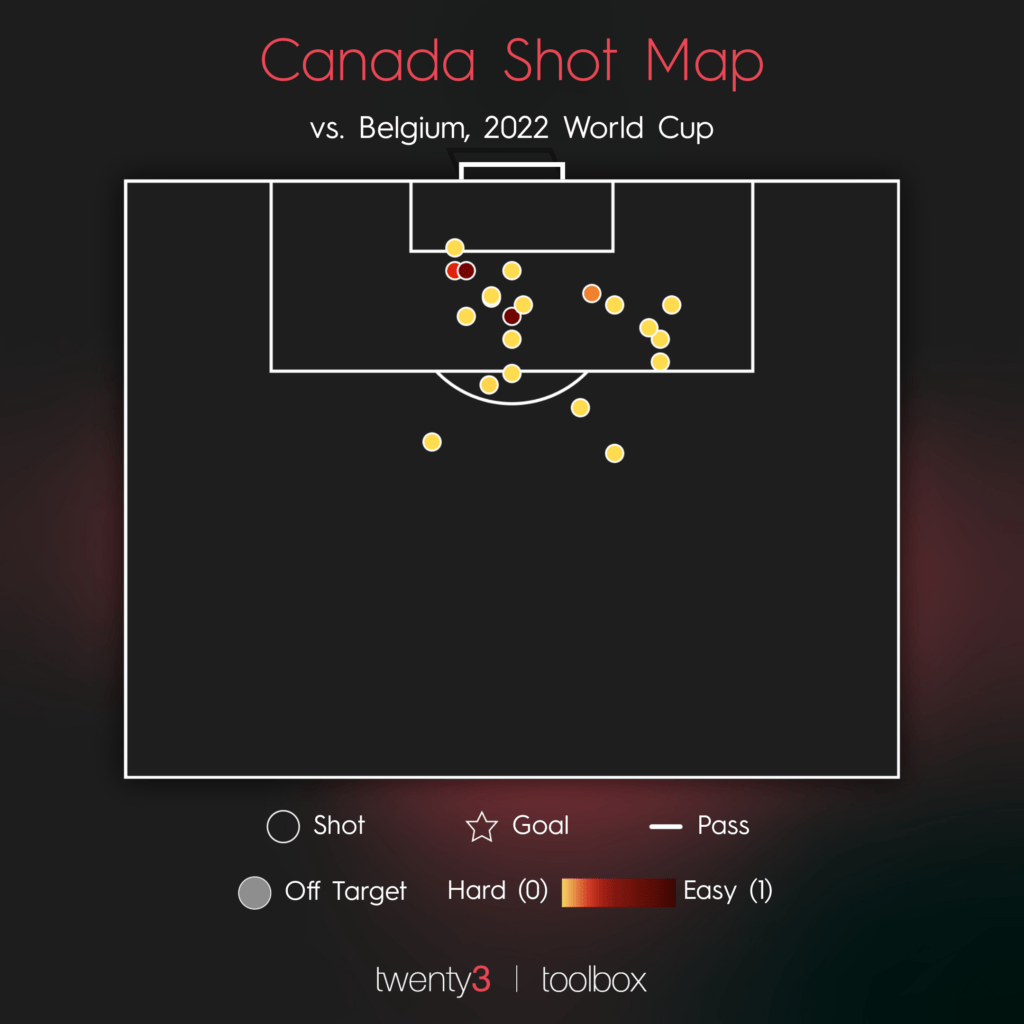 Sadly, there are questions over the next performance, as Canada were soundly beaten by Croatia. Moving to what was effectively a 4-2-4 formation brought an immediate goal, but then struggled immensely against the Vatreni's exceptional midfield trio. Stephen Eustáquio withdrew due to injury and the Maple Leafs eventually conceded four.
The bravery Herdman and his team showed is to be commended, but against Croatia, they perhaps stepped over the line.
Grade: B
Roberto Martínez, Belgium
Martínez is taking pelters from almost every angle and has already resigned from his post as Belgium manager. Belgium's performances in this tournament were abhorrent and for many, the buck stops with him.
Not to jump to his defence, but it's not all his fault. He can't control Romelu Lukaku's fitness, Eden Hazard's decline, Toby Alderweireld and Jan Vertonghen's age or Axel Witsel's degradation.
What he could have done was do a better job of moving this squad on from that core and oversee a Belgium side with a bit of fizz (Jérémy Doku), a bit of good form (Leandro Trossard) and a bit of mobility at the back (Arthur Theate).
In terms of tournament management, he lined up his defenders in the wrong positions in game 1, surrendered the midfield battle via substitutions in game 2 and sent an unfit, blunt Lukaku to his doom in game 3.
Grade: D
GROUP G
Otto Addo, Ghana
Another who resigned mere hours after elimination, Addo cut an unsure figure throughout the tournament.
He changed either his formation or the orientation of his players constantly, with Mohamed Kudus' ever-changing position illustrative of this: He was utilised in midfield, up front and on the wings across just 250 minutes.
This is a squad with a lot of new faces, one that needed time to gel that simply wasn't available, and one that lacked composure at key moments in the group—particularly against Uruguay. How much of that is on Addo is hard to say, but if the best word to describe a team's showing is "jumbled," the manager isn't going to get a good grade.
Grade: C
Diego Alonso, Uruguay
Dear oh dear, Uruguay. The 2022 World Cup had no time for your negativity, your play-not-to-lose approach, and it has promptly chewed you up and spat you out.
The group finale against Ghana was spectacular mostly thanks to Luis Suárez's personal history with the country, and it was good to see La Celeste attack a bit—because it made a big change from the first two games, in which their caution suffocated the spectacle.
You can argue they were unfortunate on penalty calls twice (Ronaldo, Darwin vs. Ghana), but it's tough to be sad for them; they deserve nothing.
Grade: D
GROUP H
Dragan Stojković, Serbia
Serbia picked up darkhorse momentum before the tournament and that massively increased expectations for them—making the fact they crashed out at the group stage all the more disappointing.
They conceded eight goals in three games, showed Brazil far too much respect and then surrendered a two-goal lead against Cameroon and a one-goal lead to Switzerland. Fun, but deeply flawed.
Stojković gets some sympathies for the fact the likes of Dušan Vlahović, Aleksandar Mitrović and Sergej Milinkovic-Savić all carried injuries into the tournament, but it was still a real clusterf**k of a structure which fell apart way too often.
Grade: C
Rigobert Song, Cameroon
Dumped into a very tough group containing Brazil and experienced European sides Serbia and Switzerland, qualification always felt like a long shot for Cameroon. Still, they not only built on an impressive AFCON with regards to performance levels, but also delivered two historic moments.
The first was a second-half blitz from Vincent Aboubakar against Serbia, scoring a scoop/lob goal that will be written into songs. The second was a win against Brazil—Brazil B, sure, but still Brazil—which is Africa's first ever against the Seleção at a World Cup.
Song battled against the fact his team were the worst on paper in all three matches and somehow came away with four points. You have to commend that.
Grade: B