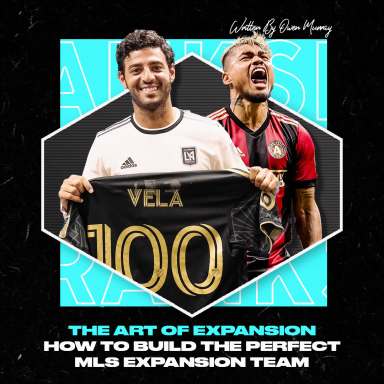 How To Create The Perfect MLS Expansion Team
(Preferred qualifications: lots of money and a city that needs a team)
By Owen Murray
To establish a top-tier sports team in modern day America, the land of marketing and stock market teams, everything needs to go right. A combination of reliable front-office staff, financial backing, fans, good on-field performance, a thriving academy—and a heavy measure of luck.
Of course, the businessmen attempt to minimise that final portion as much as possible, but it's still crucial. In one of the fastest growing American sports leagues, teams joining left and right have limited success. So how do you build the perfect expansion team?
To begin, we have to look at recent successes within the league: Seattle Sounders, Atlanta United, and LAFC all made the playoffs or better within their first year in the league. One of the hallmarks of MLS 3.0 is the downtown stadium. All three clubs found their homes in shiny grounds near the city centre, allowing them to attract a crowd that would fill stadiums week in and week out.
Before the 3.0 era, teams struggled to fill stadiums and cross 20,000 fans in attendance. With new strategies and more aggressive marketing towards another group, attendance records skyrocketed. On average, Atlanta, Seattle, and Los Angeles were the only three teams last year to record over 100% stadium capacity on average (although LAFC has a significantly smaller stadium at 22,000 as compared to Seattle's general max of 39,419 and Atlanta's 42,500), displaying their ability to garner larger groups of fans. In comparison, before their move to Soldier Field, the Chicago Fire played 12 miles outside downtown Chicago, off public transportation, and only drew (on average) a crowd of 14,806 of a possible 20,000. Obviously, an important facet is an accessible stadium.
However, to get that, you need financial backing. The Sounders share a stadium with the Seahawks and the Reign, Atlanta with the Falcons, and LAFC share with the expansion NWSL side Angel City. All three stadiums were funded (begrudgingly) by taxpayers. In Seattle's case, Paul Allen funded part, but the city was a large part of the funding. These cities will likely play host to the World Cup when it rolls around in 2026, and that provides extra financial incentive, but it's still hard for these teams to get the stadium they want. More and more teams are building soccer specific stadiums as a part of this initiative, but those in old stadiums aren't gaining anything.
These stadiums have benefits outside of the club as well. As cities bid for the 2026 World Cup, many of the groups competing to become a host were buoyed by a new stadium able to facilitate the greatest stage for football in the world. The chance to put the city in the world's eyes is an often invaluable opportunity that increases the wider appeal for an expansion team.
More often than not, the core of an MLS Cup winning squad is built around league veterans, those who are proven within the league and can step into an expansion team and immediately deliver an amount of legitimacy and security that isn't guaranteed with signings from outside the league. It's similar to what often occurs with players coming to the Premier League and the reason players like Declan Rice are so enticing for a club such as Chelsea or Manchester United. These players are guaranteed success in a world that possesses frighteningly little of such a commodity, and they are vital to any expansion team.
For Seattle's 2009 squad, this meant the likes of Patrick Ianni and Nate Jaqua. For Atlanta, players such as Brad Guzan or Michael Parkhurst. LAFC signed Walker Zimmerman and Steven Beitashour. A major market for this is the Expansion Draft, in which the new team(s) can pick from a pool of unprotected players on each team to build this base.
Additionally, these teams have the ability to spend the big money when they want to as a result of the Designated Player rule. Established to facilitate David Beckham's landmark transfer to the LA Galaxy, the latest revision of the laws allows each club to sign three players whose salaries do not count against the cap. Thus, clubs are able to pursue superstar transfers with the full financial backing of the aforementioned ownership group without having to worry about the impact on the rest of the squad.
Seattle's $6,000,000 purchase of Nicolás Lodeiro, Atlanta's continued influx of players such as Miguel Almirón, Pity Martínez and Thiago Almada, and other acquisitions throughout the league are a hallmark of the modern MLS organisation. This has been reflected throughout the league as teams have turned from the older strategy of buying European superstars who aged out of the top five leagues (see: Andrea Pirlo and Frank Lampard to NYCFC, Steven Gerrard to LA Galaxy, etc.) Instead, teams have looked at younger creators from South America like Columbus' Lucas Zelarayán or Minnesota's Emmanuel Reynoso, that they can either build a team around à la Reynoso, or sell on for big money (Almirón was sold to Newcastle in 2019 for a reported then club-record £21m).
These players don't hold the international acclaim that Pirlos or Ibrahimovićs bring, but they serve another purpose: to separate the MLS from its tag as a "retirement league." Especially since the success of Lodeiro in Seattle's run to MLS Cup 2016, teams have invested more in scouting and enticing players to trade the Brazilian or Argentinian leagues for a life in New York or Los Angeles.
So you have the stadium. You have the first team. You have the players who will (hopefully) deliver relatively immediate success. But who comes after them? What happens when your veterans age out or your Almirón is sold on for big money? This is where the academy comes in.
Philadelphia, New York (as part of the Red Bull system), FC Dallas, and Seattle are some of the most prolific academies in the league, producing talents such as RB Leipzig's Tyler Adams, Salzburg's Brenden Aaronson and Juventus' Weston McKennie, respectively. These players all graduated to the first team before leaving for grander pastures abroad, earning the team a hefty fee in the meantime. For Seattle, players such as Josh Atencio, Danny Leyva, and Obed Vargas (all under 19 and graduated from the GA Cup winning team) played significant minutes in the MLS and CCL over the past two seasons. The ability to create an environment that not only benefits the first team squad in the immediate and future plans, but also facilitates the growth of the sport in the local area is an incredibly important achievement for clubs in America, and must be factored into the creation of an expansion team in the MLS.
In addition to the homegrown talent, clubs have the opportunity every year to take a punt on players in the Superdraft directly out of colleges and universities. While picks more often than not end up being flipped for TAM or an international roster spot, real superstars often come out of the draft, including Jozy Altidore, Michael Bradley, and Cristian Roldan. When your DPs go down, there needs to be an affordable backup plan. This is it.
A successfully created first-team environment features a melting pot of stars, veterans, and young talents. Too much or too little of any group, and issues around inexperience, injuries, and wages start to rise. Similarly to the clubs that will be competing to retain their Premier League status in the 2022-23 season, these first-time teams lack the pull and respect to get the best of the best. Hence, they need to compensate by pulling from all pools of players and investing financially into the club's success. There's no danger of relegation in America, but the pain of finishing miles behind every other team can deal a real blow to the hopes of immediate success that every club idealises.
There's one more thing that needs to be invested, though, and it's the fans. The combination of advertising, matchday experience, and collaboration with the fans must be enough to draw a large crowd to a sport that is often characterised as "boring" and "un-American" and keep them there.
For the newer expansion teams, this has meant targeting not only those who go to tournaments on the weekends and coach youth teams, but those who (like those of you reading and listening and consuming media on this website and from other nations) dedicate themselves to waking up early and sacrificing sleep to connect with a culture that lives thousands of miles away. For them, the opportunity to show their passion with a club that is tied to their city will drive them to become part of the club in a way that lifts both up. They are the ultimate decider, the final arbiter of whether a club will succeed. If nobody wants to see them play, teams and clubs are dragged into the muck at the bottom of the table. But, if they manage to strike that balance with the fans and create a real emotional connection, anything can happen, and teams have a far higher chance of achieving goals and remaining successful.
It's a group effort, and as is evident so often in football, you never walk alone.
Some fantastic books that I recommend reading about the founding of MLS clubs (especially Seattle due to my particular allegiance) are…
The Sound and The Glory, Matt Pentz
Sounders FC: Authentic Masterpiece, Mike Gastineau
The Beckham Experiment, Grant Wahl