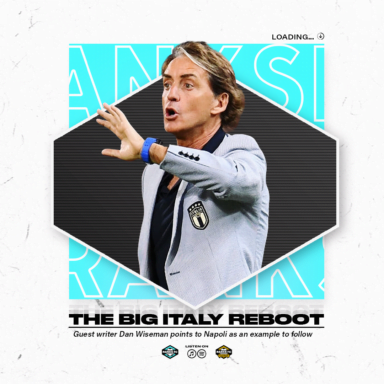 Italy Must Follow Napoli's Example In Their National Reboot For Euro 2024
By Dan Wiseman
By midday on June 11th 2021, London was already ringing to the sound of Neil Diamond. With St George's crosses rippling from their backs in the mild summer heat, humming to the tune of Sweet Caroline, England fans descended on their capital ahead of the nation's greatest footballing event since the fabled triumph of 1966.
As kick-off approached, the city—the country—was at fever-pitch. A frivolous, bouncing Wembley Way became the epicentre of a very un-English wave of blind optimism. Fans filled the air with red and white flares and chants of Harry Maguire's love for vodka and a certain German digestif grew louder. For him, his teammates, for all of England, there had never been a better chance to end the 55-year wait for international glory. 
Some three hours later, as broken glass crunched underfoot, those very same fans silently trudged through what had become a dark, rainy evening. Distant echoes of joy from the opposing masses in blue, the jubilant party at the other end of the pitch, rang in their ears. England was stunned, coming around to the painful reality that Roberto Mancini's Italy had won Euro 2020 on penalties.
Before the competition had begun, the talk was never about the Azzurri. Their opponents in the final were considered by many to be the pre-tournament favourites. Football was set to come home for England, a narrative driven by the fact that Wembley was to host the final of the first ever instalment of the Euros hosted in venues all across the continent. It was perfect for the Three Lions. Or so it seemed.
In hindsight, it is fitting that Euro 2020 began in Rome. The world sat up and took note as Italy dispatched the tournament fugazi, Turkey, 3-0 at the Olimpico. The signs were there from the beginning. They topped Group A with a maximum of nine points, having scored seven goals and (in the fashion of great Italian sides of the past) conceded none. They looked imperious and their form in the knockouts continued to prove so. Consecutive 2-1 wins over Austria and Belgium put them into the semi-finals, with a penalty shootout triumph over Spain then preceding their first European Championship win since 1968.
It was, seemingly, a triumph that was to herald the re-establishment of Italy as the world's premier footballing nation. Domestically, Inter had just won the scudetto, bringing Juventus' nine-year reign of dominance to a much-needed end. Their cross-city rivals, a resurgent AC Milan, followed them in second. Atalanta, usually found in the doldrums of Serie A's midtable, rounded off the podium and were gathering attention as a side to watch on the continent. A hurt Bianconeri could only finish fourth.
Not since the golden 1990s, perhaps not even following the World Cup win of 2006, had Italian football felt so exciting. We were James Richardson, a quaint Italian café and today's copy of Gazzetta away from an incredible renaissance.
But, fast-forward just nine months, the Azzuri had gone from ​​paradiso to inferno. The memories of a glory-laden summer had turned to sheer disbelief—all at the hands of North Macedonia.
The game, in theory, should never have happened. The European champions had come second in a qualifying group containing Switzerland, Northern Ireland, Bulgaria and Lithuania. It landed them in a play-off, with qualification for the 2022 World Cup in Qatar on the line. In an effort to save the European champions from the most embarrassing night in their country's recent sporting history, Roberto Mancini turned to seven of the players that he fielded in the Euros final (with another coming off the bench) at Palermo's Stadio Renzo Barbera.
And they failed.
A 92nd-minute winner from Aleksandar Trajkovski was a hyperbolic summary of what had been a season of chronic disappointment for Italian football. Only two of the four aforementioned Serie A sides progressed from the group stages of the Champions League that season. Those that did—Inter and Juventus—then lost to Liverpool and Villarreal, respectively, in the round of 16.
Federico Chiesa and Leonardo Spinazzola, two of the brightest stars in Italy's run to European glory, both missed the play-off collapse with long-term injuries. Spinazzola, a rampaging full-back who won the hearts of so many at the Euros, actually tore his achilles tendon during the run to the final. It was perhaps a sign of what was to come.
The reality of not qualifying for the World Cup for just the third time in their history brought many Italians' frustrations with domestic football to boiling point. Angry questions were raised as to where Italy's next generation was to come from, why Serie A didn't give enough chances to younger players and whether their Euro 2020 win was in fact just a mirage.
So, as the rest of the world descended on the Middle East for a World Cup like no other, Italy played out November friendlies against Albania and Austria, losing the latter 2-0. The matches acted as their final act of a fairly dismal 2022. A strong Nations League campaign was the only solace in a year that saw them fail to reach Qatar and, on their return to Wembley in the summer, lose 3-0 in the Finalissima to Argentina.
At best, 2022 was a year to forget for Italy. At worst, it was a brutal wake-up call to the fact that their success 12 months earlier had masked a series of failures at the domestic level. But it wasn't a cloud without a silver lining. U-23 talents in Giacomo Raspadori, Alessandro Bastoni, Gianluca Scamacca and Wilfried Gnonto (amongst others) have enjoyed a standout year for their clubs—and in Raspadori's case, his country too.
In just a few months, a new qualification campaign will begin as Euro 2024 rolls around. It is time for a new beginning. And to further emphasise that point, the FIGC announced a timely rebrand of the Azzurri.
Directed by Italy's FA, who themselves remodelled with a new logo in 2021, a modernised, more simplistic take on the famous crest was unveiled. A switch to Adidas as the side's kit manufacturer prompted a new look, too. The refreshed home and away kits both sport a marble effect, inspired by the widespread use of the material throughout the country. Alongside them, an accompanying "sound identity" was proudly launched, a first-of-its-kind musical score that will "feature on every touchpoint, whether physical or digital."
The Federcalcio are rather keen to hide the scars of 2022 under a new toupée, it seems.
But for most Italians, it is not the shape of the emblem on the chest, the away kits that look like your rich aunt's kitchen counter, nor the notes ringing from their iPhones as they navigate their national side's website, that will heal the wounds of that night in Palermo. It is what happens on the pitch; what happens now.
To make this shift into uncharted waters a success, Italy must move on from the goliaths of yesteryear. The defeat to North Macedonia gave way to widespread reports that Jorginho, Lorenzo Insigne and Ciro Immobile were set to follow Gigi Buffon and Giorgio Chiellini into international retirement. But whilst they eventually decided against it and with Leonardo Bonnuci and Francesco Acerbi very much remaining in Mancini's plans, it must be accepted that Italy's Jekyll and Hyde, European Championship-winning side may never right their wrongs of 2022. Perhaps they shouldn't even get the chance.
Whilst the desire will be there amongst the Azzuri's elder statesmen to wave goodbye with a clear conscience, the task of restoring the trust Italians have in their national side must be left to the stars of tomorrow.
Beneath their noses, Napoli have perfectly executed such a contingency plan. They—to a sea of doubters—let go of an adored generation who carried the weight of expectation for far too long. Replacing them were a younger, hungrier tribe. Now, Gli Azzurri sit top of Serie A. With no skeletons in the closet, no emotional baggage to hold them back, Luciano Spalletti's entourage of up-and-comers have come alive. They'll go further than their predecessors ever did.
And so the national side must do the same. Bonucci must become Bastoni—or so to speak. History will be kind to Mancini's class of 2020. Their race has been run.
But it is time for them to pass on the baton.