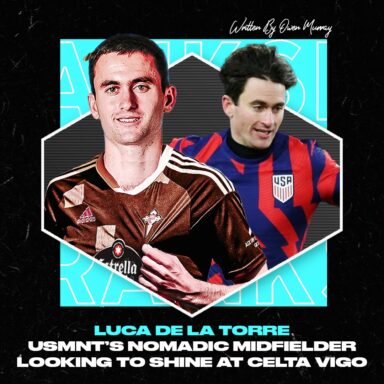 It's Time For Luca de la Torre's Big Breakout Season
By Owen Murray
Data viz in this article is courtesy of the Twenty3 Toolbox
San Diego. London. Almelo. And now, Vigo.
United States international midfielder Luca de la Torre is arriving on the Iberian Peninsula as a breath of fresh air into a Celta side that are struggling to tread water. A subpar 2021-22 campaign was worsened by the club's inability to retain some of its key contributors in Brais Méndez and Néstor Araújo. However, a few new signings have cleared some of the clouds. It's still pretty grey, but there's a little pocket of blue in the corner there.
De la Torre has made his name playing in a midfield pivot with Heracles and as the No. 8 in a three with the USMNT. While Celta's 4-1-3-2 sets up a bit differently to his previous clubs, there's definitely a space for Luca to shine, most likely in the advanced midfield role.
Most often fulfilled by Denis Suárez, it would ask him to sit in the middle of the three and connect the defense and attack with short combination play. Suárez's FBref profile is highlighted by his 99th percentile passes attempted rate, highlighting the sheer volume of passes that he attempts. This is something Luca excelled at with Heracles, albeit from slightly deeper positions (as shown by the Twenty3 Toolbox) where he often receives passes, wriggles out of a tight spot, and is able to release a teammate into a dangerous area.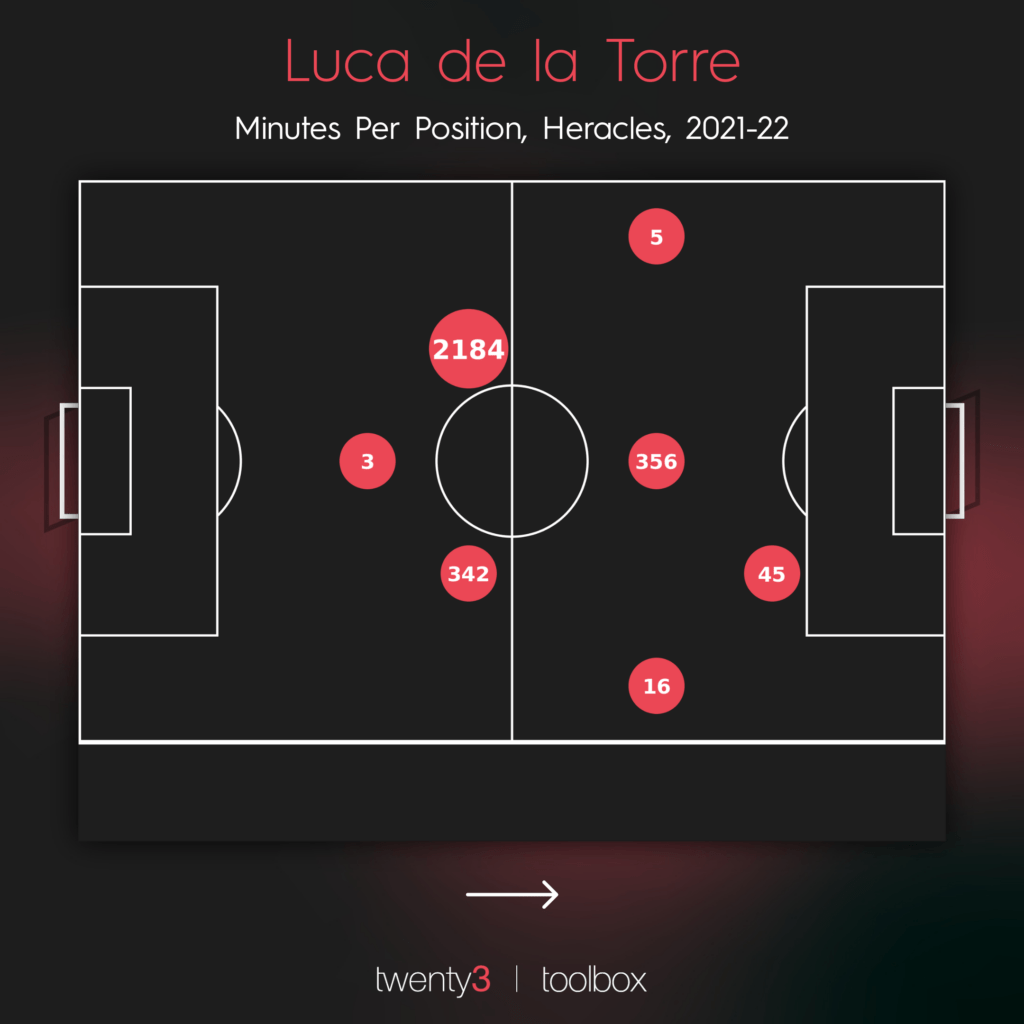 De la Torre's Twenty3 radar shows his key passes attempted as one of his best attributes. The "classic" De la Torre play often features the player recovering a loose ball in the deeper midfield area before progressing with the ball at his feet to release the wide players into space or to drive himself. He wins the ball in the wide midfield area (mostly due to his starting position in the pivot) and progresses it from there, often choosing to move through midfield with the ball at his feet. This is evident through the high Dribbles Completed statistic on the left of the radar (2.2 per 90).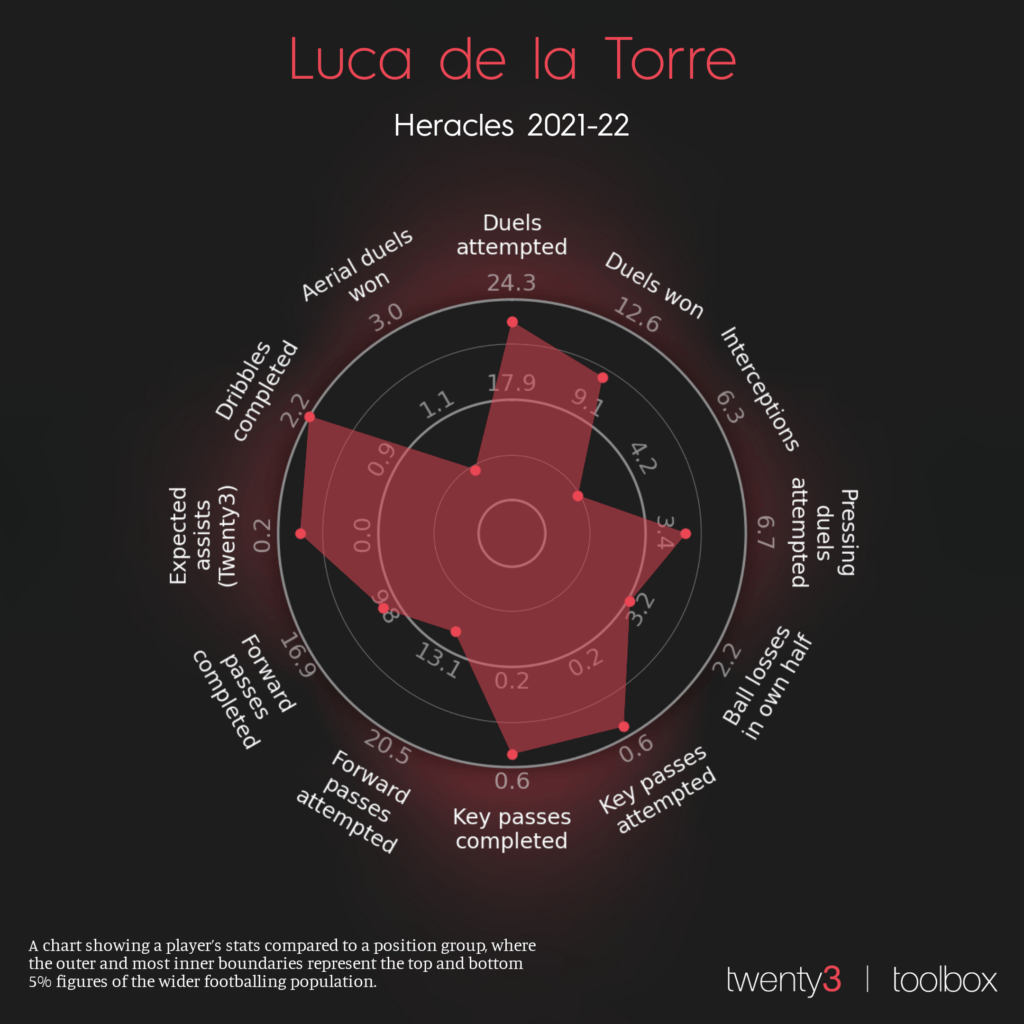 While Suarez is far more focused on the dictation of play through passing, as Celta's system would suggest, De la Torre not only provides a similar relief option but also brings a dynamism through his dribbling through midfield that can change games and exploit tired defences. In the middle of the three for Celta, he would have the freedom to drive at opposing defenders while 4 (four!) attackers run off of him.
The system can be used to allow De la Torre to use his powers to their greatest extent—their duality. Defenders will be forced to confront him due to his higher starting position within the team (as opposed to within a pivot in a 4-2-3-1), leading to gaps in the defence which can be exploited by the two forwards in front of him. These chaos-makers are excellent for disrupting systems set up in peace and harmony. Ideally, as soon as one player is out of position, De la Torre can exploit it as he moves forward with the ball at his feet.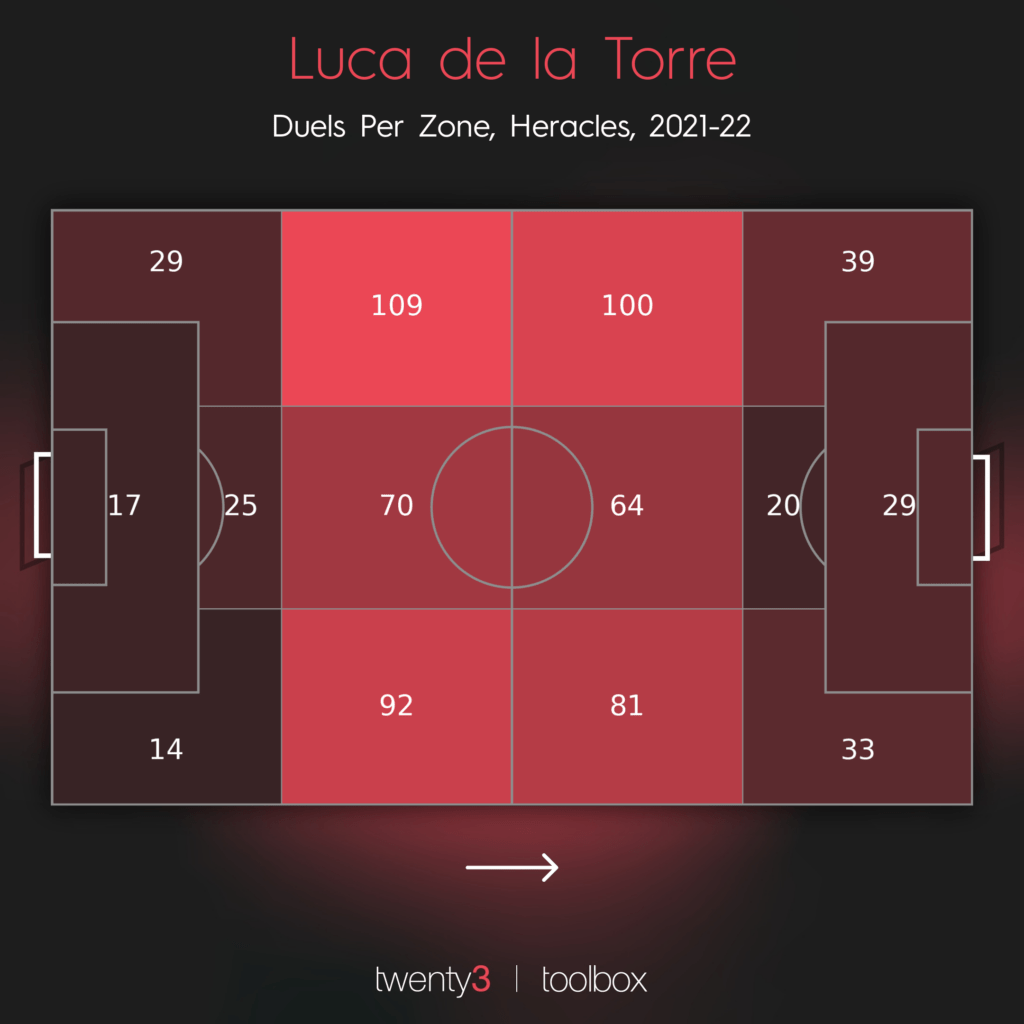 That's not to say that he's a poor creator through his passing. From his deeper position in the pivot at Heracles, he was able to connect the team, most often finding one of the wide players (as shown). This spiderweb of passing, (mostly) evenly distributed, is a big reason why he's so appealing for that central role in the 4-1-3-2 at Celta. In a traditional Spanish style featuring short passing, the pass network graphic suggests that De la Torre will be able to slot into the side with limited adjustment.
A quick jaunt through his 2021-22 highlight reel yields the discovery that he's a master of short, flicked passes. He often moves into space to receive a ball and it's obvious that the speed of his mind matches the speed of his feet when he immediately releases a teammate. While not the absolute mastermind of the team, his ghostlike movement allows him to drift in and out of channels to receive and release the ball quickly.
He doesn't need the keys to the team to be influential, something that's obvious with both his club side and the national setup. In both sides, he's been overshadowed by another player (ie: Christian Pulisic) but manages nevertheless to find his space to slot in. He was constantly connecting with the front line and both wingers at Heracles from a deep lying spot in a two. He's the player other guys love to play with.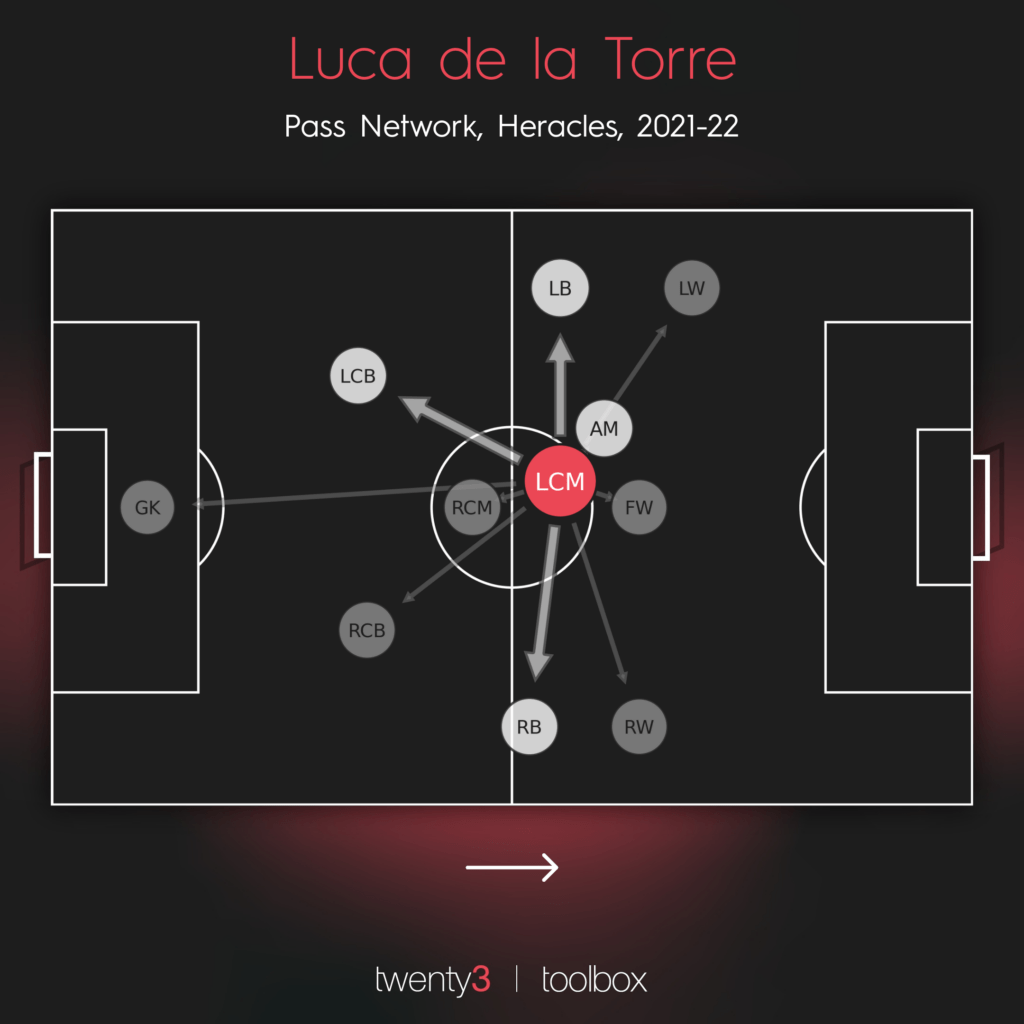 It's obvious that he should fit in at Celta, but, barring a Denis Suárez injury or absence, he almost certainly won't be thrust directly into the starting lineup—and it's probably for the best. He'll be allowed time to fit into La Liga and train with the squad before he's depended on. It'll likely be circulated online that he only registered a singular goal and assist last year in the Eredivisie. It's nonsense. A look through his highlight reel (again, it's on repeat) shows that Heracles' forwards had some finishing issues last year. The side only scored 32 goals last season, less than every team in the Premier League and La Liga except for Norwich City and Deportivo Alavés, respectively. The top assister for Heracles was Emil Hansson, with four. I'm not saying he's guaranteed success, but he's far more than what the statistics show.
Celta isn't the only club he just "signed" for, though! 2022 saw De la Torre break into the USMNT setup for real, and he was in the squad for the first US men's side to qualify for the World Cup since 2014. His blazing start to life with international football has led many to ask if he could (or should) break into the trio in midfield for this winter's tournament. The incumbents, Tyler Adams, Weston McKennie, and Yunus Musah, were strong throughout qualifying and were a big part of the 2021 Gold Cup and Nations League victories, and few doubted them prior to De la Torre's emergence. Is there a spot for him?
The most vulnerable of the three is Musah, and it's mostly because Adams and McKennie are near-untouchable. To take one of them out would be like leaving Landon Donovan out of the 2014 World Cup squad. I'm not going to do that. If Luca slots in for Musah, he again adds a dynamism that varies the approaches that Berhalter can take with the side.
Alongside McKennie and Adams, he's expected to do less of the defensive work than he was at Heracles, and can act more exclusively as the link player between the back and the flying forwards. He's going to be especially useful in transition, where his ability to dribble through lines will be used far more than it might be at Celta. In games where the US know they'll be under the cosh he can be an outlet, like when…they play England on Black Friday. Start Luca versus England. He isn't at the level where he can be an undisputed starter (yet) for the national team, but he does have the potential to make the three a four, and force Gregg Berhalter into some decisions he hasn't had to make for a little bit.
2022 is going to (hopefully) be the Year of Luca de la Torre. He finds himself in two systems with room and opportunity for him to grow into a role that maximizes his capabilities and will allow him to show his prowess as a Swiss Army Knife of a central midfield player. He'll kill you by his dribble. He'll kill you through his passing. And the best part? You won't even see him coming.