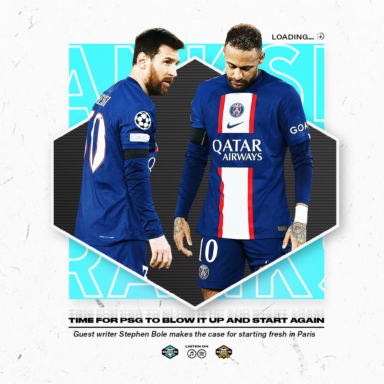 It's Time, PSG! Blow It Up & Start Again
By Stephen Bole
As the final whistle sounded at the Allianz Arena last Wednesday night, a familiar feeling sunk in for the players, staff, and fans of Paris Saint-Germain. 
Disappointment.
They have once again underwhelmed in the Champions League, and any other trophies or achievements this season will do nothing to wash away the stain of failure.
It's time to blow it up.
PSG's chairman, Nasser Al-Khelaifi, and sporting director Luís Campos need to rethink everything, and be ruthless in their actions. There have been murmurs of an end to the "bling-bling era," but their actions have not completely matched up with such talk, and neither has the product on the field. The club's unbalanced style has produced nothing but consistent failure in the competition they care about the most, so end the era.
Change everything.
THE FRONT THREE
Kylian Mbappé, Neymar, and Lionel Messi are probably the most talented trio of attackers ever assembled on one club team, and while each has had their individual moment to shine, as a collective they have simply been a failure. PSG have reached the point where we can't judge them based on Ligue 1 achievements—their seasons are measured on a continental scale.
For all the attacking output these three can create, their ignorance of defensive duties limits their team far too much. PSG can't press or defend as one, so against quality opposition they struggle to win the ball in advantageous positions; they simply don't have the ball enough because when they lose possession, it takes so long to win it back. On top of that, everybody else on the pitch is exhausted from doing the work their teammates won't.
Yes, individuals can win games, but football is still a team sport. You need a collective group to win at the highest level, and with these three together PSG will struggle to find a way to function as a unit.
Al-Khelaifi and Campos need to make the cold-blooded decision and let Messi walk when his contract is up in the summer. And after they do that, it's time to find a way out for Neymar as well. Messi may be the GOAT and Neymar is right up there with the world's best, but the band-aid must be ripped off.
Messi is still outstanding and he may well win the Ballon D'Or after his World Cup exploits, but he is also declining and the PSG move has never seemed the perfect emotional match. Neymar has 35 goal contributions in 29 games this year, but his injury history at the business end of the season can no longer be blamed on bad luck.
They are two unquestionably world-class players and if asked to build a World XI for one game, both might feature in the team. PSG however, don't need them at this stage. In this era of football, there is only room for one offensive superstar who avoids defending, and their man is Mbappé.
The rumors will persist about a possible exit for him as well, but there's a decent chance he's still in Paris next season. He relishes being the man everyone looks to and PSG have plenty of resources to add depth and quality in the form of forwards who fit him better, both on and off the ball. Mbappé's performances with France have shown how comfortable he is playing alongside a true No. 9, and having balance on the opposite wing would be ideal as well.
On face value, it sounds mad to think getting rid of Neymar and Messi would help a team get better, but PSG need to prioritize fit over talent. Providing Mbappé with multiple players who work better with him and the rest of the squad will unify them on the pitch while still keeping that superstar who can win games on his own.
SHIFT THE IDENTITY
The aforementioned "bling-bling era" has helped PSG build a global brand—but sadly at the cost of alienating many of their local followers. Their most loyal fans have been disturbed by the lack of Parisian talents in the squad in recent years, and it has created tension between the fans and their club.
Kingsley Coman, Christopher Nkunku and Moussa Diaby are just a handful of the PSG academy products ignored by management in favor of expensive signings who haven't brought results.
Winning cures most issues, and if the extreme spending led to consistent European success, there would not be an issue with having a small presence of local talent. The drama that constantly surrounds the locker room is probably also heightened due to large price tags, and the ultras have become sick of their club looking more like a reality TV show every year.
PSG's 2021 summer transfer window was supposed to be one of the best of all time. Messi, Sergio Ramos, Achraf Hakimi, Gianluigi Donnarumma, and Nuno Mendes epitomized their love for flashy signings. Each new addition had great individual moments, but we also saw Messi and Donnarumma make crucial errors in the Champions League, while Ramos had extended injury spells for much of the year.
To the club's credit, they used the 2022 summer window to make deals that seemed so unlike their usual style. Campos was hired and found bargains in Fabián Ruiz, Nordi Mukiele and Carlos Soler, while keeping the age profile of their signings much younger. At the time, they were rightly praised for making savvy moves, and some of the players brought in could prove to be important members of a winning team down the road. However, they couldn't impact the team enough when it mattered most in the Champions League, and that is how they must be judged.
With such a sizable influx of players, many of whom come from different countries, having the local presence in their locker room would make assimilation for new players easier. It can be difficult to understand the ecosystem of a club when first joining, and nobody can represent that culture like a local product. Mbappé, Presnel Kimpembe, and the recently purchased Mukiele are the only established members of the squad who can claim to be from Paris, and the fans are clamouring for more players like them to be trusted.
Warren Zaïre-Emery, El Chadaille Bitshiabu, and Timothée Pembélé are emerging youth products who have flashed big potential, with Zaïre-Emery in particular looking like a future star. PSG must put faith in these promising youngsters and those who come after them in order to rebuild their identity and the relationship with their ultras.
THE MANAGER
Christophe Galtier was a risky hire at the time, and he did stray from the usual big names PSG go after, but after the early European exit his days feel numbered. It was a chance PSG had to take, bringing in a no-nonsense character, almost the opposite of his predecessor Mauricio Pochettino. But needless to say, they have to do better with the next hire.
If they do in fact choose to blow the project up and start fresh, Al-Khelaifi and Campos must pair their players with a manager who can bring elongated success, not the fits and starts we have seen over the past decade. In addition, they need someone with a commanding presence who also doesn't bring drama at the executive level.
That may sound like a request for quite literally the perfect manager, but that is what a club of PSG's stature calls for. Letting go of players of the calibre of Neymar, Messi and some of the other veterans will not make everyone happy, and decrease their margin for error, but there is still going to be plenty of talent left over to win at the highest level.
That talent can only be successful with the right man in charge.
Currently, Zinédine Zidane and Luis Enrique headline available coaches who could be interested in leading PSG's next era, and the club will have time to make the decision. Of course, they could hire someone from another team too, and should wait until the summer so all options can be in play.
PSG have enough pieces in place and a bounty of resources to shift the narrative around their club—if they are committed to change. It is time for Al-Khelaifi and Campos to be shrewd and unforgiving in their personnel decisions, building something the fans can be truly proud of.