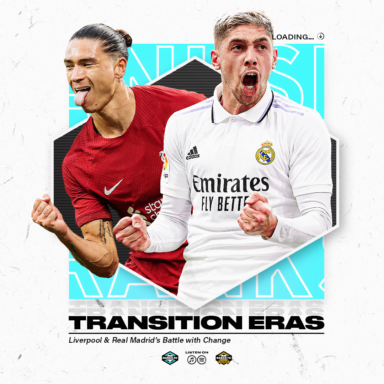 Liverpool vs. Real Madrid: Battle of the Rebuilds
20 February 2023

Ranks FC
By Stephen Bole
With Liverpool and Real Madrid set to face off in the UEFA Champions league once again this week, we'll see two clubs who are in transitional periods.
Liverpool's need for an overhaul has struck them by surprise, as they seem to be moving on from their greatest period of success during the Premier League era, while Madrid have stretched the peaks of their older players to the absolute maximum over the past few seasons as their transitional phase has continued.
Both clubs are still capable of great success this year, but they also highlight how difficult it is to move from one era to the next. Even with all the world class players, coaches, and facilities at their disposal, why is it so hard, and where do they go from here?
The Mental and Physical Overloads
To begin with, we must address why it is taxing to sustain success at the highest level.
It is natural for teams to be hungrier for trophies before they have won anything, even if players and coaches won't admit it, or even recognize it themselves. The mental strength to push your limits in training, study extra film, and stay ready for any opportunity is not to be scoffed at, and it can be overwhelming as seasons pile up, and motivation slowly gets drained.
Anybody who has watched a Jürgen Klopp interview is also aware that he, like many in football, believe players are playing too much and it is costing them physically and mentally. He is not wrong. Winning only adds on games to the next season, and when combined with international competition, a break from high-level competition is pretty much non-existent for the best in the world.
The best teams in the world are often also built with players in similar age brackets who peak together, causing regression to occur simultaneously to key players. Thiago Alcântara and Jordan Henderson, 31 and 32, have certainly not looked the same physically this year, and it is hurting Liverpool to have multiple critical players drop in standards.
It is no coincidence that Madrid suffered consecutive disappointing early exits in the Champions League from 2019-2021 after winning three on the bounce in the years leading up. Mentally, the players were probably not as naturally driven to win the competition; they had been drained from so many years of extended runs, and new blood was needed.
Their transitional period has been longer than Liverpools, and masked by last season's success. After the summer of 2018, the BBC era was phased out, and many in world football would not have expected such an ageless, throwback campaign led by Karim Benzema and Luka Modrić last year. However, the young players that had arrived blended well with the elder statesmen, and refreshed the squad as a whole. It was a fantastic job by the club—but not a plan that can be easily replicated.
The Transfer Market is a Puzzling Place to Navigate
The business aspect of transition is where both of these teams have done some good work, and are waiting on results to line up with their savvy transactions.
Liverpool's recent evolution of their front line is an example of how investing in bright young players who could become stars is quite risky when replacing actual world-class players. The famed front three of Mohamed Salah, Roberto Firmino, and Sadio Mané struck fear into opposition back lines in past seasons, but Mané left last summer searching for a new challenge, Firmino is past his peak, and Salah has yet to properly gel with his new teammates. It cannot be understated how hard it is to replicate such a dynamic front three.
In January 2022, Luis Diaz was brought in for €47 million, and while he fit in seamlessly in his debut season, injuries have decimated his campaign this year and the idea of him immediately filling Mane's void production-wise was a bit far-fetched.
Darwin Núñez arrived in the summer for €64 million after a blistering campaign for Benfica, but he is clearly still too raw to be relied upon as a forward for a title-challenging team in the Premier League. Finally, Cody Gakpo made the move from PSV for €42 million just last month, and while he is a good player, the pressure put on him to save Liverpool's season has maybe been too much to handle too early.
Liverpool have bought quality, young players who will probably have great careers at Anfield. However, it takes time to reach the heights of those just before them, and even the best of signings often require patience.
Real Madrid's midfield succession plan also seems perfect on paper. Their four Champions League triumphs in the past decade were all done with the midfield trio of Modrić, Casemiro, and Toni Kroos at the helm. Last season's success was aided by the young duo of Eduardo Camavinga and Federico Valverde, and the €80 million summer purchase of Aurélien Tchouaméni was supposed to complete the trio of the future.
Tchouaméni has been an outlier in the way he has replaced Casemiro so smoothly after the latter's move to Manchester United, but questions remain about the young trio as a whole. Valverde's future is in the middle of the park, but in the most important games he's often played out wide with instructions to help in the middle, not dominate there.
Meanwhile, Camavinga is a game-changer off the bench, but yet to establish himself as a consistent presence when starting, and now finds himself at left-back, although it's not his fault he's been the club's best full-back this season.
While Tchouaméni, Valverde, and Camavinga have their own fantastic qualities as a group, they don't quite have the incisive passing or metronomic tempo-setting that Modrić and Kroos provide. They can find success in other ways, but it's also true that Madrid probably need more variety in the middle of the park.
Ancelotti has not had to rely on his young trio as much as Klopp has been forced to lean on his, but if Modrić and Kroos both leave in the summer, which is a real possibility, next season could see midfield issues brought to the forefront.
Both clubs have done great business to replace some of their stars, but that's not always enough. It's important to remember these teams aren't playing FIFA Career Mode, and the transfer market requires a ruthlessness that few people have.
While we did spotlight good moves along Liverpool's frontline and in Madrid's midfield, the teams have yet to address other areas, such as midfield for Liverpool and all-around depth for Real.
Opponents Adjust
As clubs win and go through successful periods, they become the hunted, and opponents become obsessed with finding the blueprint to put their dominance to an end. Real Madrid, along with Barcelona, will always be the hunted domestically, but when they go through triumphant spells in Europe, the target on their back grows. Liverpool face an even more daunting challenge domestically, with more opponents capable of matching their resources.
Klopp's idea of football is easy to picture. Heavy metal, high pressing, quick transitions, and bundles of energy. After being successful with this style for multiple years, last season saw his side move to a more possession-based method on the ball, while still keeping some elements of a traditional Klopp side.
He had to do this to stay ahead of his opponents and evolve his squad, but eventually, teams do catch up. As Liverpool have aged and lost some of their pressing ability, they've become much easier to slice through this year—and Klopp has not been able to adjust to counter it.
With Ancelotti managing with a more tactically freeing approach, Madrid have not faced similar adjustments from their opponents. However, being the European and Spanish champions means that you will get every team's peak effort, and that can be a handful. Opponent fans will also stop at nothing to attempt to affect the Spanish giants mentally, and game upon game, the antics add up.
When on top of the footballing world, clubs are always being chased. Seeing a rival win leads to new ambition and outlandish spending, as was the case last summer with Barcelona piling up debt to build a squad capable of overtaking their nemesis. After Liverpool won the Premier League in 2020, Manchester City responded with two league titles of their own. The only way to stay ahead is to innovate when most believe it to be unnecessary, and that is one of the most challenging things to do in all of sport.
What's Next?
Both clubs face challenges as they continue to transition their squads, and Liverpool are looking at a more unnerving overhaul than Madrid, but there is a reason these are two of the most historic clubs of all time: they get the job done. It will hurt for fans when club heroes leave, but the young stars will be developed, and they are learning from the best.
The most interesting feature of these rebuilds is what will happen with the managers. Klopp has earned the right to stay as long as he wants, but would a new face ignite the squad, or cause more chaos? Ancelotti may be leaving as soon as this summer, and if he does stay it likely won't be for much longer after that. Do Madrid go against their typical ways and hire a project manager with long-term goals? Significant decisions are to be made, but after all, that's what the decision makers get paid for.
As for what other clubs may be staring at a transitional phase soon, there are two more giants of the game that spring to mind. If Kylian Mbappé finally leaves in the coming years as Neymar and Lionel Messi age out, PSG would have a strenuous time replacing those three. And while it may be unthinkable right now, what if Manchester City gets hit hard by the Premier League for financial wrongdoing?
As Liverpool and Madrid will tell you, nobody is invincible.