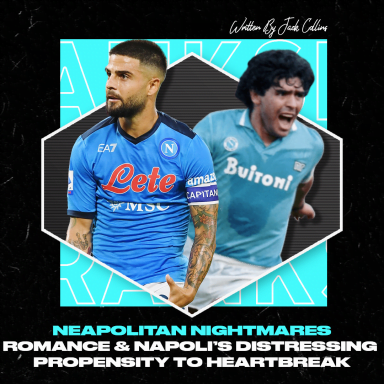 Neapolitan Nightmares: Napoli's Distressing Propensity to Heartbreak
13 June 2022

Jack Collins
With ten minutes to go against Empoli on 24 April 2020, on Matchday 34 of the Serie A season, Napoli were 2-0 up and looking comfortable against an Empoli side sitting in lower-mid table and who hadn't won a league game since December. Then, in a calamitous collapse of catastrophic proportions, Luciano Spaletti's Partenopei conceded three times in 9 minutes – and in one fell swoop, essentially ruled themselves out of a title race that their run-in suggested they could not only influence, but potentially win.
And it was all so avoidable. The mistakes for all three goals were obvious, but it was the equaliser that was the epitome of this, where goalkeeper Alex Meret seemingly felt the burden of expectation weigh down on his shoulders and collapsed in on himself, taking too many touches, and allowing Andrea Pinamonti to close him down, tackling the ball into the net – simultaneously earning Empoli another year in the top flight and ending Napoli's Scudetto ambitions once and for all.
Embed from Getty Images
Mistakes happen in football. They happen more when the pressure is on, but the problem for the Partenopei is that this is becoming something of a pattern. If you roll back through the last few years, it makes for some pretty brutal reading, especially if you're of a Napoli persuasion.
2022
—Missed out on the Scudetto after leading the league at the half way point and potentially having the simplest run-in on paper of anybody.
—Knocked out of the Europa League at the Maradona by Barcelona, after taking a more than credible draw away from home at Camp Nou and being in control of the tie.
2021
—Missed out on Champions League qualification on the final day after being in pole position to secure it, after drawing with Hellas Verona and letting the weakest Juventus side in a decade overtake them.
—Knocked out of the Europa League in the Round of 32 when amongst the favourites to win it, in an incredibly disappointing performance against Granada – especially in the away leg at Nuevo Los Cármenes.
Embed from Getty Images
2020
—Napoli did win the Coppa Italia in 2020, which needs to be highlighted here, defeating Juventus 4-2 on penalties after 120 goalless minutes.
—But they also finished 7th after a campaign in which legendary manager Carlo Ancelotti was relieved of his managerial duties midway through after a winless run of seven games.
—The Partenopei were also a whopping 21 points off the pace of Scudetto-winning Juventus (managed now by former Napoli hero Maurizio Sarri), and 16 points off Lazio in the final Champions League spot.
2019
—Finished second in Serie A, but 11 points off Juventus' winning total – in a campaign where they lost home and away to their rivals in Bianconeri.
—Trounced 3-0 by Unai Emery's Arsenal over two legs in the Quarter-Finals of the Europa League, after being knocked out of the Champions League on 'Goals Scored' in a group that also contained PSG and eventual winners Liverpool. Whilst Napoli travelled to Anfield on the final matchday needing only a draw to progress, having beaten Liverpool in Naples, it was the away draw with Crvena Zvezda on Matchday 1 which many felt cost them.
Embed from Getty Images
2018
—Napoli were excellent in 2017/18, setting a record for the highest points total ever gained by a second placed side under Maurizio Sarri – but even this was a poisoned gift.
—The fact that Juventus, carving up the league, still managed to top their rivals from the South even in a campaign that smashed records is testament to the pain and heartbreak they continue to endure.
—It was made worse by the fact that Napoli had snatched the ascendancy over Juventus by beating them in Turin on Matchday 34, only to slip up against Fiorentina and Torino in the two weeks afterwards and allow Juve to retain their title once again.
Embed from Getty Images
I could go on, but you get the point. This is a tendency now, a theme that spans squad rotation, managers, and backroom staff. It has the potential of being a cultural phenomenon.
Perhaps the problem is expectation – and the fact that Napoli, storied as they are, are therefore steeped in narrative with almost everything that happens in football. Last year I looked to the spirit of Maradona to be channeled after his death, in an attempt to chase the glorious success that has eluded them since his departure in 1992.
Embed from Getty Images
This year, I looked to departing captain and home-grown son of the city Lorenzo Insigne, fresh off inspiring his country to a win in the European Championships last summer, and in his final year with the club he has loved all his life, to inspire them to Scudetto glory. Again, it was a narrative unfulfilled.
Napoli is a special club. Mythical, romantic, drenched in football nostalgia. They are the club that most people associate Diego Armando Maradona with, in Europe at least. They are the club of Antonio Juliano – who pulled the strings as Italy won the European Championships in 1968. The club of Attila Sallustro – the divine Paraguayan who played for free. The club of Careca, who famously formed that MaGiCa front line with Maradona and Bruno Giordano.
The San Paolo, now named after the great man, is one of Europe's great stadiums – the roar it gives out is audible for miles around, and the club's fervent, vociferous Ultras have been immortalised in text, film and beyond. Forget Mount Olympus – in footballing terms, it is Mount Vesuvius where deities have dwelled.
Embed from Getty Images
But with all of this said, the trophy cabinet remains relatively sparse. There have been some sensational Coppa Italia triumphs in recent years, of course, but historically, Napoli have struggled to get over the line in terms of silverware secured – there are just nine major trophies in Napoli's 96 year history.
Fans of Genoa famously wrapped a banner around the Marassi years ago saying 'solo chi soffre impara ad amare', which translates loosely to 'only those who suffer learn to love.' It is a banner that many will relate to, but Napoli's tendency to come close and fall agonisingly short come the final hurdle, has meant that they have developed a somewhat painful relationship with the idea of glorious failure – punching above the odds, and then falling just short.
But perhaps the issue is us. Perhaps the issue is the romance that Napoli offers, in a sun-drenched city scorching with inflamed passions, burning as one of football's most intense and obsessive cities, desperate for a reinvigoration of the glories that are far enough in the past that they feel like history, but not far enough that they are too out of reach to recall.
Embed from Getty Images
Napoli is a dream – a great bastion of every footballing romantic. Every time a once-great No. 10 has come onto the market looking for somewhere to call their home in recent years – James Rodriguez, Philippe Coutinho, Mario Götze – those of us desperate for a narrative to latch on to spend our summers desperate for them to turn out in the baby blue of Naples' finest in the following campaign. 
And so as the summer looms and another reset beckons for Gli Azzurri – who will lose the aforementioned Lorenzo Insigne; as well as potentially also the club's all-time record goalscorer in Dries Mertens, and stalwart centre-back and the man many tipped to be their next captain – Kalidou Koulibaly – this summer.
And yet those of us dreaming of footballing romance will dream again next season that perhaps it might yet be the one in which that famous Scudetto trophy is lifted amid wild scenes in Naples once again.