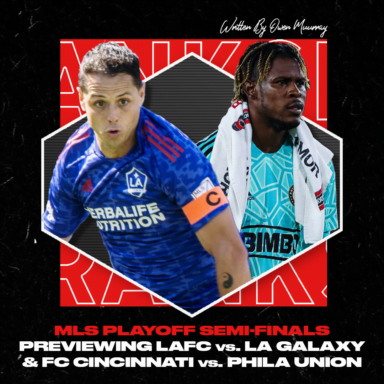 Previewing the MLS Cup Playoffs Conference Semifinals (Part 1)
Finally, the most anticipated tournament of this fall has arrived.
The intrigue, mounting storylines, intricate tactical battles, and flat-out chaos will envelop multiple nations over the course of a month. For some clubs and players, it's their first time on the merry-go-round of knockout football. For some seasoned veterans, this edition presents their final chance at a coveted trophy. Each and every group of players will fight desperately for the crown, and their devoted fans will stand behind them each and every step of the way. There's nothing like it.
Look out, world. It's time for the 2022 MLS Cup Playoffs (Conference Semifinals, Part One).
(4) Los Angeles Galaxy at (1) LAFC
20.10.22, 7:00 PM PST (BST -8)
This is the big one, right? Playoff El Trafico; Carlos Vela, Gareth Bale, and Cristian Arango vs. Chicharito, Riqui Puig, and Douglas Costa in the City of Angels. City rivals, with no love lost between the respective fanbases. This match is already going to be the marketed headliner of the lot, with the two teams splitting their regular season meetings. Each won on their home turf, LAFC in a 3-2 thriller and Los Angeles Galaxy 2-1 in a VAR-riddled encounter that saw LAFC's Latif Blessing have a tying goal marked off in the 98th minute.
The Galaxy battled past a notoriously difficult Nashville SC side with a headed goal from right back Julián Araujo, silencing MVP favorite Hany Mukhtar in the process. Despite a fairly middling season from a defensive standpoint, they tightened up for the big occasion, conceding just 0.84 xG worth of chances from a relatively high 9 shots (vs. a regular season average of 4.29 shots against per 90). That, plus efficiency at the other end, saw them through. While their big names might be the ones who grab the goals, they'll have to depend on a defensive unit that limited LAFC to an average of two goals between their two meetings in the regular season. Facing the highest-scoring team in the West, they'll have to be at their best.
LAFC, meanwhile, have sat at home awaiting the winner of the play-in round with their Supporters' Shield and first round bye. Despite dropping points in six of their last eight matches (losing five), they snuck past the Philadelphia Union to claim the Supporters Shield on the wins tiebreaker. They boast a star-studded front line, and while summer signing Gareth Bale hasn't contributed as expected (just two goals from 12 matches) they posted 1.94 goals per game, second only to the Union.
Also well-rounded, they managed to finish third best in the league in goals conceded with 38, again behind the Union and FC Dallas. It's not just about the metrics, though. Steve Cherundolo was hired as just the second manager in the club's history after the departure of Bob Bradley to Toronto following the failure to qualify for the playoffs during the 2021 season. Cherundolo was regarded as inexperienced and unable to take the reins at one of the continent's burgeoning super-clubs, but has proved stable and able to manage the squad of superstars with relative efficiency.
In the sole playoff match between the two, LAFC ran out 5-3 winners in a wild 2019 game that featured goals from Carlos Vela and Zlatan Ibrahimović in a match that featured far less defensive prowess than this week's edition is likely to see. Historically, first seeds have struggled to fall back into a rhythm after their time off between the end of the regular season and their first playoff match. Last year, both number one seeds (the record-setting New England Revolution side and the Colorado Rapids) fell in their first matches to eventual champions NYCFC and their final opponents the Portland Timbers, respectfully. The Galaxy's best hope may be to take advantage of an out of form and recently rotated LAFC side that has the weapons to put this game out of reach should they get the chance. Araujo will provide a threat on the right flank, and his crossing ability should allow the underdogs a chance to steal this game from the hands of one of the favourites.
The X-Factor
There's nowhere else to go. Javier Hernández will decide whether the Galaxy move on or waste another season back in the playoffs. He scored 18 goals from 18.0 xG in the regular season, 9.8 more than his nearest teammate. He's widely renowned as one of football's finest poachers. If the Galaxy win this game, it's more than likely he scores. MLS has purported to move on from their label as a retirement league, but at 34 years old he could prove there's still a place for some of the game's finest in America.
(5) FC Cincinnati at (1) Philadelphia Union
20.10.22, 5:00 PM PST (BST -8)
Well. They're finally here, and they mean business. In their four-year history in MLS, FC Cincinnati won three consecutive Wooden Spoon awards, finishing last of the 24, 26, and then 28 teams in the league. This year, it clicked.
Designated Player Brenner, 22 years old out of Cuiabá, Brazil, smashed 18 goals from 12.3 xG in his second season with the club and led the Lions to their first-ever playoff berth. Brandon Vázquez matched him with an additional 18 from 15.1 xG, with just one penalty between the two. Completing the trident was Luciano Acosta, with a monster 10-goal, 12-assist campaign that saw him garner early MVP shouts. They mustered enough to get past New York Red Bulls in the first round via a penalty from Acosta and an 86th-minute Vázquez winner.
But here comes the big, bad wolf. The Philadelphia Union are out for revenge after rolling through the regular season in 2021 and falling to NYCFC with a matchday squad decimated by COVID absences in the Eastern Conference Final 2-1. This season, they narrowly missed out on the Supporters Shield to LAFC and were best in the league in goals for, goals against, conversion percentage, and save percentage. MVP nominee Andre Blake was immense in the Union's net, posting 97th percentile save percentage, 99th percentile goals against, and 99th percentile clean sheet percentage.
Philly conceded four goals once in the regular season and posted an incredible eight games scoring four or more goals, including 7-0 and 6-0 wins versus D.C. United and 6-0 wins versus Houston Dynamo and Colorado Rapids. Popular MVP candidate (and eventual snub) Dániel Gazdag hammered 22 goals in 34 games from 17.8 xG (0.68 p90) and absolutely blew opponents out of the water. From top to bottom, Philadelphia were a machine.
tl;dr: Cincy were good, but Philly were nigh-untouchable.
…except when Cincinnati beat them. Despite their disadvantage in the eyes of the bookies, Cincy defeated the Union 3-1 in Ohio and managed a 1-1 draw at Subaru Park in Philadelphia in the regular season. Philly didn't drop points to teams they played twice all season, except to Cincinnati. The Philadelphia team who averaged 2.12 goals per game were limited to less than half that averaged between the teams' regular season meetings. If the machine has a kryptonite, it's in Ohio. That said, the match is hosted at Subaru Park in Philadelphia, giving the Union a home crowd behind them and no travel to contend with. I'll cite the same concept as I did for LAFC, with the week off leaving Philadelphia prone to complacency, but Philadelphia should still win this match. Just like they should've won the other two they played versus Cincinnati this season (the door is open, in case you missed it).
The X-Factor
Andre Blake. The guy is immense. He's proven rock-solid in almost every match this season, and if he's on form, Philadelphia win this game. He's facing one of his biggest challenges of the season in the Cincinnati trident that put that team on their backs, but he is more than capable of handling the task. This could be his last chance argument for MVP, with Mukhtar eliminated and the other nominees all remaining in the other conference. If he gets Philadelphia the MLS Cup they deserve, he could sneak the award.
–
It's Thursday night (or an early Friday morning). You could watch Thursday Night Football, or read a book, or you could watch the most enthralling, chaotic, ludicrously unpredictable football tournament out there. There's truly nothing like it. In the words of Rio Ferdinand, who was definitely talking about the legendary MLS Cup Playoffs and not Messi and Ronaldo, "Just enjoy them."
Stats via FBRef