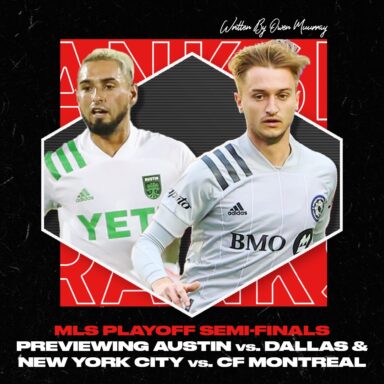 Previewing the MLS Cup Playoffs Conference Semifinals (Part 2)
The concept of MLS After Dark is to create an aphorism that describes the pure chaos that often envelops Major League Soccer. It's about what the league brings to the global football scene that other leagues won't, like casual panenkas to walk off a penalty shootout as the East Coast ticks ever closer to tomorrow, or three goals in 13 minutes after midnight Eastern in El Tráfico, one scored by a substitute who'd been on the field for under 90 seconds and another three minutes deep into stoppage time.
In the eight games of the 2022 MLS Playoffs that have thus far been completed, the theory has been exemplified by each and every team. Here, the beauty of the MLS Cup Playoffs is that they present all kinds of action. In the second round of the playoffs alone, an intense battle ensued in Philly that saw the Philadelphia Union triumph 1-0 over FC Cincinnati in a game worthy of any number of tactical breakdowns. In Los Angeles, Riqui Puig decided it'd be a good idea to stir up some rivalry action within the first 15 minutes and headbutted LAFC centre back Jesús Murillo, escaping with a yellow card. Then, in true MLS fashion, Denis Bouanga and Cristian Arango combined to end the night and send LAFC to the Western Conference Final for the second time.
Now, it's time to decide who's going to the City of Brotherly Love and who travels from Texas to the City of Angels. It can only get more chaotic, more intriguing, and more MLS After Dark from here. 
(3) NYCFC at (2) CF Montréal
23.10.22, 4:00 PM EST (BST -5)
Two teams who cruised past their sixth and seventh seeded opponents come to a head in Montréal. The meticulous creativity of City Football Group versus the relentless tide of a resurgent CF Montréal. The incumbents versus the rising stars. All the narrative is here for the taking. Who'll seize the day and make it one step closer to another title in their history books?
A revitalised Montréal side under Sigi Schmid Coach of the Year nominee Wilfried Nancy, who led them to their highest ever PPG and win ratio since he took over in 2021, found their path into the second round by way of a 2-0 victory over Cinderella candidates Orlando City. The match re-established their playoff pedigree after years away from the postseason as they defeated the 2022 U.S. Open Cup Champions, relieving an abundance of doubts built on their tendency to collapse.
This Montréal side, composed of contributors like Ismaёl Koné, Alistair Johnston, Djordje Mihailović, and journeyman forward Kei Kamara, busted through the East with five games in which they scored four goals against conference opponents. Despite the obvious wealth of talent at Nancy's disposal, the club have a sole Designated Player (Victor Wanyama) of a possible three signed to the roster.
In the absence of established stars, Koné, a young attack-minded central midfielder, has proven to be one of the discoveries of the season for the team from Québec. The Canadian international earned his first cap for the World Cup-bound Maple Leafs in March off the back of a strong first half of a MLS campaign which saw him finish with two goals and five assists. On the other end of a career in midfield, Wanyama (formerly of Tottenham Hotspur) featured consistently as a sage head on the pitch, captaining a side that failed to qualify for the playoffs in four of the last five seasons to a second place finish in the conference. 
Last year's champions NYCFC travel north without the top scorer from that memorable playoff run, Taty Castellanos. Although concerns of goals drying up without Castellanos' presence were justified as none of his teammates managed to match his half-season tally of 13 goals within the regular season, the club still finished seventh overall in the goals scored standings with a healthy 57 from 34 matches. In his stead, Brazilian starlet Talles Magno solidified his reputation as one of the league's premier talents, registering seven goals and eight assists from the left and up top in the New York club's attacking 4-2-3-1. 
However, manager Nick Cushing will have to plan for a run without his young star due to a shoulder injury that's kept him out since mid-October. The vacancy will likely see veteran forward Héber, who's mostly featured as a rotation option for Magno and off the bench despite his stellar form in previous seasons, return as he did versus Miami to down the Herons 3-0. Facing a stingy Montréal side who allowed the fourth fewest shots in the league over the course of the regular season, chances are likely to be few and far between for Héber, Maxi Moralez, and co. 
Both sides possess a core of midfielders likely to rival any All-Star team the league could pick, and the game will see periods controlled by progressive dribblers that rock the field back and forth with a surging tide that is hard to control. From the New York side, Moralez and Santi Rodríguez present a threat that will force Montréal to account for defensive holes left by their dynamic midfield. However, a similar danger is posed by the duo of Koné and the AZ Alkmaar-bound Mihailović, who provide complementing skillsets in the fluid lines of Nancy's favoured 3-5-2. In an effort to stem the tide of counterattacking teams, Wanyama and the balanced Samuel Piette often start alongside Koné while Mihailović is free to float alongside Kamara within the front two. Neither side will want to sit back and allow the other to dictate the flow of the match, prophesising a potent atmosphere for goals to be scored. 
The X-Factor(s)
This game all comes down to the performances by defensive midfielders Nicolás Acevedo and Victor Wanyama. The strong attacking lineups will keep the respective defences busy, and should one of the two slip up, the abundance of creative midfielders will run riot in response. Wanyama, playing what could be his last game for the club, must bring all of his experience and professionalism to the table. Acevedo, eight years his junior, has the chance to put his name up with the league's very best against a midfield of stars young and veteran. All the same, they'll decide whether this match is a slugfest or a festival of football.
(3) FC Dallas at (2) Austin FC
23.10.22, 7:00 PM CDT (BST -6)
Rivalry time, baby. Both FC Dallas and Austin FC battled through brutal 120 minute matches in a manner that wasn't so much about attractive football as it was attritional. Now, they meet in Austin to decide who'll fill the second berth in the Western Conference Final. Neither team will enter the match at full strength following trips to extra time and penalties, presenting the enticing possibility of a game devolving into chaos. If NYCFC and Montréal are the standard for tactical ingenuity on the day, the two Texan clubs represent MLS After Dark at its very best.
Dallas make the trip 200 miles south to face their neighbours following a surprisingly successful regular season after finishing 11th in 2021. Their third seed garnered them a home match against sixth seeded Minnesota United and their Argentinian gem Emanuel Reynoso. The technically brilliant attacking midfielder registered in the 99th percentile for both Progressive Passes and Progressive Dribbles amongst league midfielders, but Dallas managed to stifle his threat as they slowed the game down and stacked their penalty box with the defensive excellence of a centre-back pairing featuring veteran Matt Hedges and the dominant José Martínez.
A frustrated Reynoso sat within the Minnesota attack who only twice managed to slice through the Dallas defence—once with a Hollywood pass worthy of the subsequent touch and layoff that Reynoso would duly power home, and again scarcely a minute later by a swift through ball that would find the net only to be ruled offside. An electric few minutes aside, Minnesota would struggle for chances throughout the time allotted to them, only generating 0.3 xG in two hours of football.
Eventually, the match ended one apiece and 20-year-old Alan Velasco shattered Minnesotan hearts as he executed a cold-blooded panenka to win the match for the Texas side. Facing a similar threat in Austin duo Sebastián Driussi and Diego Fagúndez, the away team will desire a result that mirrors their performance a week prior.
For the first half of the season, Austin looked unstoppable under Josh Wolff. Los Verdes boasted an MVP frontrunner in Driussi and appeared to have overcome the struggles of their inaugural season. Their patience in buildup allowed them to find their dynamic attackers within a 4-2-3-1, something that they lacked the skill and football IQ to do as a young group within the league last year.
Their match against perennial spoilers Real Salt Lake was an electric clash ending 2-2 after regulation, a stark contrast to the other Western Conference matchup, and left the players both exhilarated and exhausted. The two sides combined for almost six goals worth of xG, and the dynamic flow of the match concluded the second half with a 90+4' Driussi penalty kick to claw Austin back into the tournament, which set up a thrilling shootout win. However, as they prepare for another tussle with their rivals, they'll look to put the match away early to force the away side into risky counterattacks and avoid falling asleep as they did in the opening stages of the RSL match.
Neither side has a particular advantage in a potential energy-sapping match after both went the distance in the initial round of the postseason, but they'll enter the match with differing outlooks on their hopes for potential gamestates. Dallas will hope to limit Austin's opportunities and clog their attempts to find Jesús Ferreira, fresh off winning the MLS Young Player of the Year title, through quick counterattacking moves that capitalise on Austin's propensity to play out of the back at every opportunity. A big part of that is Ferreira's fellow young American Paxton Pomykal, who limped out of the previous match with an apparent hamstring injury but is reportedly fit to play here.
Austin, meanwhile, will be happy to take the possession they're handed and entertain their home fans. Dallas won't be discouraged by a lack of the ball, but Wolff's side will do their best to take them out of the match, especially from a mental aspect. They'll look to get the ball to the key pairing of Driussi and Fagúndez, who'll chip away at a stoic Dallas back line. If they can catch them sleeping as RSL did last Sunday, an early lead could be vital to determining who will travel to Los Angeles to face LAFC in the Western Conference Final next week.
The X-Factor
Sebastián Driussi is an MVP nominee for a reason. If he can find his feet early and work his way through what is sure to be a crowded final third, the flood of chances he can create will drown the Dallas defence beyond what they can handle. The strength showed in the first round was largely due to the fact that Minnesota didn't generate the high-quality chances they needed. He has the advantage of a supporting cast that generated 62 assists not including Driussi's contributions, a benefit that Reynoso didn't have last Monday night playing with a squad who generated half that number. Will that be what pushes Austin over the edge deep in the heart of Texas, or will Dallas continue their youth-fueled redemption story for another week?
–
I can only sit here and write over and over that this is the football you should be watching. There's nothing better from an entertainment perspective available. The World Cup isn't for a month. The Champions League isn't back until next week. Two matches, for your viewing pleasure.
Sincerely, MLS (After Dark edition). 
Stats via FBRef