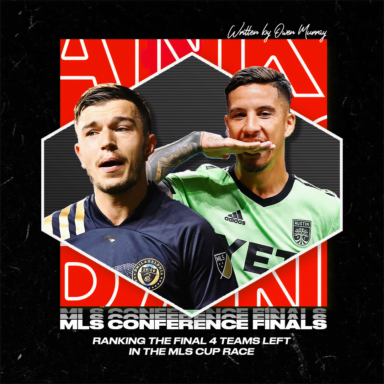 Ranking The 4 MLS Cup Conference Finalists
Written by Owen Murray
Two chaotic, turbulent nights of football in America spat out the final four contenders for the crown. Four sides connected by passion, perseverance, and an overwhelming desire to make their way to the top.
An old adage suggests that the semifinals have a tendency to succeed the final in both suspense and complexity. This is the anticlimax, the chance to represent a sides' respective conference in the biggest match of them all. So, here's your chance. Hop on the bandwagon, the merry-go-round of fun and chaos and poetic mischief.
There's no way to predict what happens next, because it's playoff time in America, and that's a special time indeed. There's no better way to spend it than with your new (or old) Major League Soccer club, so hurry up and set your alarms. It's past time for you to start watching the greatest competition on Earth.
In the spirit of Ranks FC, I've ranked the four remaining teams in the postseason. They're all deserving of their place, but I've got to bring order to the chaos, reveal the method behind the madness, and once again pull back the curtain on America.
(4) Austin FC (next match at LAFC | 12:00 kickoff PDT)
This isn't to say that Austin are a poor side. They're one of the four best in the league, and managed to overcome a poor run of form in the second half of the season to win two consecutive matches vs. stingy opposition.
Sebastián Driussi is still an MVP candidate, one of three remaining in contention to lift their first trophy of the season. However, Los Verdes are facing a beast in the Western Conference Final that they've yet to conquer in the postseason: a LAFC side who want the ball, who will counter-press with impunity, and who are playing at home.
In an interview with MLS, Diego Fagúndez cited the atmosphere within Q2 Stadium, telling reporters, "Q2, we made it a fortress. Our fans definitely did a huge part of it." For the first time, Austin will have to go on the road and beat a side coming off their most emotionally charged match of the season. They beat LAFC unconvincingly in midweek while the home side started a rotated lineup as they competed for the U.S. Open Cup. There was a shock victory in Austin, with Josh Wolff's side winning 4-1, which will provide confidence to the visitors. In addition, they haven't had the chance to face either of the contenders in the East, both of whom feel very strong opposition. 
However, they draw strength from their ability to score early goals that shut down teams. Against FC Dallas, two goals separated by three minutes in the first third of the match effectively ended the game as Dallas only created 0.6 xG and managed a lone goal from Alan Velasco. If they, like Seattle before them, can take away the chance creation that the league's best side boasts in all areas, they'll have a chance. This LAFC team is built on goalscoring, and without it they struggle to defend leads late (not to mention their history in the postseason).
If Austin manage to go on the road and defeat an LAFC side who, despite being notorious for falling short in October and have dominated in the playoffs, they'll have nothing but confidence ahead of the final. They're the least likely to win their playoff match, but in no way can their fortitude and will to fight be forgotten. 
(3) NYCFC (next match at Philadelphia Union | 8:00 kickoff EDT)
A theme within this year's postseason has been detrimental for away sides, with the visitors winning only two of the 10 matches played. In an emotionally charged match, last year's champions don't need the statistics against them. On their run to 2021 MLS Cup glory, a fourth-seeded NYCFC team travelled to Subaru Park to face a Philadelphia Union side who were controversially restricted from using the majority of their starting lineup due to a possible coronavirus exposure. When the supporters saw their side lose narrowly via an 88th minute goal from Talles Magno, they vowed to return. Now, they once again go to Philadelphia as one of two sides this postseason who've won on the road, with another shot at MLS Cup on the line. 
The persistent concern has been the absence of goalscorer Taty Castellanos, but Nick Cushing's side have scored at least three goals in each of their matches so far. Despite stellar form through the postseason, they struggled to score against the Union, only winning the xG battle in five of 12 recorded matches.
This season, New York dropped both of their regular season contests with their conference final opponents 2-1 and 2-0, a worrying statistic against the team who allowed the fewest goals against in the league. If they win, it'll have to be behind another heroic performance from goalkeeper Sean Johnson, who's only conceded a single goal from 3.0 xG through the postseason. Johnson, who led New York City to a penalty shootout victory in last year's championship game on the way to picking up the MVP award and NYCFC's first postseason silverware, has been a stalwart for the club since they picked him up in the Expansion draft in their inaugural season.
NYCFC have both the pedigree and talent to go win this thing. The odds are stacked against them, but that hasn't stopped any movie-worthy sports team before. They're fun, hardworking, and ready to drink Philadelphia and LAFC's, or Austin's, collective tears. 
(2) LAFC (next match vs. Austin FC | 12:00 kickoff PDT)
Last time they got here, they were defeated by the Seattle Sounders team who would eventually win MLS Cup 2019, starring the Uruguayan Nicolás Lodeiro. This is finally their year, right? Just like the last time they won the Supporters' Shield and marched to the Western Conference Final via a high-scoring win over their rivals LA Galaxy…and then proceeded to be outplayed by a number two seed wearing green with a system built around a South American playmaker. Is this déjà vu for the boys from the City of Angels, or will they finally get over the hump and win MLS Cup for the first time?
One positive outlook is that, unlike that 2019 team, their top goalscorer is not Carlos Vela, but Cristian Arango. This side, under first-year head coach and former USMNT international Steve Cherundolo, built a more dynamic attack that can function without their club captain and record goalscorer. When Vela exited their second round match against the Galaxy with an apparent injury in the 78th minute with the game looking destined for extra time, they didn't fall apart as in previous seasons. Instead, his replacement Kwadwo Opoku assisted Dénis Bouanga for the go-ahead goal. That moment symbolises so much of the growth LAFC have made this year, and what might eventually get them their coveted crown.
They or Austin will be the first team in seven years to emerge from the West as conference champions not from Seattle or Portland, and such a historical shift carries immense pressure. Should they find their way past the Texas side, as they are predicted to, they'll secure their first berth in MLS Cup 2022. After that, there's nothing in their way but history, narrative, and Andre Blake.
Philadelphia Union (next match vs. NYCFC | 8:00 kickoff EDT)
Which brings us to number one in the list, my pick to win MLS Cup 2022. The Philadelphia Union dominated the regular season, finishing first both in goals scored and fewest goals conceded. They have the Sigi Schmid Coach of the Year in Jim Curtin. They have an absolute wall in Andre Blake, the Goalkeeper of the Year who almost single handedly won them their first match versus FC Cincinnati and will once again be the x-factor in their conference final match against NYCFC. Julián Carranza, once bereft of goals with Inter Miami, signed in the winter and tallied 20 goal contributions in just over 2,200 minutes. They've got academy talent in Jack McGlynn, Paxten Aaronson and Quinn Sullivan, and they've got strength after strength after strength in reserve.
Tactically, they match up well against NYCFC. They want to win games, they attack the systems that teams build. NYCFC will create chances, no doubt, but a league-leading defence is ready for the challenge, with two centre backs for the lone forward assumed to be Héber. Defensive midfielder José Martínez, who registered in the 92nd percentile for interceptions and the 81st for tackles, will be handed the task of managing Maxi Moralez. Their dual forward set featuring Carranza and Mikael Uhre, 36 goal contributions between them, will bully NYCFC's centre back pairing of Maxime Chanot and Thiago Martins until they score.
If that wasn't enough, they've got Narrative FC behind them. Forget the storybook endings for every other team, this side is the Hollywood blockbuster. Last year, they lost to NYCFC in the Eastern Conference Final with 11 players missing due to COVID-19 exposure. Then, they missed out on the Supporters' Shield to LAFC on the final day on the wins tiebreaker by two. Now, they've got a shot at revenge on last year's champions, and then a possible face-off with the Supporters' Shield winners. In their 12 years in the league, they've never won MLS Cup. For all the narrative, for all the Hollywood finales, for all the marbles, this is it.
———————————————
So get out the popcorn, get a stress toy, and fill your Sunday with football. In the lucid hours before the week begins, where the glory of sport still rules the world, take advantage of the few remaining glimpses of true beauty and watch the MLS Cup Playoffs.