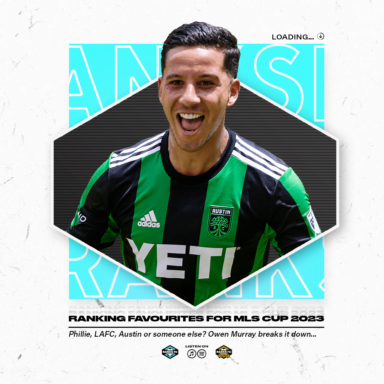 Ranking the Favourites to Win 2023 MLS Cup
23 February 2023

Owen Murray
This weekend, after the bright European lights have dimmed and there's little else to watch, something incredible will happen: Major League Soccer, entering its 28th season, will kick off across North America. In the three short months since LAFC claimed their first title in a thrilling shootout victory against the Philadelphia Union, clubs have scrambled to supply and energise their squads ahead of the big kick-off.
The quality of the league has only grown, as it continues to trend towards a development-focused structure. The MLS Next league kicked off in 2022 as a subsidiary of the first division dedicated to teams like Inter Miami 2 and the Tacoma Defiance, who provide a pathway to first-team minutes for prospects emerging from the continent's various academies and youth clubs. In the time since the season concluded, the MLS SuperDraft occurred, the primary method by which college athletes find a club. While the draft is a scorned event often connected to the American traditions surrounding it in other sports, it makes up for the comparative lack of academies in the nation with a realistic event by which athletes can become professional.
Back to the top tier, however, and the year is shaping up as one of the league's most competitive. In this article, I've taken a look at the three top contenders for MLS Cup 2023, as well as some outside of the box (dare I say Cinderella?) shouts, and some of the best stories to watch.
–
3. AUSTIN FC
Last Year: 2nd (West), 56 points, lost in Western Conference Final
I'm really high on Los Verdes after their performance last season, and while I don't think that Sebastián Driussi outperforms his MVP-calibre season last year, they've picked up a savvy forward group to back him up.
Last year, they fell in the Western Conference Final 3-0 to eventual champions LAFC (keep an eye out for them later on). While Driussi and a solid defence carried them through some nervy moments, they'll need to improve as several sides will return to prominence after uncharacteristically poor outings last year.
They acquired Will Bruin and Alfonso Ocampo-Chavez from the Seattle Sounders, as well as USMNT alumni Gyasi Zardes out of Colorado and CJ Fodrey in the SuperDraft. The front office's work over the break meant that they got all four in for free—a huge boost in a league where salaries and transfer fees mean everything.
Their improved strike force, which sees the four new arrivals added to veteran centre-forward Maximilliano Urruti, is a huge reason why they remain on track to challenge this season. While Driussi contributed a large portion of the side's goal tally last year, they'll need to guarantee goals from elsewhere in order to attempt a return to the summit, and Bruin, Urruti, and Zardes have 240 MLS regular season goals between them.
However, the loss of experienced centre back Ruben Gabrielsen after the season meant that their defence looks weaker than in the past. Austin picked up 25-year-old Finnish defender Leo Väisänen from Elfsborg, but it remains to be seen if he'll fit in. It's assumed that he'll take Gabrielsen's place in the centre back pairing alongside Julio Cascante, but his big price tag (€2.5m) is a big ask for an international to adapt quickly to what's historically been a difficult move.
2. LAFC
Last Year: 1st (West), 67 points, won MLS Cup
Why, you might ask, have the indomitable LAFC found themselves in second after a historic year for the club? They won the Supporters Shield, ran most of MLS ragged, and pulled off one of the all-time classic victories in the final.
However.
They lost Cristian Arango and supersub Gareth Bale in the offseason, and despite making moves for free agent centre back Aaron Long and midfielder Timothy Tillman, have yet to replace their star centre forward with their opening-day El Trafico clash looming. The reigning champions still retain former MVP Carlos Vela and Denis Bouanga and picked up 20-year-old winger Stipe Biuk from Hajduk Split, but that hole in the front three is glaringly obvious.
Almost everything good about LAFC is still relevant; bar Arango, they've managed to keep hold of the majority of the squad that drove them to multiple trophies last year, including in-demand Ecuadorian midfielder José Cifuentes (heavily linked with Brighton). Their control of the ball will flow through that midfield, and the returning Cifuentes will move up the pitch with impunity.
They remain amongst the most dominant sides in the league—their on-the-ball quality sees to that. It's simply a question of whether they'll be able to bang in goals at the level seen in previous years that'll determine how far they go. They can't be number one in this list because they lack the true diversity of options that other sides possess. Should they pick up that No.9 along the way (or prove that they don't need it), it could be the key to a repeat run in SoCal.
1. PHILADELPHIA UNION
Last Year: 1st (East), 67 points, lost in MLS Cup
Philly rolls into 2023 returning their entire starting lineup from last year where, should you need a reminder, they came oh-so-close to two trophies that've been dancing around the City of Brotherly Love for a few years now. That was the story of Philadelphia sports in 2022, though, as the Phillies fell in the World Series and the Eagles couldn't get over the line in Super Bowl 57.
The Union can change that. Their academy continues to push boundaries for American sports, and they exported another Aaronson brother in the offseason (Paxten, to Eintracht Frankfurt). A huge facet of the new, developing era of MLS is the increased reliance upon academies, and they've jumped on it earlier than almost everybody else. Not only can they attract some of the best prospects in the nation with the promise of European interest, but their depth is almost unmatchable.
The key to sustained success in MLS is stability, and it's something that the Union have in spades. Head coach Jim Curtin is the second-longest tenured manager in the league, manning the dugout at Subaru Park since 2014. Captain Alejandro Bedoya will return for his eighth season in Philly, providing a fantastic sense of veteran security and mentorship for their academy products. While other sides are struggling to keep dynamic sides together, the Union has all the time they need to refine last year's faults (of which there were few).
Teams often struggled to keep up with the high-tempo style that Curtin had installed in Philadelphia. They busted out FIVE matches in which they scored five or more goals last year. The strike partnership of Julian Carranza and Mikael Uhre atop the 4-4-2 often outworked teams. The look started to fracture a bit towards the end of the season, where they lost 4-0 to a mediocre-at-best Charlotte side, but as the physical toll became evident their mentality remained, coming back from a goal behind in the Eastern Conference Final to reach MLS Cup.
There's no reason to believe that they'll be any different this year, and that level of self-belief ousts any level of talent on offer. They'll be back, and ready to go one better this time around.
OUTSIDE LOOKS
All three of the above clubs will also be competing in the CONCACAF Champions League, a burden that has historically crippled sides looking to compete on a domestic level. Last year, the Seattle Sounders committed to the tournament with the realisation that they'd essentially forfeit their first three months. Should the same fate befall one or more of this year's contenders, the door will be wide open for someone else to waltz through.
FC Cincinnati
The initial laughingstock of the league have developed something fearful over the past year. They're powerful, fast, and difficult to beat; they're the perfect "dark horse" team. Keep an eye on striker Brandon Vazquez, who's recently featured in his first match for the USMNT and racked up 26 goal contributions in 2022. Combined with Brazilian U-22 Initiative signing Brenner, the 1-2 punch in Ohio might be too much for the rest of the league.
Seattle Sounders
In terms of a comeback season, there's nowhere else to look. Last year saw the Sounders fail to qualify for the postseason for the first time in their 13-year history, and despite becoming the first MLS club to lift the CONCACAF Champions League trophy, couldn't go any further. A huge part of that was down to the absence of Brazilian DP midfielder João Paulo, who tore his ACL in the Champions League final. This season, he's back as Seattle push for their fifth appearance in the title match since 2016, and the former MVP finalist is undoubtedly the difference in the Pacific Northwest.
Nashville SC
You just can't count out the team with the reigning MVP. Behind Hany Muhktar, the Music City side are often near-impossible to break down, and as long as they can get the German firing, they're always in with a chance. Last year, they conceded over 2.0 xG in only three matches, and while crunch time has proved difficult for Gary Smith's team thus far, the new season could be one of spectacular growth.
–
It's always relevant, but the beauty of MLS lies in the unexpected moments of joy. Take a moment to watch with no expectations and be surprised at the genuine level of excitement generated by these 29 teams. Give it a chance. You might just love it.