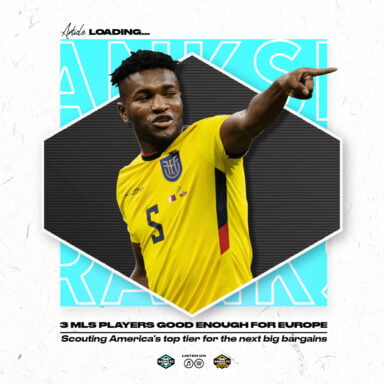 Scouting 3 MLS Players Who Are Good Enough For European Clubs
6 January 2023

Owen Murray
As clubs look to cut down on the extraordinary fees for young talent, they have begun to look towards the source of the players being resold by middlemen for enormous fees. America's first division, the MLS, is becoming increasingly recognised as one of those hotbeds, and this article scouts three players ready to make the jump to the next level.
JULIÁN ARAUJO, 21, LA GALAXY
Full-back
The City of Angels plays host to two teams, known for their sparkling stars and high wages far more than their academies. In Carson, the LA Galaxy find themselves privy to one of the best young talents to emerge in years. Julián Araujo, just 21 years of age, has the world before him.
Already, he's been approached by the Mexican and American federations, eventually committing to the former after spending much of his youth career in the US youth squads. After declining to join the USMNT for the 2021 Gold Cup, he wasn't called up for Mexico's appearance at the World Cup in Qatar, but with Tata Martino out of the managerial seat after the tournament he'll soon have a chance to impress.
At club level, he started on the right of a back four in Los Angeles for two full seasons after playing part-time. He earned the trust of Greg Vanney, who managed the spectacular 2017 Toronto FC team to a MLS Cup and Canadian Championship, as well as to the final of the CONCACAF Champions League a year later. In LA, Vanney has constructed a squad that reflects those aspirations, integrating veterans (the evergreen Javier Hernández amongst them) and academy products in an effort to raise the Galaxy from the depths of the table to their former heights.
Araujo has been a huge part of that, playing an attacking role in a system built to generate chances for his international teammate, Chicharito. As a right back, he's especially appealing to those clubs favouring a back four, where he's often given the freedom to explore the right side as Douglas Costa tucks inside on his favoured left foot, which has given him the chance to display his searing pace bursting out of the back line. He often provides an outlet when the oft-chaotic game states of MLS cause problems for Los Angeles' star attackers, allowing release from the constant pressure that many managers favour in an attempt to take advantage of the style.
Hence, he's a valuable piece for sides who look to find their fullbacks high on the pitch, much like Paris Saint-Germain do with Achraf Hakimi. Both Hakimi and Araujo rank highly for progressive passes received, per FBref, a distinct statistic reflective of their ability to move up the pitch with impunity. Additionally, both players' pass completion statistics are high as well, alleviating concerns related to risk in possession.
Araujo fits best at a European team that looks to counter clinically, making the most of his rapid on-ball progression and wicked cutback ball. Thus, he might find himself at a smaller first-division side where his manager looks to compete by allowing his fullbacks to release in the way that Araujo has done for Los Angeles. His contract runs until 2025, which could deter some sides, but the chance to capture talent directly from the source will prove too enticing for some.
SANTIAGO RODRÍGUEZ, 22, NYCFC
Midfielder
NYCFC's 2022 campaign was hamstrung by the midseason transfer of Valentín Castellanos, who finished as the club's top scorer despite leaving in July. Nick Cushing's side reached the Eastern Conference Final and CONCACAF Champions League semifinal, but seemed to lack the finishing touch.
That meant Castellanos' midfield mate, Santiago Rodríguez, found his contributions less apparent than they might've been had the club retained their star centre-forward. A creative midfielder who found himself shifted to the wing late in the season after an injury to Talles Magno, Rodríguez shone as a point of quality in a side who lost focus in matches. 
In the second half of the Eastern Conference Final against the Philadelphia Union, Rodríguez was directly involved in four of New York's nine attempts, more than any other player on the pitch in that time period. Unsurprisingly, he assisted the opening goal in the match, laying off a cross for Maxi Moralez to finish first time. The assist, his fifth of the playoffs after a dominant three-assist performance in the opening round, highlighted the quality that he possesses.
Rodríguez, who ranked in the 93rd percentile for assists and 84th for progressive passes, is certainly a risk worth taking for clubs across Europe. Exports from MLS haven't always performed immediately, like Newcastle United's Miguel Almirón, but much like the Paraguayan he's got the potential to explode onto the scene across the pond. His best attributes are highlighted in the City Group's system, of course, which attracts attention from clubs looking to replicate the flagship club's recent successes.
Most intriguing, however, is Rodríguez' loan contract. It expired this month, meaning Rodríguez has returned to Torque in Uruguay (also part of the CFG), where he does not wish to stay. A changing of the guard in New York has already seen Moralez and Anton Tinnerholm, both integral members of Cushing's first XI, depart the club in the wake of their failure to reach MLS Cup, and there's little report that Rodríguez would move through the City Group similarly to Castellanos.
He could be the next player to wow the spectators at a possession-heavy side that lets his on-ball ability shine. He can avoid Almiron's dilemma that hindered his progression at Newcastle until this year by finding a top team in a league outside the top five – think any of the top Portuguese clubs. A constant source of talent, Santi has all the potential to be the next big thing.
JOSÉ CIFUENTES, 23, LAFC
Midfielder
José Cifuentes, plying his trade across the Los Angeles divide from Araujo, has long been an admired gem in one of MLS' premier franchises. Since their inception in 2018, LAFC have consistently been amongst the upper echelon of clubs in the Western Conference, and Cifuentes' signing in 2020 pushed them onwards as they challenged in the CONCACAF Champions League.
The Ecuadorian midfielder sits above the 90th percentile in almost every major category amongst midfielders, a result of his maintained quality in a dominant side that allowed his attacking ability to shine. He registered seven goals and six assists in the 2022 season, where LAFC finally captured their first league championship.
His attacking influence on the side is unrivalled thanks to his ability to progress the ball dynamically in multiple ways. He ranks in the 97th percentile amongst North American midfielders for Dribbles Completed and in the 94th for Progressive Passes. There's a reason that he was heavily linked to Brighton and Hove Albion in last summer's transfer window: he's ready to make the jump.
Brighton are reportedly in for Cifuentes once again, and their stature within the pyramid is likely the best location for him to fall. At such a side, he has a chance to ply his trade in the spotlight while also being able to genuinely compete for a starting role—especially if one or more of Brighton's young midfield core move on in the window.
He's also in the last year of his contract, making him appealing and gettable for European sides, especially in January. MLS' shifted schedule against the continent allows for their players to move far more easily in the winter window, when teams are in the offseason in North America. The sole sticking point could be the sale of fellow midfielder Latif Blessing to the New England Revolution, which leaves the LAFC midfield a player short. Any deal for Cifuentes would likely still have to compensate the MLS champions well.