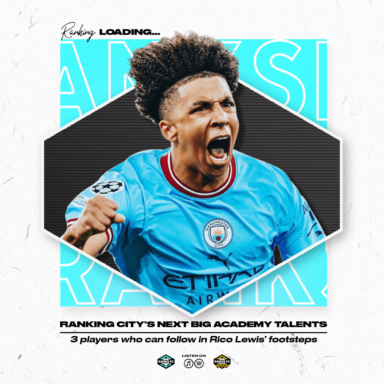 Scouting Rico Lewis & Ranking Manchester City's Next Big Academy Talents
Guest article written by John Gilding
The process of Manchester City bringing talents through and bedding them in is proven and established.
Well, it's been proven once.
The most famous, and perhaps the only truly successful homegrown graduate of the Pep Guardiola era is Phil Foden. City's academy in the last few years has been full of players trying to emulate Foden, follow his tracks into the first team. Cole Palmer (20) and Rico Lewis (18) are the two youngsters who seem to be making all the same steps as he did.
Palmer is the more established of the two, he made his Champions League debut in 2020, and his rise has had plenty of coverage, there's no need to add any more.
Lewis is a more recent development. He made his Premier League and Champions League debuts this season, and got his first goal for the club against Sevilla in November. It's since the World Cup that he's made the biggest impression, though. While Walker rested, Lewis thrived. Impressive back-to-back starts against Liverpool and Leeds United have earned him a place at the very front of Pep's mind. He's now a genuine backup/competitor to Walker, which means John Stones won't have to cover at right-back anymore, which is good news for everybody.
BUT WHAT IS RICO LEWIS?
Lewis may be a right-footed right-back who has spent years watching Kyle Walker, but his best displays have a lot more in common with City's other full-back. If João Cancelo is Pep's custom-made dream full-back, then Lewis is one he's just plucked fresh out the box.
He cuts into midfield from the right in the same way that Cancelo does from the left, allowing the likes of Kevin De Bruyne to push further forward and create chances for that big Norwegian. He looks solid wherever he is on the pitch. He's slick and trustworthy receiving the ball and distributing it, and is responsible with his positioning. He doesn't get drawn into attacks too easily, staying calm and holding his place at the base of midfield while the shinier cogs of the City machine go and have their fun.
After his display against Liverpool in December, Guardiola said: "He will be an absolutely incredible player for Manchester City in the next years because he is so intelligent, so humble. He understands everything in just one second and applies everything."
Lewis has taken to Guardiola's unusual full back instructions like a duck to a duck pond. It's like he's been playing this role for the last three years. Which he sort of has, just quietly. In Man City's academy he has featured in midfield and at left-back on occasion, and this season he has trained on both flanks. Although he is a natural right-back, and that's where he is most comfortable being deployed at the moment, we could see Lewis developing into a player just as comfortable on either side à la Cancelo.
For the last few seasons Kyle Walker has ruled City's right flank, flinging himself at opposition defences like a sky-blue torpedo. In the Premier League, teams have got used to the bombardment, and have found ways to handle his pace, but in Lewis, Walker's likely long-term successor, they will have to face a very different animal. Sure, Lewis can maraud forward when he wants to—but it's when he doesn't that he is perhaps at his most dangerous.
The question of who is behind Lewis in the queue to bed into the side is up in the air. It's unlikely that Pep is going to take on another young prospect this season with Palmer and Lewis already being mixed into the squad. Man City's academy has a bit of a clear out this season. Darko Gyabi left for Leeds, Jayden Braaf moved to Dortmund, and Southampton hoovered up Gavin Bazunu, Roméo Lavia, Samuel Edozie and Juan Larios.
Despite the departures, there are still plenty of talents in the tank. To rank the three players with the best chance of coming next, we have to throw it a bit further forward, at least to the summer.
1. JAMES MCATEE, 20, MIDFIELDER
The three most successful talents at bedding in from the academy, Foden, Palmer and Lewis, are notable in the fact that none of them have had any loan spells. They've all gone straight from youth football to the top of the English game. However, as Manchester City's squad has stacked depth upon depth season-by-season (except at full-back), it's not really feasible for more than two players at a time to come in and start getting some minutes.
James McAtee held one of those spots in the summer, right up to the point where he didn't. He made six appearances for City last season, all from the bench. Using Foden's map to the first team as a template, he should have been getting some starts this term. Instead, he was loaned out to Sheffield United in the Championship.
The problem for McAtee is that he's a 10 who can also play wide and loves to get forward, which means his competition in City's squad is stiffer than Roy Keane's upper lip. Ahead of him are De Bruyne, Foden, Bernardo Silva, Jack Grealish, Riyad Mahrez, Julian Álvarez (sort of), and his old youth teammate Palmer.
Last season McAtee was top scorer in the PL2, scoring 18 goals from midfield. He won Player of the Season too, but senior football is a different challenge. In Sheffield, McAtee has struggled to make an impact and has been largely reduced to appearances from the bench. The Championship is a physical affair. McAtee hasn't adjusted to that side of the game yet; he can get a bit lost. A few times he's shown his true colours, though. With a few flashes of brilliance he's collected a handful of goal involvements, and changed a few games when coming off the bench.
McAtee will be hoping for a more comfortable and consistent run-in to put him in contention for a return to his bedding-in spot at City next season. He's technically gifted, the most gifted of any player on City's academy books. He shows shades of Foden as he builds up the attack, either setting someone up at the end or drifting into the box to finish off chances himself. The physical side of his game can clearly use some work, but that's exactly the reason he's on loan. United are comfortably in the automatic promotion spots and are slightly behind Kompany's Burnley in the race for the title. They will almost certainly have a few less important games on the downhill slope to the summer where McAtee can grab some extra minutes and build some momentum.
He's not the only City loan player at Bramall Lane. Tommy Doyle (21), who's also made a few appearances for Pep's team, is there too, and making a better impression. Doyle doesn't have the feel of a player on his way back into Pep's side, though. This is his second loan, he spent last season at Cardiff City (and that additional senior experience has served him well when covering brilliantly for an injured Sander Berge). Doyle will likely move on permanently this summer, but if some of his confidence can rub off on McAtee then they can both get a happy ending to their South Yorkshire stints.
2. JOSH WILSON-ESBRAND, 19, FULL-BACK
Before the summer (read: before Sergio Gómez came to Manchester), Pep Guardiola discussed rumours that he was pursuing Marc Cucurella, and he named Wilson-Esbrand as a genuine option to back up Joao Cancelo if the transfer wasn't completed. Gómez's arrival has limited Wilson-Esbrand's opportunities, and moved to Coventry City on loan on January 10. He managed to sneak in a couple of cameo appearances this season as City coasted through their Champions League group, but nothing more.
He signed for City's academy from West Ham in 2019 and has risen through the ranks of the youth teams, steadily impressing as he went. If Rico Lewis is a right-sided Cancelo in terms of cutting inside, then Wilson-Esbrand is a Walker for the left wing. He's fast and powerful with an eye for a cross. It's been difficult to keep an eye on how he's developing this season, but he will be more on display at Coventry.
He's set to play a key part in the rest of Coventry's season as they attempt to squeeze into the playoffs along with half the league (there are just 5 points separating Watford in 4th from Swansea City in 15th). Wilson-Esbrand is ready to pounce on this opportunity. He's more physical than McAtee and should be able to handle the transition to Championship football better. There are two main options for what his 23/24 season could look like: Either he stays with City and is woven into the rotation (perhaps with Gómez playing some more midfield minutes), or takes the McAtee route and is sent out on loan from the start, to a club a grade up from Coventry.
3. OSCAR BOBB, 19, MIDFIELDER/FORWARD
As we know, James McAtee won Player of the Season in the PL2 last season. But he was not PotS for Man City. That honour fell to Oscar Bobb, and for good reason. Bobb's numbers weren't quite as high as McAtee, but he is absolutely vital to the way City's Elite Development Squad (EDS) play.
After McAtee departed temporarily in the summer, Bobb has taken over his role in the team. He's set up 10 goals already this season and forged a good partnership with City's top scorer Carlos Borges (a Portuguese striker/winger who is an honourable mention for 4th in this ranking; he's been linked with a move away in search of first team football).
Bobb made his debut for Norway U21s in September 2022, and looked impressive doing. He started against Switzerland and scored, then came off the bench to go toe-to-toe with Alex Baldé in a heavy loss to Spain.
Porto tried to sign Bobb from Norwegian second-division side Lyn when he was 10, but FIFA's child transfer rules weren't having it. They weren't convinced that his mother had moved to Portugal for her own work. Eventually he returned to Norway to play for Valeranga. In 2019, Bobb for Man City.
As he's made his way through their ranks, Bobb has consistently been the support act to a brighter star, whether that was Palmer, McAtee, or Borges more recently. That doesn't mean he doesn't sparkle himself though, and right now Man City are not in the market for a figurehead, they need players that will feed him, and Bobb fits that bill precisely. His name might make him sound like a wisecracking cartoon cat, but Oscar Bobb is a serious player.
One name that hasn't come up in this ranking, who has featured in every discussion of City's academy for years, is Liam Delap. Unfortunately for the big striker, once the gem of City's academy, the competition for his position now includes a World Champion and Erling Haaland. Like Doyle, the feeling is that he's just missed the boat and is facing a permanent move in the summer. Where he might end up is a separate conversation (but let's face it, it's probably Southampton). For McAtee, Wilson-Esbrand and Bobb though, their respective boats are still firmly in the dock.