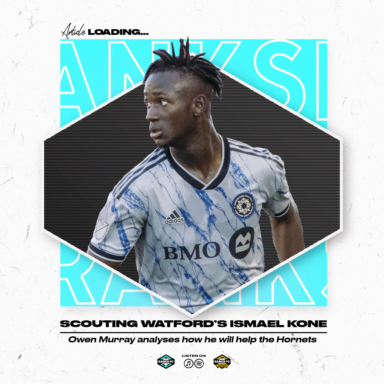 Scouting Watford's New Signing Ismaël Koné
31 December 2022

Owen Murray
Data viz courtesy of the Twenty3 Toolbox. Take a look and start your free trial here.
January marks an important opportunity for clubs in need to boost their squads. Watford are one of those, and they've wasted no time in identifying Canadian international Ismaël Koné as one to bring in and help out. The Hornets, currently fifth in the Championship but teetering badly, will welcome the young midfielder as a fresh face in a side in need of a lift.
The 20-year-old joined for a reported $8 million fee, a huge financial boost for CF Montréal, who hand the money from the sales of Koné and Djordje Mihailovic to new manager Hernán Losada, whom the club hired after the departure of Wilfried Nancy to the Columbus Crew. Despite Koné only logging one full season of senior football with Montréal, a World Cup call-up boosted his image and price.
As Slaven Bilić and Watford prepare to redouble their efforts to remain in the playoff places, their new acquisition could prove the difference: their continuing battles on multiple fronts means that Koné could feature as soon as the second of the month, when his new club face a fierce competitor in Norwich City. His chances will undoubtedly appear, and he's already demonstrated the capacity to seize them.
Koné's dynamic style saw him surge into the Montréal first team after joining from Canadian club Saint-Laurent, where he'd been called into the Quebec U-17 side in the 2019 Canadian Championships. His impressive performances throughout the tournament, in which his team won the bronze medal, saw praise garnered from around the nation. Saint-Laurent sporting director, Rocco Poolacentino, would foreshadow his move to Montréal soon after, directing attention to the value of the young midfielder.
As he joined the Montréal U-23 squad on trial, he worked with several of the club's veterans, many of whom he'd soon join in the senior setup. His height and creativity caught the eye of many of the club's coaches, and he moved into the first team in August 2021. After struggling with injury for much of the season, he'd debut in the CONCACAF Champions League against Santos Laguna, where he scored as Montréal cruised to a win.
A successful season saw him receive his first senior cap for Canada in a substitute appearance as the Maple Leafs qualified first in the Octagonal. Despite only debuting in March 2022, he'd go on to be called up for the World Cup, serving as a deputy option in midfield. Although Canada exited in the group stage, Koné earned his first minutes in the tournament as a substitute in each match.
He was most influential on the ball, where he was able to complete a high volume of passes and influence a significant number of possessions. Notably, this is in contrast to his role with Montréal, where he was far more active on the dribble.
In North America, he played in 26 of Montréal's 34 regular season matches, starting 18 as the side reached the Eastern Conference semifinal. He developed alongside Victor Wanyama and Samuel Piette, both veteran options in the middle. Despite manager Nancy often favouring a two in midfield ahead of three centre backs, Koné was far more involved with the attacking side of Montréal's possession. He usually featured alongside Wanyama, who'd perform far more of the defensive duties as his youthful partner moved up the pitch with the ball. Against midfielders in the MLS, Koné registered in the 88th percentile for Dribbles Completed and 83rd for Progressive Passes Received, illustrating his propensity to move the ball into dangerous areas before allowing attackers like Mihailovic to finish chances.
This partnership is emulated at Watford by João Pedro and Edo Kayembe, the latter of whom occupies a similar space to Koné's role in the side. However, Koné is far more attack-minded than his predecessor, something that Watford will look to add to their squad immediately. When the two incumbent midfielders' heat maps are viewed side-by-side, it's evident that Pedro occupies space ahead of the left centre midfield, while Kayembe is far more divided between the two halves.
In Watford, Koné will have the chance to play in a three man midfield, allowing him even more freedom to work. The graphic above below illustrates Watford's most frequently used lineup, generally in a 4-3-3, as compared to Canada's World Cup XI. Likely slotting into Kayembe's position on the left of midfield, he'll rely on Hamza Choudhury beside him to perform the Wanyama role while Koné works with João Pedro (shown here as the attacking midfielder) to funnel the ball to their attackers.
While Canada began in a 4-4-2, Jonathan David (RFW) often dropped deep into similar spaces to João Pedro, while Alphonso Davies (LFW) was trusted to stretch the line. This led to the development of a similar midfield structure of that employed at Watford. Koné, when appearing as a substitute, often took on the role on the right side of midfield, which saw him move further forwards while a more defensive player (often Atiba Hutchinson) would remain on the left.
Most of the Hornets' opportunities come from wide areas, as apparent in the data visualisation, and Koné's duty will most often be to find the wide forwards with his passing ability. While he'll perform a similar role to Kayembe, he is superior receiving and progressing the ball, qualities that will allow Watford to diversify their approach beyond these crosses, and frees Pedro to move further forwards, where he's most dangerous.
Watford, too, lack fit midfielders, increasing the necessity for the injection of Koné's brilliant technical ability into a side crying out for a player to push them up the pitch. While Kayembe is serviceable as a piece in the puzzle, Koné has the potential to increase the speed and quality of Watford's play to a new level. If he can find his groove, the ceiling for the Hornets' midfield explodes.
He gives Watford the scope to discover an evolved version of the side that found them in strong contention in past years, and his age is only beneficial. Regardless of whether they earn promotion, he has the capacity to hold his own on the big stage.