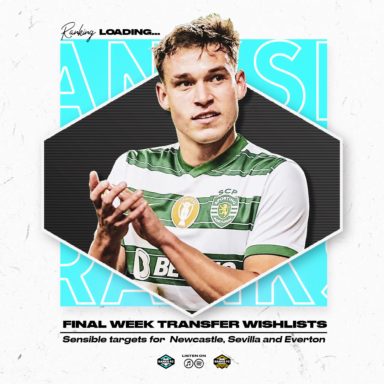 Solving Emergency Transfer Needs for Newcastle, Sevilla & Everton
By John Gilding
Data viz courtesy of the Twenty3 Toolbox; start your free trial here.
For some clubs, it feels as though the January transfer window takes them by surprise, and they leave themselves a lot to do at the last minute. Here we've identified three clubs with clear holes in their squads going into the second half of the season that they are yet to fill. To save them some time, given that they don't have a lot left to plug the gaps, we've arranged some wishlists for each problem area, with a dream signing, a cheap option, and a young alternative. 
NEWCASTLE UNITED: DEFENSIVE MIDFIELDER
Newcastle are doing very well, that much is obvious, but with Joelinton shining as a left forward, they have four fit central midfielders, and three of them play every week. If they want to hold their position they might well need some depth, ideally a defensive-minded No. 6 who can sit at the base of midfield, allowing Bruno Guimarães to move forward and use his creative talents to their fullest. 
Dream: Sofyan Amrabat (26)
Before we get going properly, I'm just going to stop and say that Fiorentina have publicly ruled out Amrabat's departure in January, amid interest from Liverpool and Tottenham. If Eddie Howe's claims about how close Newcastle are sailing to FFP limits are true, this (and any other potential 'dream signings') was a non-starter anyway. At least for this window, but that could be a good thing. Unlike the other two clubs here, Newcastle aren't struggling. They don't have to find their permanent solution right now.
Morocco captured everyone's hearts at the World Cup with their enchanting run to the semi-finals. What was less enchanting was the way they did it. They were not a fun team to watch. Their solid defensive work and ability to shut teams out was the foundation of their run and the cornerstone of their defensive wall was Amrabat.
This man has an obsession with not letting the opposition reach his defenders. His physical presence and work rate add up to mean he rarely comes out of a 50/50 challenge as the loser. He doesn't offer as much going forward, but that's not what The Magpies need. He's happy to fill in as a box-to-box player occasionally, but truly shines as patrolling No. 6, prowling around in front of the defence, looking for any hint of an attack to snuff out. 
Newcastle aren't in any rush to fill this spot in their squad; their position in the table is proof of that. But a summer move for the Moroccan would provide a perfect complement to Guimarães, and add depth, which is all the more important if they do end up in the Champions League. The added bonus of Amrabat not moving anywhere in January is that Newcastle can monitor his progress at club level and make sure that, come June, he is still the player we were all so impressed by at the World Cup. 
Cheap: Conor Gallagher (22)
Okay, he's not a No. 6. I know that and you know that. But if Newcastle are limited by financial rules, a short-term loan ahead of a big move in the summer makes sense. Gallagher's last loan spell at Crystal Palace was very successful, and he was the talk of the league ahead of his return to Chelsea. He hasn't set Stamford Bridge alight since coming back, though. With Chelsea struggling to impress as a whole, Gallagher could stay and try to fight for his place, but the promise of a more important role might prove too irresistible. 
The main memories of Gallgher's Palace stint are the endless comparisons to Frank Lampard as he burst into the box again and again to score. That timing is all well and good, and it's a skill he could use well at Newcastle, but the more important quality in Howe's eyes would be his defensive contributions. At Palace, Gallagher also impressed everyone with his ability and willingness to pile into the defensive effort, going into duels and tackles with seemingly limitless energy and regularly coming out on top.
At a basic level, Newcastle just need extra bodies to keep their midfield ticking over until the end of the season. Of all the bodies they could add without breaching FFP, Gallagher is one of the finest. He's not the defensive specialist they need long-term, but he would be able to share some of the defensive burden and ease the weight on Guimarães' shoulders.
Young: Manuel Ugarte (21)
Newcastle's ideal signing is someone who can take on a lot of defensive responsibility and let Guimarães do what he does best creatively. Manuel Ugarte is used to taking on responsibility. He plays as a holding midfielder for Sporting, but when it comes to defending, his attitude is along the lines of: "if you want a thing done well, do it yourself". If there's a ball to be won anywhere on the pitch, Ugarte will win it.
As you can see from the graph, the Uruguayan is an incredibly committed player with a high work rate. He's got the technical ability to back it up too, he's comfortable on the ball once he's won it, able to pick out a pass or drive forward a bit himself. Ugarte's got the right build for his role as well. If you go into a contest with him, you're going to feel it the next morning. He was in the Uruguay squad for the World Cup, but didn't feature, and they were subsequently knocked out in the group stage. I'm not saying that was the only reason why, but it's something to bear in mind.
He signed for Sporting in the summer of 2021 for around €6.5 million and has now established himself as one of their key players. If he moves on in the next couple of transfer windows, which is likely given how many top clubs are in need of a No. 6, a fee at least five times that wouldn't be unreasonable. With players having increasingly short stays at clubs, a January move, especially with a loan-to-buy arrangement is not impossible, but perhaps unlikely.
SEVILLA: ATTACKING MIDFIELDER
Signing Isco for free on a two-year deal in the summer should have covered Sevilla for this season. Unfortunately, it didn't go very well, and he was released from his contract in December because "he didn't reach the expectations of the club", according to Jorge Sampaoli. Getting rid of him means Sevilla are struggling for natural No. 10s in their squad, and after failing to sign Jeff-Reine Adélaïde on loan a week ago, getting a replacement that won't cost the earth and won't have to be booted out after a few months is important
Dream: Thomas Lemar (27)
With his contract up in the summer and the arrival of Memphis Depay, Lemar is going cheap. The Frenchman is far from a key player at Atlético Madrid, and could be tempted by a move away before the end of his deal, if it promises a more important role. Sevilla aren't a threat to Atlético in the league this season, so any potential reservations about reinforcing a rival shouldn't be anything more than a passing thought. 
Sevilla need goals. They have Youssef En-Nesyri at the top of the team sheet, but he struggles for service. On his day Lemar's passing and vision are up there with the best in the world, and in a fresh location, he would hopefully give En-Nesyri the gold-star service he needs to start racking up some goals and steer Sevilla away from the relegation zone.
At 27, Lemar should be in his peak, not being ignored by Diego Simeone. A move would please everyone, particularly those people who like seeing one of football's finest technical players flourish again in a new system.
Cheap: Hakim Ziyech (29)
If nothing else, Chelsea's new transfer policy of buying all the available forwards is fun to watch. It's not particularly fun for their existing players though, and Hakim Ziyech looks to be on his way out. With a few potential landing spots, Sevilla stands out as an opportunity to link up with his national teammate En-Nesyri. The pair were key parts of Morocco's attack in the tournament, and although they didn't light the world on fire, they were effective.
Ziyech's qualities are well known. When he's on form he's a deliciously silky playmaker who can change any game with a few flicks of his left boot. Questions start appearing around Ziyech in terms of his attitude when he's off-form, which might put Sevilla off the deal slightly, especially after the Isco debacle. However, it's always nice to be optimistic and a change of scene from the bright lights of Stamford Bridge might do him some good in terms of mentality. 
For a struggling club, the prospect of a World Cup semi-finalist on loan, or permanently for under £20m, who is already comfortable alongside your main striker is a very attractive prospect. For Ziyech, the opportunity to get out of Chelsea, somewhere he never seemed to settle, and rescue one of Spain's biggest clubs from the jaws of a historic disappointment should be equally attractive. 
Young: Gabri Veiga (20)
Veiga, Celta Vigo's not-so-little gem has been gleaming in a fairly dim season for them so far. He's not putting up ridiculous numbers of goals and assists, so his breakout campaign has gone slightly under the radar, but Sevilla will be very aware of his quality.
Labelling Veiga as a 10, an attacking midfielder, is a bit reductive. His influence stretches across the full width of the pitch behind Celta's strike partnership of choice. He's a very active player, someone who wants to go and find the ball and make things happen, rather than just waiting for it to find him and then go from there. You can see from the viz below how he's happy to pick up the ball pretty much anywhere on the pitch, often out wide, and drive forward with it.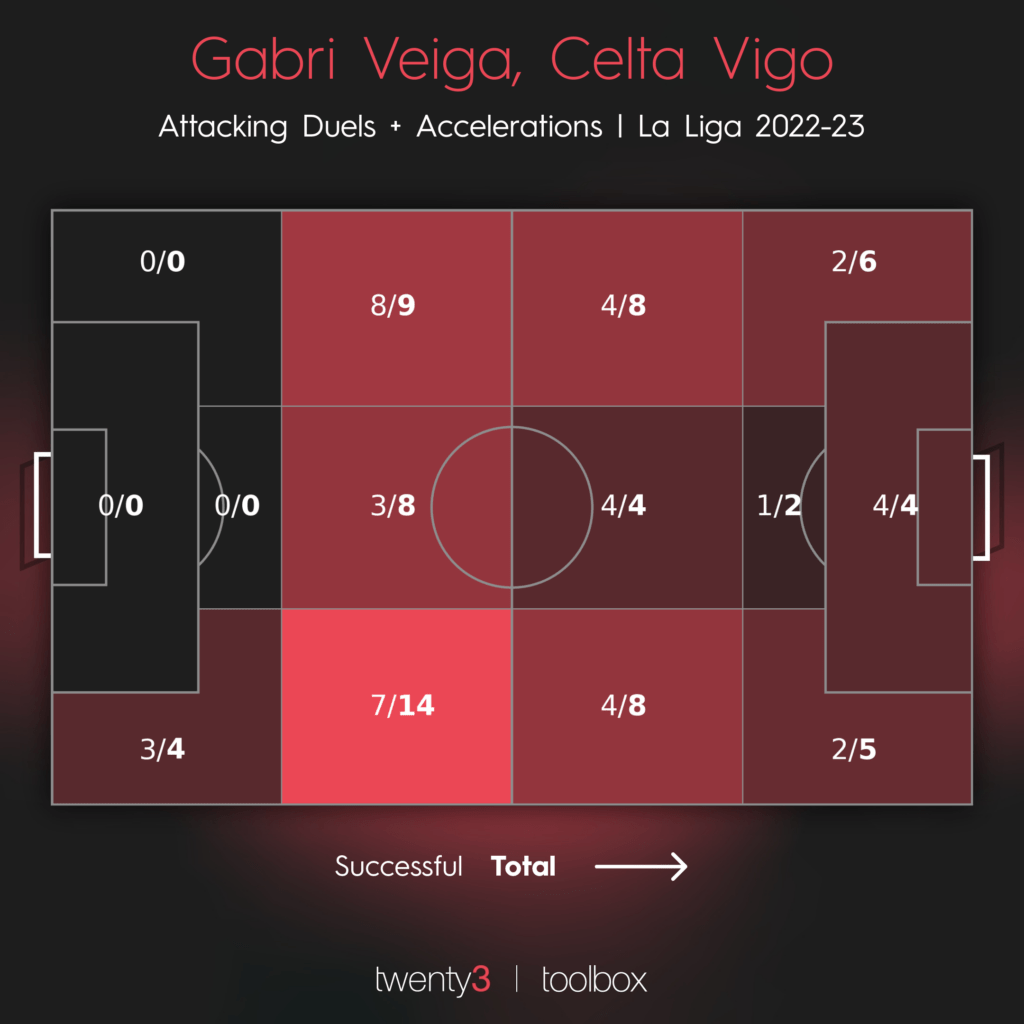 Veiga's ball progression is excellent, whether he is passing or dribbling. He's got a few tricks and a good burst of speed to beat a man, and once he's past, he has the vision to pick out the right pass in behind. His energy and aggression can bubble over occasionally, but this will wash out of his game as he matures.
Sevilla need someone who can come in and win games, and Veiga has the skillset and confidence to do just that. Celta won't want to lose him to a team they are jostling for position with, but for the right price, they might have to accept that they can't keep hold of a player of his quality (when they aren't called Iago Aspas).
EVERTON: A FORWARD
Everton's summer signings at the pointy end of the team, Dwight McNeil and Neal Maupay, have disappointed so far. Anthony Gordon is heading for the exit, but even on the off chance he stays, they're in need of a general-purpose forward who can add quality to the front line and give the incoming Sean Dyche some more goal threat.
Dream: Lucas Moura (30)
Compared to Lemar and Amrabat, Lucas feels like a bit of a disappointing 'dream' signing. The truth is that Everton are leaving it rather late, and their dream signings keep disappearing like shadows into the night. By shadows, I mean Arnaut Danjuma. And by the night, I mean Daniel Levy doing his best impression of that fox from Dora the Explorer.
As last resorts go though, he is a very experienced head to bring in to strengthen a struggling attack. Lucas' qualities are well-known, but given that has played so little this season, there's no harm in a refresher. His value lies mainly in his pace and acceleration which he uses to beat his man and break lines with dribbles. He would suit any new manager that prefers to sit deep, as he prefers to pick the ball up early in an attack and work through a team, usually before cutting inside. He's also surprisingly good in the air for his height and is comfortable receiving long balls, which would make him a surprisingly good option for new manager Sean Dyche.
His contract is up in the summer, and he's desperately out of favour at Spurs, which means Everton could pick up all that class incredibly cheaply. The move makes sense for Moura himself too, it gives him a chance for some game time, and to come in and be the hero signing for a team that's really floundering. 
Cheap: Reiss Nelson (23)
In the handful of chances Reiss Nelson has been given this season, he has impressed, particularly in the 5-0 win over Nottingham Forest in October, where he was directly involved in the majority of the goals. He's quietly racked up over 50 appearances for Arsenal over the years, but is still struggling to get some consistent spells in the first team. With the arrival of Leandro Trossard, and because every game going forward is vital to their charge for the title, he will continue to struggle for minutes for the rest of the season. A loan move makes sense for everybody for him to continue his development, now that Arsenal's attacking depth has been somewhat strengthened.
Everton seems an ideal destination in principle for a cheap short-term loan to increase the attacking options for the incoming manager. Nelson's strengths as a player lie in his technical ability. His dribbling and ball control are incredible, which served him well in the youth teams and is why he was so highly rated as a youngster coming through. His weakness, funnily enough, is in his strength. He can lack power in a duel and struggles to shrug off challenges from bigger, older opponents. This has hampered his move to senior football and is partly the reason he's had to watch younger players like Bukayo Saka and Emile Smith Rowe come through the academy after him and become first-team regulars.
It would be rude (and wrong) to call Everton's situation "low stakes", so I won't. But there is certainly a different kind of pressure surrounding Everton than the one that fills the Emirates. A change of scenery might be just what Nelson needs to build his strength and confidence, unlock his abilities on a consistent basis and turn the Toffees' season around.
Young: Kamaldeen Sulemana (20)
Who do you think was the fastest player at the World Cup? Kylian Mbappé? Achraf Hakimi? Antonee Robinson? You may have guessed from the fact I'm bringing it up here, but it was none of them; it was Ghana's Kamaldeen Sulemana. He clocked a speed of 35.7 km/h against Uruguay. If Everton are in need of someone to inject some urgency into their attack, who better to be the legs of the operation?
So far in his footballing journey, Sulemana has mainly played on the left wing, but he can feature across the front three. Like Moura, he's not a guarantee of goals, but he will add quality to the support and buildup of attacks. As you can see in his radar below, a huge part of his game is using that unbelievable speed to blitz defenders with dribbles, progressing the ball to whip in a cross or find an angle for the shot.
Everton don't necessarily have a problem with a lack of goal threats. Sulemana would be the support act to Dominic Calvert-Lewin, who is still an effective, but quite brittle, operator. He will be looking at that graphic and licking his lips at the thought of that volume of quality crosses coming his way.
Rennes won't want to lose him permanently, he's one of their brightest young talents, but with Désiré Doué having a lovely little breakout season, and Karl Toko-Ekambi coming on loan, he won't be getting the game time he should be. A loan should be good news for everybody and a perfect opportunity for Sulemana to make a decent impact on Everton's season.