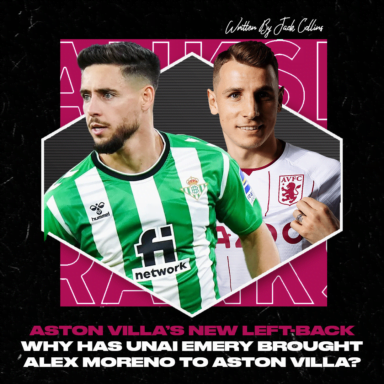 Why Have Aston Villa Bought Álex Moreno?
11 January 2023

Jack Collins
So, Unai Emery's term as Aston Villa manager is up and running—to a slightly mixed start, by all accounts. But the new manager has made his first acquisition to this Aston Villa squad in the form of Real Betis left-back Álex Moreno, who comes into this Villa side after a number of good years in Spain—first for Rayo Vallecano, who he helped back to the top flight, and then for Real Betis, with whom he won the Copa del Rey last season.
It's a shrewd purchase at around the £12m reported fee, for a player who has wreaked havoc down the left hand flank for a couple of years now in Spain's top flight, but with Lucas Digne signed last season for Villa, fans could be forgiven for trying to work out exactly what Emery is doing in signing another left-back as a first port of call, when there's a perfectly good one already in the squad.
So, why have Aston Villa decided to splash out to bring the 29-year-old Spaniard to Villa Park?
Similarities and Differences to Digne
If we're going for a side-by-side comparison, some things immediately jump out when comparing Digne and Moreno. The main one is that Moreno is quick—explosive, even. He marauds up and down the left flank, whether carrying the ball or not, at a rate of knots. Digne has plenty of strengths, but searing pace is not necessarily one of them, and Emery has form for wanting dynamic, quick full-backs to provide the width in his teams, especially when not playing traditional wingers.
But let's take a deeper dive, using the Twenty3 Toolbox to help us on our way. Here's a direct comparison of Digne and Moreno this season, using the data from their domestic league competitions only.
Digne's obvious strength lies in his crossing ability, which ties in nicely with his key passes attempted statistic. But a quick look at Emery's style of play shows you why that isn't of particular interest to him. Last season in La Liga, per Opta, only Barcelona and Real Madrid attempted fewer aerial offensive actions than Emery's Villarreal; whilst Moreno's Betis and Emery's Villarreal tied for the fewest crosses attempted per game.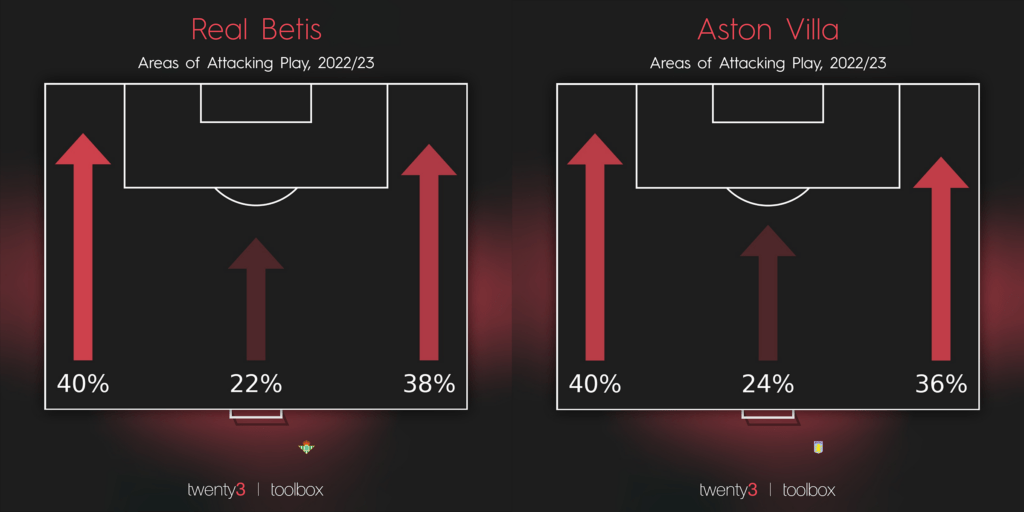 When you tie that in with the fact that both Betis and Aston Villa tend to attack down the left hand side (both with 40% of their attacking phases coming from that flank), a picture starts to form. Emery wants his full-backs to be good ball carriers, to attack into wide areas, and then to find passes inside rather than swinging the ball in for a striker to attack.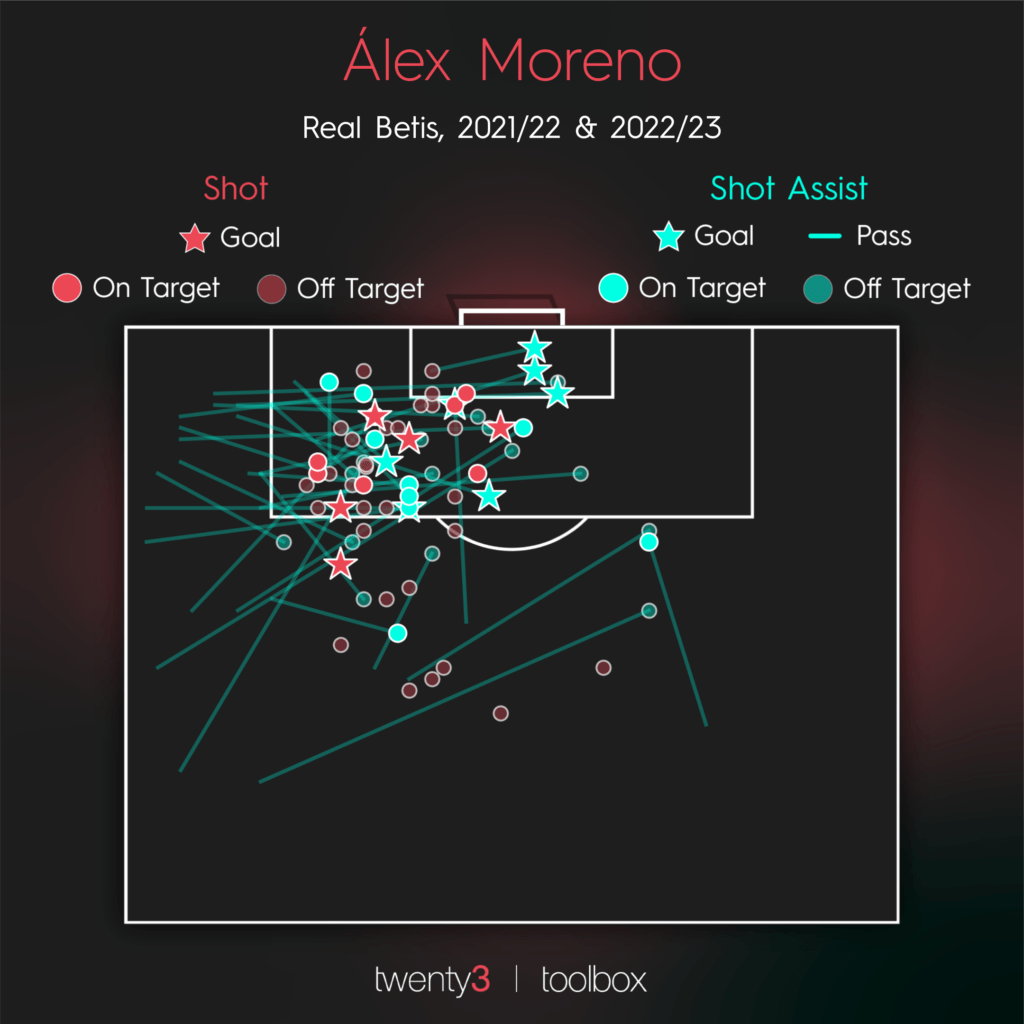 This is where Moreno has a massive edge on Digne—with three times more progressive runs per 90. He has more final third passes completed, more attacking actions attempted, and crucially, the team's width increases when he's on the pitch.
Digne's attacking numbers are good, but most of his goals come from direct free-kicks, and most of his assists come from dangerous balls crossed into the box. Moreno's are impressive too, but Emery will like that Moreno's output comes from late surges into the box and transitional opportunities where he is given the opportunity to put on the afterburners and create mayhem in the 18-yard box.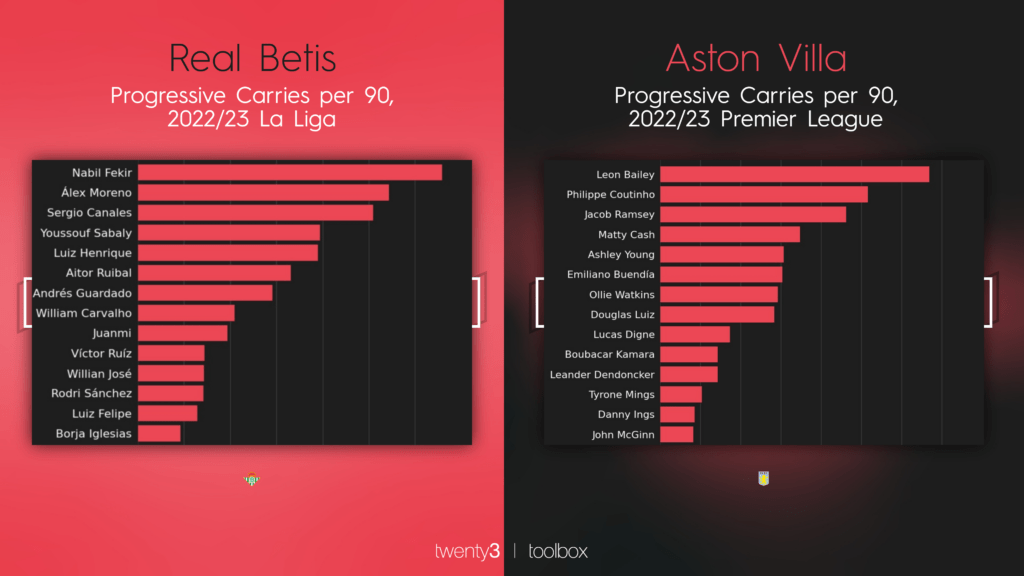 Moreno is not the complete defender, as we'll discuss later, but his numbers reflect pretty well when standing up against Lucas Digne in the defensive third as well.
Moreno's Development Path
We often talk about the concept of 'rings in the legs' on Ranks FC. It's shorthand for the fact that a players age is often a misconception in terms of their actual footballing age. For example, Wayne Rooney, thrown into first-team football head-first at the tender age of 16, was a very different type of 28-year old than somebody who was eased in through their development years and only started seeing regular minutes once they were around 21.
Moreno is of the latter ilk. Having left his hometown academy of FC Vilafranca, he was brought to La Masia in 2011, at 18, where he spent a year in the fabled Barcelona academy stable, before making his way through the third and second tiers of Spanish football, eventually finding his way to the recently relegated RCD Mallorca, mostly as a winger, and helping them escape relegation.
From there, he was picked up by Rayo Vallecano in 2014, making his La Liga debut, before being loaned back to the second division with Elche. It was only really upon his return to Vallecas in 2016 though, that he made the left-back spot his own, helping fire Rayo back to the top flight as Segunda Champions, and then spending three seasons with Los Franjirrojos in the top flight. They were relegated in 2019, but Betis moved quickly to ensure that his services remained in La Liga, for a fee of around £6m.
Since then, Moreno's development has come on leaps and bounds. His roots as a winger, with a tendency to get forward first and think about defending later, were incredibly obvious in his first season at Betis. A bad year for the side as a whole under Rubi was exacerbated for Moreno by obvious defensive errors, some calamitous penalties given away, and a tendency for teams to try and exploit the gaps he would leave behind.
But Manuel Pellegrini's appointment in the summer of 2020 changed all that. The Engineer oversaw a huge overhaul of how Betis played, and how Moreno was utilised; and a rapid rise to Moreno becoming one of the league's most complete full-backs ensued. Pellegrini worked tirelessly with him on defensive positioning and a more thorough reading of the game, and it has elevated Moreno into one of La Liga's most in-demand defenders, adding a defensive acumen without removing his electric attacking flair.
He's not perfect—and there remain games where a particularly skilful winger can twist him in knots—but his defensive improvements have been clear for all of us who have watched Moreno under Pellegrini in the last few seasons.
The Emery Double Wing-Back
The other thing to remember in all of this, and especially given that we've discussed that Digne and Moreno are different profiles of full-back, is Emery's tendency to double up on full-backs. He did it regularly at Villarreal, especially in big Champions League games—using a combination of Pervis Estupiñán, Alfonso Pedraza and Alberto Moreno in tandem down the left hand side.
We saw it from the off in the 3-2 win over Atalanta that progressed them into the knockout stages of last season's Champions League, and in the 1-1 draw with Juventus in the Round of 16 first leg, and from the bench to see out that second leg and in both legs in the famous quarter final victory over Bayern Munich too—shutting down the likes of Juan Cuadrado, Kingsley Coman, Leroy Sané and Hans Hateboer in the process.
It's something that Emery has fallen back upon time and time again in tricky scenarios, and one that now opens up for him here: Would Moreno being used as an auxiliary winger give Villa more defensive nous and differing attacking threats against teams very comfortable dominating a game? You would think so.
Emery said ahead of this transfer window that he was looking for a "different type of winger," adding that he needed to see "different characteristics of players to introduce into the squad." Moreno's versatility and dynamism might just have been exactly what his new manager was searching for.