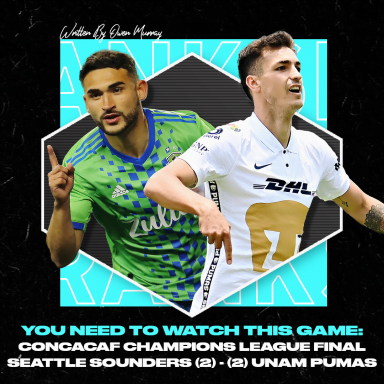 You Need to Watch This Game: Sounders vs. Pumas in the CONCACAF Champions League Final
The Champions League Final. A game that elicits the most electric of reactions and memories in the minds of football fans. Drama. Occasion. Quality. History. This game has it all. In Seattle, Washington, on May 4, two teams will play for regional supremacy in a match that promises to be as historic and thrilling as any European match. Those two teams are Pumas UNAM and the Seattle Sounders. The competition? The CONCACAF Champions League. The stakes are immense. The pressure is immeasurable. This is the greatest match in the teams' history. You need to watch this game.
First, the history. The Champions League has been around in its modern edition since 2008, with previous editions under the name Champions Cup, but an American team has never won it since the rebrand despite Seattle being the fifth representative in the final after Real Salt Lake (2011), Montréal Impact (2015), Toronto FC (2018), and LAFC (2020). All four lost, at the final moment in some cases. Toronto were victim to a missed Michael Bradley penalty in 2018, and Montréal were felled by a Darío Benedetto hat trick in front of what still stands (ahead of this week) as the record Champions League crowd at home in Stade Olympique.
Embed from Getty Images
This is Seattle's first Champions League final appearance, but since their official entry into MLS in 2009 they've accumulated an impressive trophy cabinet that saw them named Team of the Decade by MLSsoccer.com in 2020. Two MLS Cups from four appearances, four U.S. Open Cups (the American equivalent of the F.A. Cup), and one Supporter's Shield to go with five Cascadia Cups (a regional trophy contested between Seattle, Portland and Vancouver) have gotten them to the brink of history, but this is the hole in the tapestry. Seattle have been craving this trophy for years, and to be the first MLS team to win the Champions League would cement their place as the greatest team in league history.
Pumas, on the other hand, have never won the competition in its modern history either. They lay claim to three Champions Cup titles in the 1980s, but this is a chance to find solace in a season that has seen them fall from the best amongst Mexico's Apertura and Clausura tables where they find themselves 12th, right on the playoff line. They've shown incredible grit to get to this point, battling back from a three goal deficit to win on penalties against 2021 MLS Shield winners New England Revolution and surviving a brutal second leg against fellow Liga MX side Cruz Azul in which their centerback Arturo Ortiz was sent off. Similarly to Seattle, this is their shot at history.
Embed from Getty Images
The first leg of the final was played under a rainy and thunderous Mexico City night at 7,000 feet of elevation, and the opening salvos reflected the difficult conditions the teams would fight. Pumas' star forward and top goalscorer Juan Ignacio Dinenno wriggled through Seattle's center halves to win a first half penalty that survived a contentious VAR review and Seattle goalkeeper Stefan Frei's initial save before being retaken due to Frei stepping off his line to be thrashed into a wet net to the roar of the sellout crowd. After Seattle's Liga MX veteran Raul Ruidiaz missed a golden chance in first half stoppage time, Dinenno slid behind Seattle's 2021 MLS Defender of the Year finalist Yeimar Gomez Andrade to tuck a beautiful header into the corner. Dinenno sprinted off into the night, seemingly leaving Seattle's hopes as far away as ever.
But VAR, the villain for the Sounders so far, still had a part to play. Ruidiaz recycled a corner kick and the ensuing cutback was blocked by an upraised hand. Seattle talisman Nicolas Lodeiro weathered the psychological storm of Pumas players and slid the spot kick past Alfredo Talavera's outstretched left hand. 1-2. Seattle was back in it. Then, as Pumas attempted to kill the game off, midfielder Cristian Roldan took an initially innocuous kick to the thighs in the box. Suddenly, VAR was Seattle's friend. In the 99th minute, Lodeiro smashed the penalty into the net. Seattle was back level. The whistle blew and the game ended, but the fighting didn't and a post match scrum avoided any dangerous yellow cards that would suspend players for the second leg a week later.
Embed from Getty Images
So here we are. No away goals in the final means that the match in Seattle is essentially 0-0, but the tensions spilling over from the first leg are impossible to ignore. Crucial defender Alan Mozo was substituted off during the first leg with a nasty injury that leaves him questionable for Wednesday's match, and Seattle will look to take advantage of replacement 19 year old Jesus Rivas' inexperience as a massive point in the return leg.
There's the history. Seattle and Pumas are coming together in what is each teams' most important match of the year. As Seattle manager Brian Schmetzer (and subsequently Marshawn Lynch) said in a post-semifinal speech, "This is a massive f***ing deal for the club". Seattle fans know that. The last time the team sold out Lumen Field's 69,000 capacity was the 2019 MLS Cup versus Toronto, an occasion that lives long in the memory of fans. Despite struggling with the lack of notability from a competition that is unknown to many casual fans and a Wednesday night kickoff that weakened the pull, at last report the team had sold over 50,000 seats and were continuing to open up sections. Lumen Field will be a cauldron on Wednesday night, and those who are there will know the significance of the possibilities.
Embed from Getty Images
It'll be an incredible game as well. The first leg had the drawback of a possible draw. This game doesn't have that. One club will leave the pitch immortal, the other a Wikipedia footnote. Both teams possess attacking weapons to rival any in America. Pumas' Dinenno is still the top scorer, and Seattle's trident of Ruidiaz, Jordan Morris, and a likely wing start for Cristian Roldan will see them combine and drive at each other with a vengeance. Just take a look at the tournament highlights, from Seattle's 5-0 demolition of Motagua to the incredible 3-0 comeback Pumas win over New England, and you'll see that these are not only the two grittiest teams, but two of the most deserving and pleasing teams you can watch.
That doesn't mean the match will be pretty. Seattle boast Yeimar alongside stalwarts Nouhou (recently back from an AFCON where he shut down Mohamed Salah and Riyad Mahrez) and MLS all-timer Stefan Frei in net. Pumas benefit from the return of Ortiz (suspended for the first leg from the semifinal red card) as a leader in defence. This will be a game of puzzles for playmakers, questions for keepers, and battles of strength, agility, passion, and mentality.
Simply put, this match is not only a shot at history for both teams, but for the neutral it's a treat. The winner gets a ticket to the FIFA Club World Cup and prize money, but that's the least of their winnings. These are two teams desperate for success, and the culmination of a decades-long search will come to a head in what promises to be a stupendous test of sport. May 4, 2022.
Seattle, Washington. Pumas vs Seattle. I'll be there. Will you?
by Owen Murray